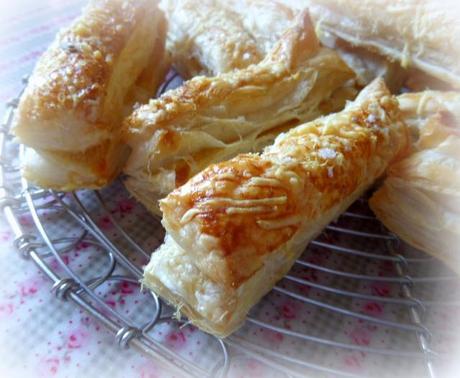 I always keep a few packs of all butter puff pastry in the freezer.  It always comes in handy.  I do have to say it's really fussy to make your own from scratch and a lot of chef's don't bother, unless they are pastry chef's  and it's their forte.  It is not my forte.  Besides . . .  as I've always been quick to say, I am rather lazy about certain things, and puff pastry is one of them.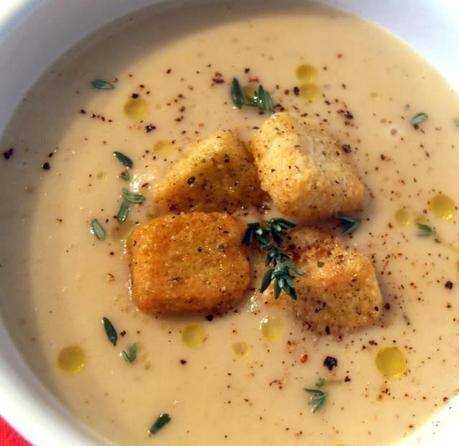 It turned rather cold and rainy today (Tuesday as I write this) and so I made us a nice pot of soup to help to warm our innards.   A delicious
Parsnip, Apple and Thyme Soup
.  I have made this many times and it always goes down a real treat.  I also always have Parsnips and Apples in the house, so it was very easily done.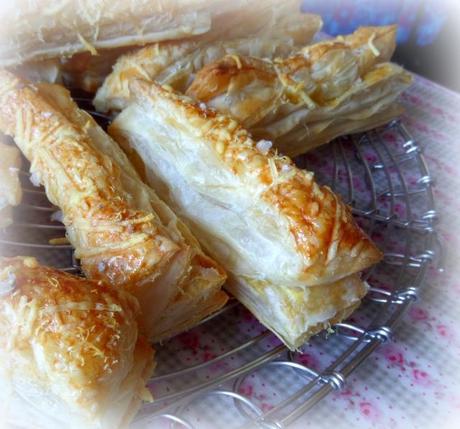 I decided to create some Puff Pastry bread sticks to go with the soup.   You could also serve them as tasty appetizers with drinks.  They are ever so easy to make and go together very quickly.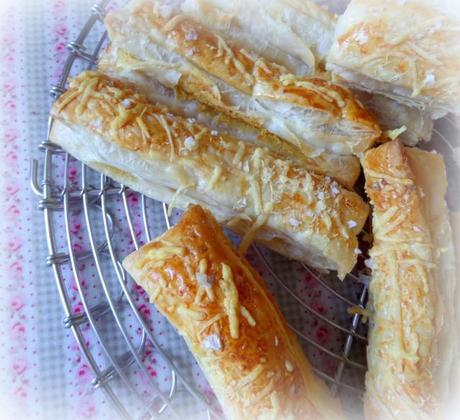 It's as simple as spreading some puff pastry with mustard, folding it over and cutting the pastry into sticks . . .  glazing it with an egg yolk wash, sprinkling with some coarse sea salt and sprinkling with grated gruyere cheese.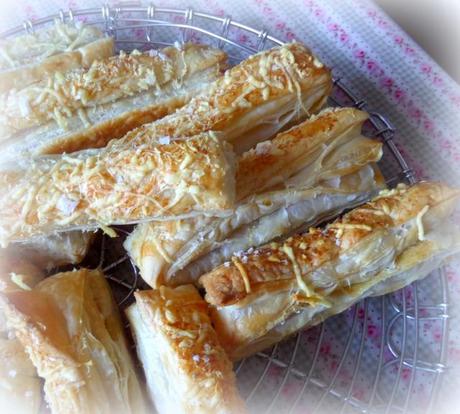 Fifteen to eighteen minutes later you are rewarded with buttery crisp sticks . . . with the slight tang of Dijon in the middle and the satisfyingly rich crunch of toasted Gruyère on top.   They were absolutely perfect with the soup, and I do confess . . . I ate another one . . . okay . . .  so it was  two . . . in the evening as we sat and watched the telly.  I know . . .  but I truly couldn't resist them!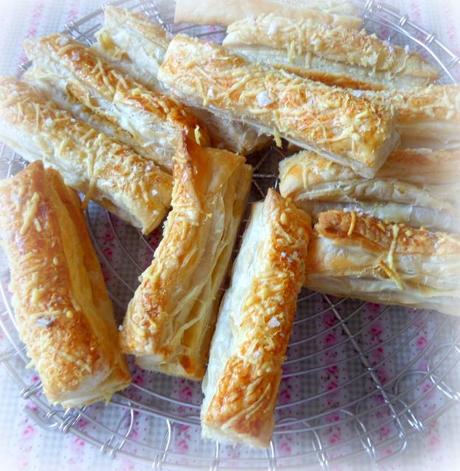 *
Gruyère
 and Mustard Sticks*
Makes 12
Printable Recipe  
These are beautiful served with soups or drinks.  Crisp and buttery with a hint of spicy mustard inside and  tangy cheese baked on the outside.  
1 sheet of ready roll puff pastry, all butter if possible
3 TBS Dijon mustard
1 small free range egg, beaten with 1 tsp water
85g grated 

Gruyère

 cheese (3 ounces)
2 TBS freshly grated Parmesan Cheese
flaked sea salt to sprinkle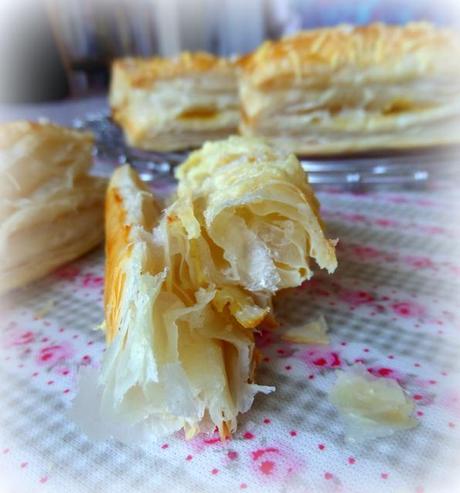 Preheat the oven to 200*C/400*F/ gas mark 6.  Line a baking sheet with baking paper.  Set aside.  



Unroll the pastry and spread the mustard over the bottom half of it, leaving a 1/2 inch border.   Brush all around the edges with the beaten egg.  Fold the top of the puff pastry down over the mustard covered half, lining up the edges to meet.  Press lightly together on the edges, then trim with a pastry trimmer to even everything out.  

With the folded edge away from you cut once down the middle of the pastry from top to bottom, then across six times, creating 12 even  batons Place them onto the prepared baking sheet, making sure there is plenty of room between each for rising. Brush the tops lightly with the beaten egg, taking care not to let it drip down the sides.   Sprinkle evenly with first the 
Gruyère 
cheese and then the Parmesan cheese.   Sprinkle a bit of flaked salt over top.
Bang into the oven and bake for 15 to 18 minutes until well risen and golden brown.   Serve warm