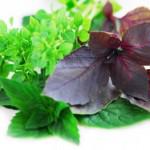 Since I have started making my own natural remedies, skin-care creams, lotions and salves, I have been always having my herbs' supplies from the store. This spring, I decided to do something different – substitute (due to lack of space) all my balcony flowers with healing herbs.
Why should I bother? Well, I find it more satisfying to be able to pick the ingredients for my "magic potions" right from my mini herbal garden.
So, I gave my old pots with really beautiful  flowers to my mother-in-law to arrange them in her big garden and bought herb seeds and pots for my new home project.
Together with Dani, my toddler son, we planted the seeds and we are now impatient to see the baby herbs coming up of the soil. This usually takes about 2 – 3 weeks.
What herbs did we choose for our home herbal garden? Here are the finalists among so many to choose from:
Growing Herbs for Homemade Skin Care Creams & Salves
Calendula
Calendula Officinalis – As beautiful as it is useful. It is made into oils and salves to soothe and heal eczema, skin irritations, sunburns, cracks, razor burns, slow-healing wounds, psoriasis, dry skin, itchiness, inflammation.
Calendula should be dried first to decrease the water content and thus making the oils more stable.
Calendula grows fast and by snipping its beautiful yellow flowers, you promote its growth even more. You can harvest Calendula many times in a season.
Rosemary
Rosmarinus officinalis is excellent for hair rinses and oils as well as facial creams. It has amazing antioxidant properties, increases blood circulation, antibacterial, anti-fungal and antiseptic.
Lavender
Lavandula Officinalis can be used for all types of skin problems (e.g. abscesses, acne, oily skin, boils, burns, sunburn, wounds, psoriasis, lice, insect bites, stings), which is why it is often part of oil infusions.
I also plan to put its dried flowers around my home, because its aroma has not only soothing and calming effect, but also is an excellent moth repellent.
Daisies
Bellis Perennis – They are not herbs, of course, but I made them part of my mini herbal garden to give it more color and because of the firming effect daisies have on the skin. I dry them and infuse them in oil of my choice – perfect for after-giving-birth-bellies.
Growing Herbs for Homemade Natural Remedies
Chamomile
Matricaria Chamomilla – Though it can be used in salves to heal eczema, rashes and burns, its most common use is as a tea. Ah, how much I hated chamomile tea when I was little! I re-discovered this herb when I was pregnant. It was my panacea for 9 months. I used it as a cold-, flu-, pain-, and stress-repellent. It worked and now I love it!
To prepare a cup of deliciously tasting chamomile tea, steep 1 teaspoon of dried chamomile for 10 minutes.

Thyme
Thymus Vulgaris - It effectively treats dry and whooping cough, bronchitis, excess bronchial mucus, asthma and laryngitis.

Sage
Salvia Officinalis – made in tea, common sage reduces excessive perspiration, depression and anxiety.
If you are a nursing mom, be careful as this herb may decrease the lactation.  If you are pregnant, try to avoid Salvia teas.
As a beauty treat, due to its antimicrobial and antiviral properties, this herb combats greasy and oily hair by regulating the sebum production of the scalp. It is also used to heal various skin problems, such as acne.
Peppermint
Mentha Piperita – Have you tried a peppermint tea? I love it with a chocolate cake – an unimaginably delicious combination! Not to mention the peppermint potential with mojitos.
The tea is good for colds, flu, headaches and nausea.
The spearmint has a milder taste, which is why it's better for kids.
Echinacea
Echinacea Purpurea – It boosts the immune system and is usually taken in the beginning of a cold or flu. The most valuable part of this herb is the root that should be harvested in the fall of the 3rd year – its medicinal properties are at its peak then. Otherwise, its stems and flowers can be harvested in the summer regardless of the plant's age. This autumn, I am planning to make a syrup of elderberry with echinacea to scare all the bacteria and viruses (or almost) from my family.

Basil
Basilico – tea with basil is used to combat colds, flu, coughs, poor digestion, migraine, insomnia, anxiety and exhaustion.  I also put it on pasta and salads with tomatoes and cheese for more Mediterranean flavor.
Did I miss an herb that should be in every herbal garden? I'd love to hear your suggestions!