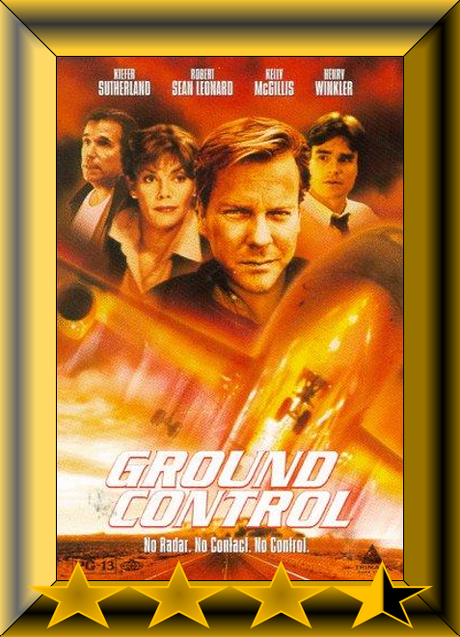 Director: Richard Howard
Writer: Mark Shepherd, Robert Moreland (Screenplay) Talaat Captan, Robert Moreland (Story)
Starring: Kiefer Sutherland, Bruce McGill, Kristy Swanson, Robert Sean Leonard, Kelly McGillis, Margaret Cho, Ruben Paul
Plot: A disgraced former air traffic controller is called back into service when the airport's traffic control system malfunctions.

Tagline – No Radar. No Contact. No Control.
Runtime: 1 Hour 33 Minutes
There may be spoilers in the rest of the review
Verdict: Nice Smart Thriller
Story: Ground Control starts as air traffic controller Jack Harris (Sutherland) loses one of his planes in an accident, with nothing being his own fault. Jack is out the game working on developing a video game in air traffic controlling when his friend T.C. Bryant (McGill) comes to him in need of help because of the workload thrown upon his team.
When Jack reluctant agrees to work for one night, he must face his past, even with hot shot new trafficker Cruise (Leonard) not wanting to work with him and rookie Julie (Swanson) willing to learn off Jack.
Thoughts on Ground Control
Characters – Jack Harris was once one of the best air traffic controllers in the business, he does suffer the nightmare of all the air traffic controllers have, losing a plane, turning to the drink to blame himself for what happened. He has turned to designing video games, but it talked into return on a business night, where he must finally face his own past and deal with the pressure once again. T.C Bryant is the friend of Jack's who has turned to him for help deal with the added pressure piled onto him, he controls the team with his work, which sees him showing off his micromanagement skills. Julie is the rookie on her first night in the team, nervous at the start, Jack offers to help her, while Cruise is willing to put her under pressure. Cruise is the hot shot that gets through the day with his abilities that could make him the best in the business, his attitude has been the one thing that has always held him back, where he is the closest to a villain we have in this film.
Performances – Kiefer Sutherland was a strange choice for this role, when it comes to being in the controller persons, he is great to watch, but when it comes to the unsure nervous filled with regret side of the character he does seem slightly miscast. Bruce McGill, Kristy Swanson and Robert Sean Leonard are all great to watch in their roles in the film.
Story – The story here follows one night in an air traffic control station which has had increased number of flights thrown onto them and the pressure forces the boss to turn to his old colleague to help even though he has been battling his own problems. This is a story that does come from a strange angle because instead of doing anything glorified or over the top, it simply just looks to focus on the pressure these teams will be facing while working on daily basis. We do have the incidents that will show how calm they need to be and how easily they can work to solve the problems they face and by the end you will find yourself gripped to what is happening.
Action/Adventure – The action involved in the film is mostly off camera, it follows what could happen with the planes during difficult decisions, while it does have an adventure tone through how Jack wants to overcome his problems.
Settings – The film is set within the air traffic control station which shows us how close the team must work together for when the pressure grows.

Scene of the Movie – The last plane to land, it is an intense scene.
That Moment That Annoyed Me – Sutherland doesn't seem to fit the nervous unsure figure.
Final Thoughts – This is a tidy thriller that does keep us guessing just to what will happen next with the pressure being piled upon the team, it does keep everything feeling realistic too by only showing the team at work.
Overall: Air Traffic Thriller.