Ground chicken meatballs seasoned with some tasty beef chorizo makes meatballs just a tad bit healthier! And, since I've done a fusion of Asian and Italian in this meatball seasoning mixture, I'm thinking you're not going to believe you're eating ground chicken meatballs!
Asian Italian Ground Chicken Meatballs
There's nothing better than marrying different cultural flavors into a new creation. And, what I've done here is use the General Tso's Chicken Seasoning mixture with Italian herb seasoning paste! Now these meatballs require about the least cooking skills known to mankind! All you have to do is play in the big mixing bowl bringing all the meatball ingredients together, roll them into meatballs (your size is optional), brown them in some olive oil, then simmer in a good brand of jarred marinara sauce! Yep, that's it!
And, to make it even more easy, I've given you the links to several of the ingredients I used in this recipe. So, what's easier than ordering from Amazon and not having to search the grocery store for ingredients! However, there's one ingredient that you could use that I couldn't locate on Amazon and that's Gourmet Gardens Italian Herb Stir-In Paste. Great product! And, you can find at WalMart!
Another Winner Winner Chicken Dinner
Here's another great chicken recipe that you'll like! It's gotten lots of rave reviews from my food seekers as well as others who've made the recipes!
Once you've made this recipe, just imagine all the things you can do with these meatballs! I mean from sandwiches to pasta and topping on a big green salad and more, the possibilities are endless! ANNNNND, like most sauces, these meatballs and the sauce get tastier on days two and three. That is, IF there's any left! xoxoxo ~ally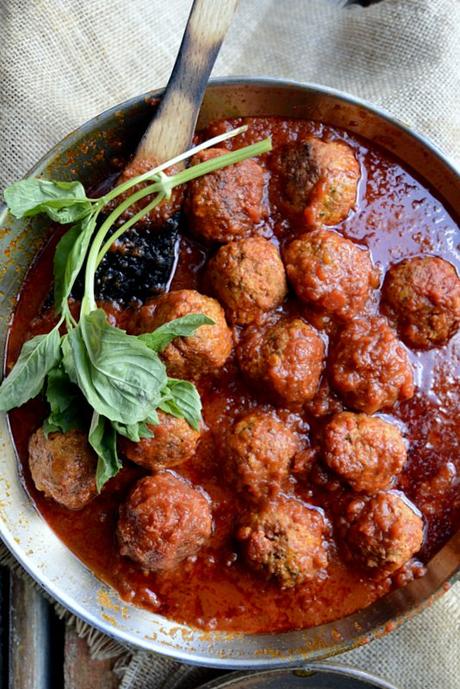 Ingredients
1 ½ lb. ground chicken
½ lb. beef chorizo
1 tsp. sea salt
1 tsp. pepper
1 (1.14 oz.) package General Tsoas Chicken Seasoning Mix SunBird brand
2 Tbl. Italian Herbs Stir-in paste
1 Tbl. Braggs Nutritional Yeast Seasoning
1 egg
1 cup bread crumbs
¼ cup extra virgin olive oil
1 jar (40 oz.) marinara sauce
Instructions