The Daily Mail reports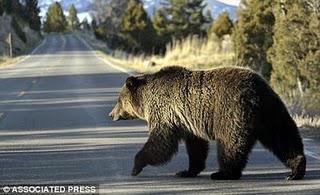 A man found dead in Yellowstone Park last week was mauled by a grizzly, a month after officials refused to hunt a bear in another fatal attack.




The victim was identified as John Wallace, 59, of Chassell, Michigan, whose body was found by two hikers on the Mary Mountain Trail.




An autopsy confirmed Monday that Mr Wallace died as a result of traumatic injuries stemming from a bear attack.




The mauling of Brian Matayoshi, 57, of Torrence, California, was a purely defensive act, park spokesman Al Nash said. 

He added that Yellowstone typically does not try to capture or remove a bear in what he called 'a wildlife incident.'




Matayoshi's death was the first fatal grizzly attack inside the park in 25 years - but the third in the Yellowstone region in just over a year.