Grilling Italian Style

copyright 2017 Art of Living, PrimaMedia,Inc/Maria Liberati
 Father's Day is here (Sunday) and Summer is just around the corner. The days are lasting longer, the beaches are open—and kitchens are being deserted. Yes, it's the time of year to give the ovens  a break in favor of barbecuing outdoor . It may come as a surprise, but Italian culinary flavors are made for the season of sun. Whether you are in the mood for meat, seafood, or vegetables, there is an Italian dish that will suit your outdoor grilling tastes. Like any good dining experience, the key is to start with the perfect appetizer
A great choice to begin with is the simple, but delicious, Grilled Bread with Extra Virgin Olive Oil (Bruschetta Grigliata). The flavored olive oil and bread, grilled to golden, are a great way to make mouths water and a simple but elegant appetizer. And then follow up with this delicious and simple Grilled Shrimp.
And don't worry about the cleanup, Grillbot will easily do it for you. Grillbot is the world's first automatic grill cleaning robot.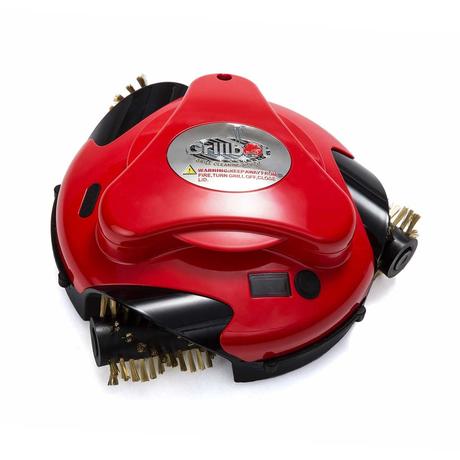 Print Scampi Grigliata (Grilled Shrimp)
Category: entree
Yield: 4
Ingredients
1/4 cup finely chopped garlic, mashed to a paste with 1 teaspoon coarse salt
2 tablespoons chopped fresh rosemary leaves plus sprigs for garnish
 3 tablespoons olive oil plus oil for brushing shrimp
16 jumbo shrimp (about 10 per pound)
4-   12-inch bamboo skewers
Lemon wedges as an accompaniment
Instructions
In a large bowl stir together garlic, chopped fresh rosemary, and 3 tablespoons oil and add shrimp. Marinate shrimp, covered and chilled for at least 8 hours or overnight.
 In a shallow dish soak skewers in water to cover 60 minutes and prepare grill.
 To grill, thread 4 shrimp on each skewer and brush with additional oil. Grill shrimp on an oiled rack, set about 5 inches over glowing coals, 3 to 4 minutes on each side, or until just cooked .
 Alternatively, brush shrimp with additional oil and grill in a hot grill pan, covered, over moderately high heat 3 to 4 minutes on each side, or until cooked thoroughly. Garnish shrimp with rosemary sprigs and serve with lemon wedges. Serves 4
4.14
http://www.marialiberati.com/2017/06/16/grilling-italian-style-happy-fathers-day/
opyright Art of Living, PrimaMedia,Inc/Maria Liberati/The Basic Art of Italian Cooking by Maria Liberati tm
Happy Father's Day!!
For more recipes and a great Father's Day Gift get or give your copy of the Gourmand World Award Winning book The Basic Art of Italian Cooking: Holidays and Special Occasions-2nd edition