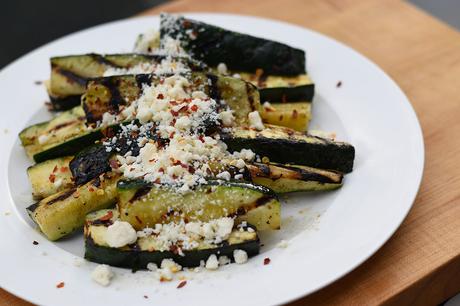 Zucchini is my favorite vegetable. We eat it pretty darn often in the summer when it's easy to find. My favorite zucchini recipe is this grilled zucchini recipe with feta. It's super simple, there are only a few ingredients, and it's quick to make.
Ingredients for Grilled Zucchini with Feta
Here are all the things you need to make this grilled zucchini recipe. Most of them will already be in your pantry so a quick trip to the store to grab some zucchini and feta should hopefully be all you have to do!
Zucchini: Obviously.
Feta: I like to buy pre-crumbled feta to make things even easier.
Olive oil: Keep them from sticking while you grill. 
Salt and pepper: For flavor! I like kosher or flaky salt best with this grilled zucchini recipe.
Red pepper flakes: This is kind of the secret ingredient. You don't have to add a lot and it doesn't have to make this recipe SPICY, but adding a little pinch really makes the zucchini and feta taste awesome.
How To Make Grilled Zucchini With Feta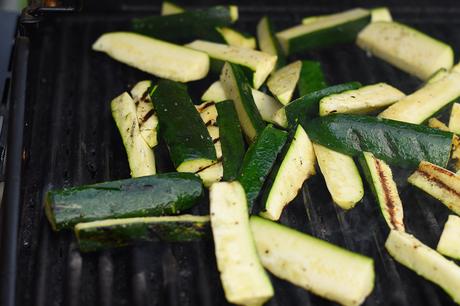 Start by cutting the zucchini into wedges. Coat all of them with olive oil, salt, and pepper. Then get them the grill. My husband usually grills steak to go along with our zucchini and he has the temp around 350 F. 
It's best to lay the zucchini wedges horizontally on the grill so that they don't fall between the grates, but if you know you cut them large enough, you can get pretty willy-nilly with how you place them on the grates.
Use tongs to flip the zucchini every couple of minutes. The total cook time is about 5 minutes. 
Once you remove them, get them on a plate and sprinkle hefty amounts of crumbled feta and a few pinches of red pepper flakes.
That's it. Too easy. Done.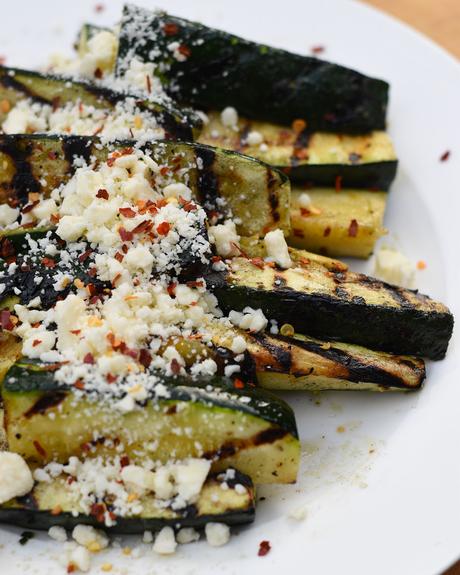 Can You Make This Grilled Zucchini Recipe With Other Cheeses?
Why, yes you can! I'm so glad you asked! Parmesan is an excellent substitute for feta in this recipe. It's salty with lots of flavor and pairs well with feta. You can do grated, shredded, or even some nice big shavings on top.
Other Ways To Make This Zucchini and Feta Recipe
You can also make this on the stovetop. I like to cut the zucchini into thin rounds and saute it with olive oil, salt, and pepper. Cook it over medium heat until it's slightly softened. Remove it from the heat and top the whole pan with crumbled feta and red pepper flakes.
You can also roast the zucchini. Cut it into wedges and coat it with olive oil, salt, and pepper. Roast in a 400 F oven for 10-15 minutes. To avoid overcooking, check the zucchini at the 10-minute mark for doneness and cook in 2-minute intervals until done.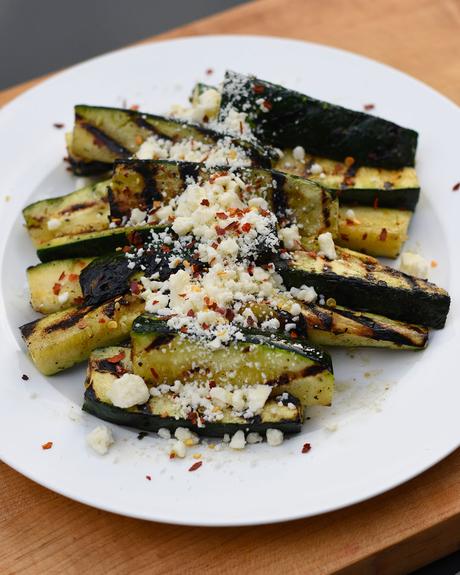 Grilled Zucchini Tips
Look for zucchini that are about 7-inches long. These are more tender and have a better flavor than the larger zucchini.
To cut zucchini into wedges, first cut both ends off. Then cut the zucchini in half. Cut those halves in half lengthwise. Make three cuts along the length of the zucchini to create little wedges.
Store this zucchini in the fridge for up to 4 days. You can microwave it or heat it up in the oven at 350 F for 6-8 minutes.
More Recipes For the Grill
Grilled Asparagus
Print
Grilled Zucchini with Feta
This grilled zucchini is the perfect summer side. Topped with salty feta and a kick from red pepper flakes, it makes the perfect pairing for grilled steak.
Course
Side Dish
Cuisine
American
Prep Time
5
minutes
Cook Time
5
minutes
Servings
4
Ingredients
4

fresh zucchini

1

tablespoon

olive oil

Salt

to taste

Pepper

to taste

Feta cheese

crumbled

Red pepper flakes

to taste
Instructions
Preheat the grill to 350 F

Cut the zucchini into wedges large enough to not fall between your grill grates

Coat the zucchini wedges in olive oil and season with salt and pepper

Grill the zucchini until slightly softened, about 5 minutes, turning them often

Top grilled zucchini with feta crumbles and red pepper flakes