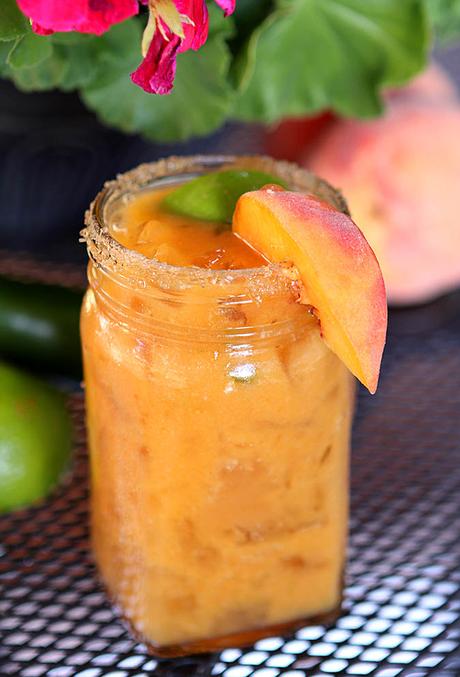 Whenever I use jalapeno peppers I'm reminded of the first dish I ever had that included them and I have to chuckle at the change. We had moved to Denver from Raleigh, NC and the words fajita, enchilada and burrito were not a part of the daily lexicon of the South that I knew. So that move saw a dramatic change in food offerings and it was evident in that first plate of fajitas I had ever had that we ordered at a Chili's (also new to us). We were famished after moving across country with 2 kids so hitting a local dining spot had to happen. The things called fajitas looked good but I was shocked at the fact that the order included some peppers. I despise green peppers so when I heard these were hot (and green to boot!), they quickly got scooted to the side of my plate.
Thankfully over time I tried and tried again and over the years I have to come to love the spice that peppers add to a dish. And just a tingle of heat; no, you will never have to worry about seeing me in one of those contests to see who can down a ghost pepper...those people are nuts! But recipes today might get amped up rather than the opposite of those many years ago and today is no exception. Fresh, sweet Colorado peaches roasted with a jalapeno and then mixed into a icy cold margarita absolutely hit the spot.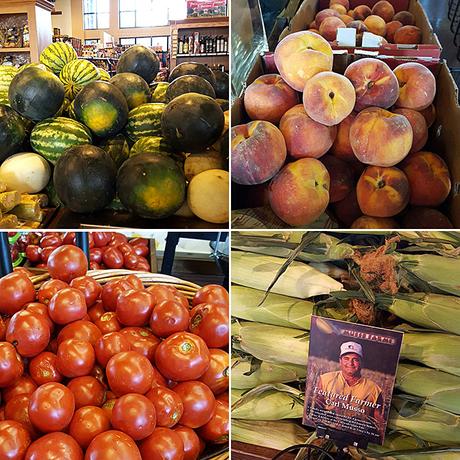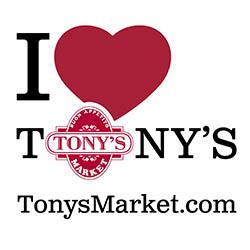 Knowing where I could find those peaches was key and this so nicely segues into my sharing with you a new role I'm excited about. I'm going to be a Brand Ambassador for the local
Tony's Market
; most specifically the one in my little corner of the world on
Happy Canyon Road in Castle Rock, Colorado
. My favorite small market in all of Denver. I thought when I moved from Greenwood Village that Tony's was going to be almost out of reach; that there is one down here even closer to me? Oh my. Going into Tony's is like the adult version of a kid in a candy shop. Everything is amazing; from the farm fresh produce stacked at the front door (the melons, tomatoes, peaches and corn) that is delivered by Colorado farmers to the plethora of unique and delicious sauces and dressings that stock their shelves. Their meat case is filled with fantastic choices, the deli makes one of my favorite sandwiches ever and well, the dessert case is where I weaken and simply can not leave without a sweet treat. Last week German Chocolate Brownies called my name. I meant to take a photo of it I really did but it was devoured before I remembered my plan! Maybe next month? I'll be sharing some favorites over the next couple of months but this month was easy. I mean could you resist?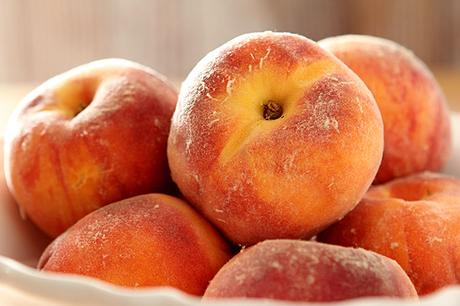 These peaches! I know I can anticipate a battle cry from Georgia for saying this but I don't think there is a finer peach than the ones that come from Palisades, Colorado on Colorado's Western Slope. Cool nights and warm days have them develop more sugar and they are sweet and drippy and amazing and...well, you get my drift. I want to use them for EVERYTHING. How I have never made a peach margarita before is sort of beyond me but they were the perfect compliment to the spicy jalapeno. I added just one and it was a mild twist...do more if heat is your thing! I decided to grill both the peaches and the jalapeno and that was huge; the grilled peaches added a bit of caramel as their sugars heated up and the jalapenos got smoky and softened their bite; absolutely perfect. I used an indoor griddle; I didn't want to lose all those fantastic juices from the peaches into the pit of my grill; nope I wanted them in the cocktail!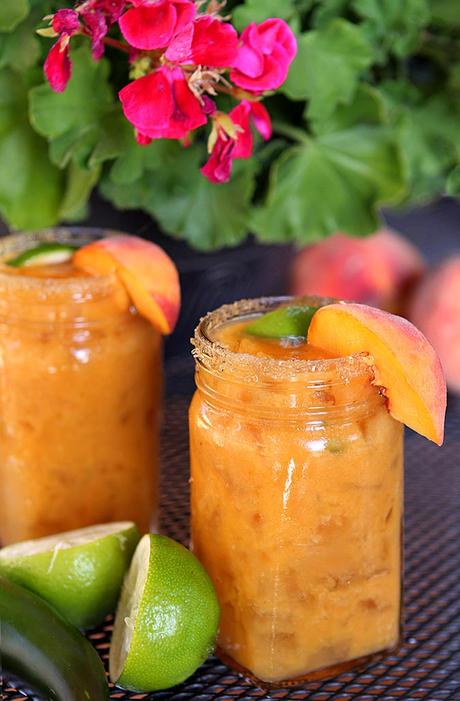 I don't know about you but in Colorado summer still lingers. Yes the days are milder (and pretty perfect) and the nights are starting to carry a wisp of chill in the breeze but my campaign for 'it's not over until it's over' is still going strong so this weekend when we're celebrating Labor Day there will be pulled pork sandwiches, salads and this margarita. It's a fitting tribute to one of my favorite fruits. Join me? Cheers!