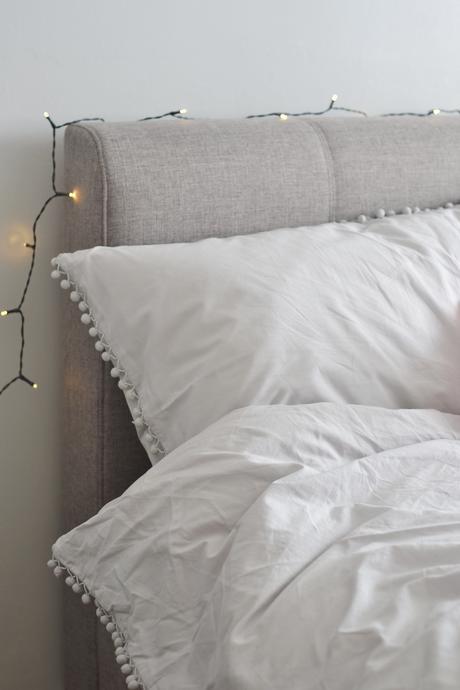 N O P L A C E L I K E H O M E.
These days I spend more time at home than not and I confess: I absolutely love it. Right now, I'm plopped on one of our sunloungers with a lemonade on the side and a happy Milo investigating our spring-ready garden. Many of my friends question how I could possibly be happy spending *this* much time at home but there's little else lovelier than staying in and nesting, is there?
Since moving home almost three months ago (has it really been that long already?!), I've been a little out of sorts, sleeping here and there, often on the sofa or in my sister's room, but at long last, I have a place to call my own again.
Chez Daisybutter 3.0
My new room is almost completely themed around gray. I find it a soothing and cosy hue, not as stark and clinical as white, but also not too dark. Mama kindly selected this Dulux Polished Pebble - Matt Emulsion Paint and it worked perfectly! (I must admit I almost had a nervous breakdown allowing her to pick it whilst I was in Hong Kong - Skype doesn't really warrant a brilliant view for color selection…!)
For reference, here are my Pinterest boards that I've been whipping out at every homeware and interiors place I've visited since returning to England ::
The bed is a small double that we picked up on a really good deal; I love that it's quite close to the ground for some reason! And just how
cute
are these pom-pom sheets?! They're from H&M Home and I blooming love them.
H&M Home Duvet cover set with pompoms, £29.99 (I obviously have double but it's currently sold out!)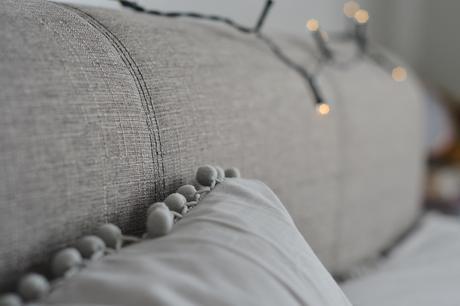 My bedside table is a Laura Ashley number from my old room, hence why it doesn't
quite
match. I'm not too fussed though and it's pretty much just a handy place to keep the books I'm currently or planning to read as well as my kikki.K clock.
Laura Ashley 'Rosalind' Side Table, £225 | Oliver Bonas Pineapple Jewellery Stand/Ornament, £20 | Karlsson Rose Gold Clock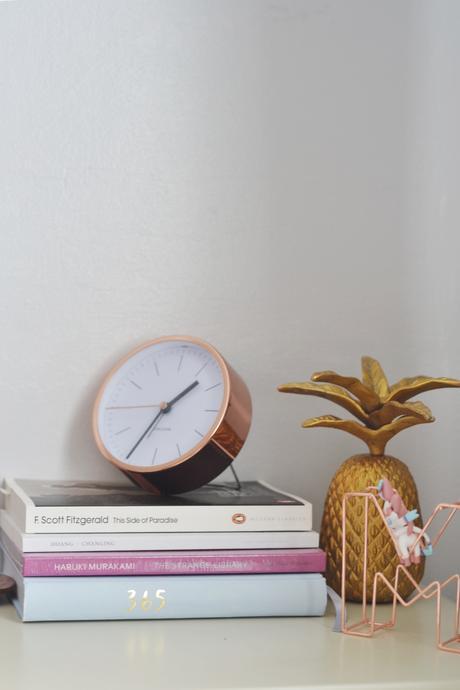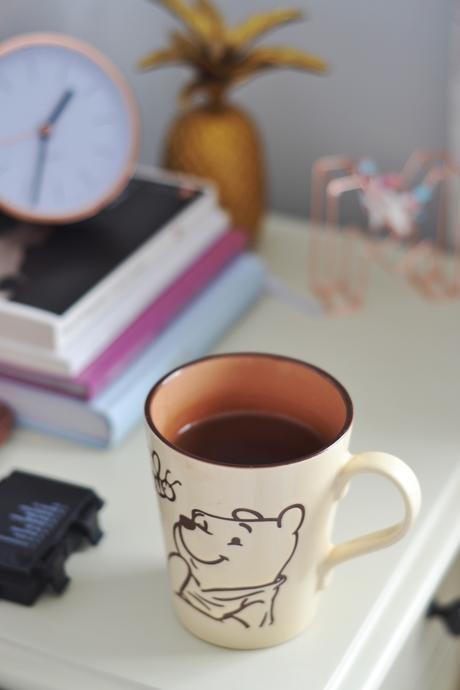 An open wardrobe makes it extra easy to keep on top of any Wardrobe Situations, by which I mean stashing too many clothes that I don't wear. I've always kept my clothes in type and color order so it makes sense to use it as a display now ;) Can you tell I'm really into pink and blue these days?
Oh! And because I'm
forever
being asked about it - my phone case is this Magnolia Branch one from Casetify. It's also available for iPhone and a whole range of other phones. Shop it here (: (Not sponsored!)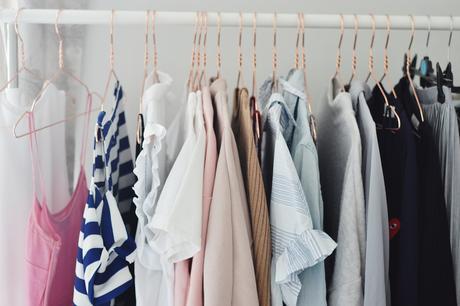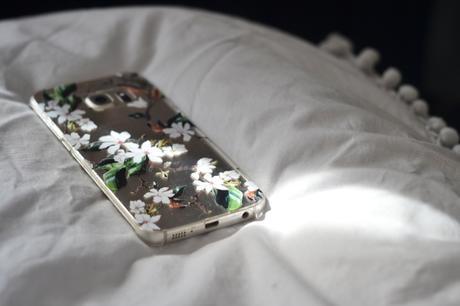 My dressing table continues to be a war zone.
But I recently picked up some storage bits from H&M Home to tide me over until I work out what in the heck to do with this area of my room. The copper tray is handy for organising my everyday 'most reached for' products and perfumes, while this box is good for my makeup brushes.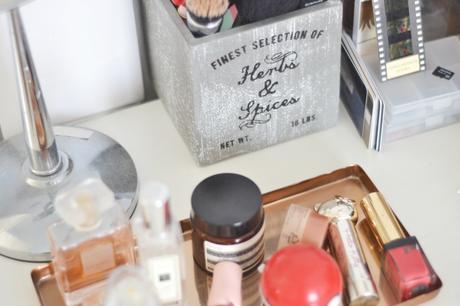 Of course, it wouldn't be Chez Daisybutter without a whole load of personality. Like I mentioned before, I find my bedroom to be a safe haven, a den and cosy nook to retire to when work is too much (I work from home in an office downstairs!) or when I just want to chill out.
Plushies adorn my bed for much of the day (but are housed in this copper wire basket at night and during naptime), an elephant lamp from Urban Outfitters graces my dressing table and photo frames are scattered about in abundance. I'm just not really about that all white, super neat chic aesthetic.
Urban Outfitters Elephant Lamp, £30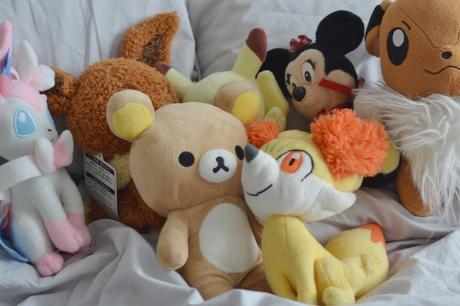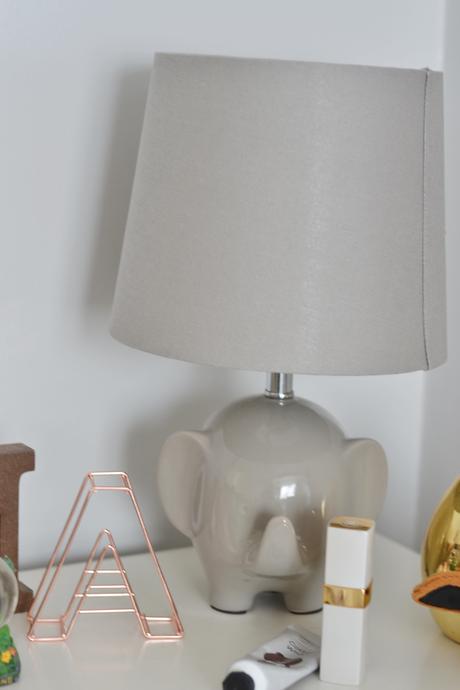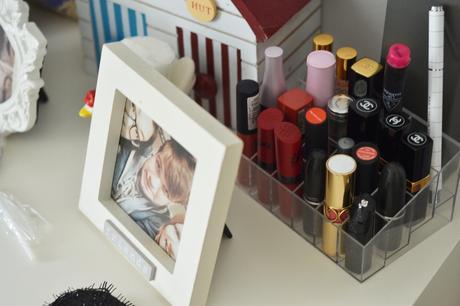 - - -
To be continued...
Next up for Chez Daisybutter?
Well, I still have plenty of rose pink and brass gold details to add to my room. I'm on the hunt for some pink cushions and soft textiles to add a little warmth and subtle color to the place, as well as some greenery (perhaps a fern?) to introduce a little vitality. My Harry Potter-inspired prints and gold foil cloud decals are patiently waiting on the side to be hung and arranged.
Watch this space! ♥
Shop my bedroom details: