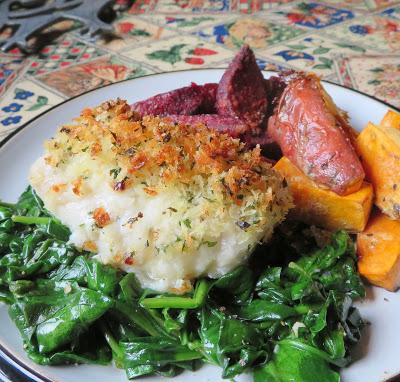 I think of all the fishes in the sea, Cod is my favourite and I have to say that we have beautiful Cod here in the UK.  I first tasted it when I had come over to  meet Todd in person for the first time back in the year 2000.  We had been chatting on line for about six months and decided it was time to meet for real. I had always wanted to come to the UK and had a bit of money saved and so I decided to come over here.  When I think about it now, it was rather brave of me!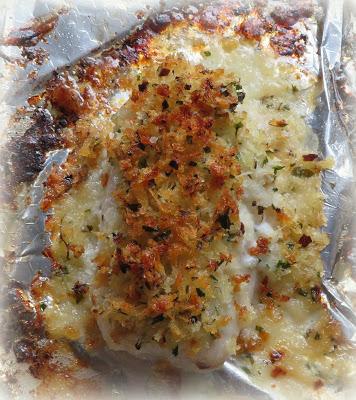 We spent 3 weeks getting to know each other in person before deciding to get married. I returned to Canada to get the necessary visas and the rest of the story is history.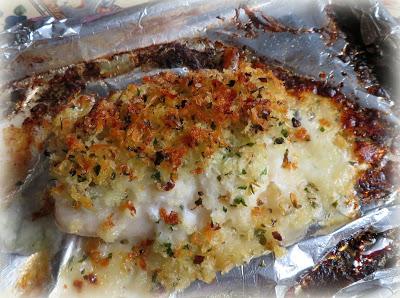 While I was here for those three weeks I spent the nights at a friend from our church's house. I did not want to be a bother and so I either cooked for Todd and I myself each day or we ate out.  I had never experienced English Fish and Chips for real, so one night Todd decided to get us Cod and chips for our tea.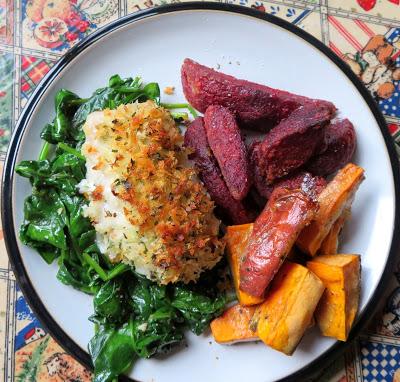 He rode his bike down to the local chippy and got it in for us.  I had never seen such big pieces of fish.   Each piece was so enormous it overlapped both sides of the plate, and it was absolutely beautiful.  Love at first bite.  I say.  Love at first bite.  I have been in love with British Cod ever since.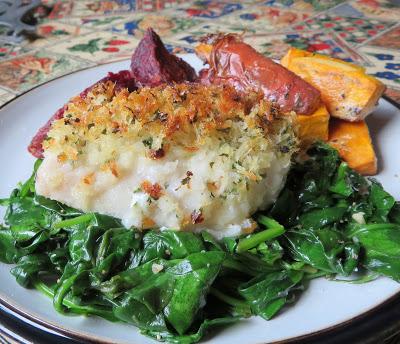 I always get my fish from an on line fish monger,
Seafresh Quality Foods
. I have to tell say I have always been  thoroughly impressed with this company's service and the quality of their fish. Everything has always been just beautiful.Their
Cod Loins
are exceptional.  Sustainably sourced from the cold waters of the North Atlantic, they are meaty and sweet and beautifully white in colour.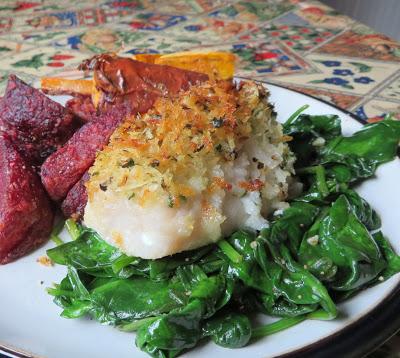 I had actually planned on sharing this recipe with you on Friday, but we are in a bit of a mess here today.  We are getting rid of our large china cabinet and they weren't supposed to come and pick it up until Friday, but ended up they are coming today, and so I wasn't able to cook anything new for you and so am falling back on Friday's plans.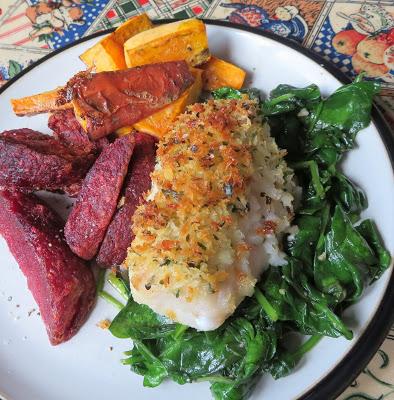 This is another of my cooking for two sized recipes, but it will also very easily double to feed more.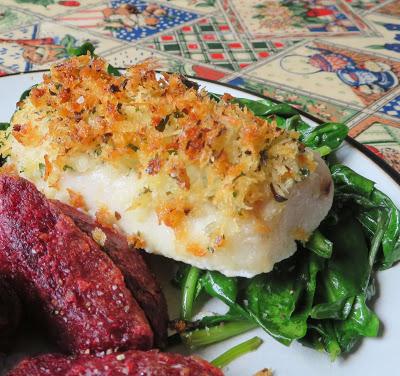 Cod loins are seasoned with salt and then swished in a mix of lemon juice, white wine, olive oil and garlic before being placed on a buttered baking tray.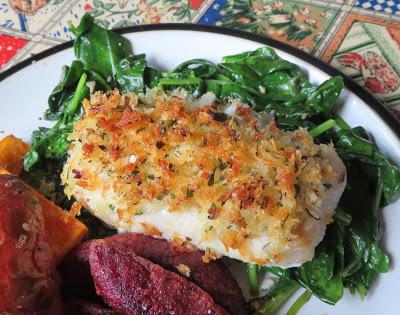 Bread crumbs are then mixed with some herbs, lemon zest and olive oil and sprinkled on top.  I used Panko bread crumbs because I love their light crispness.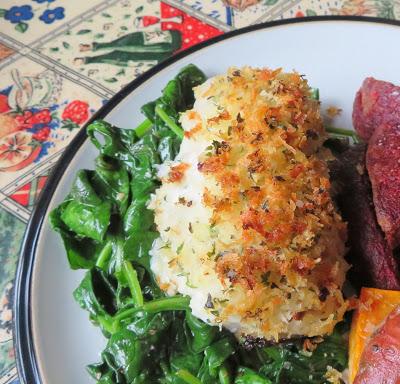 The fish is then baked in a hot oven for a short time (15 - 20 minutes) until the crumbs are golden brown and the fish flakes easily with a fork.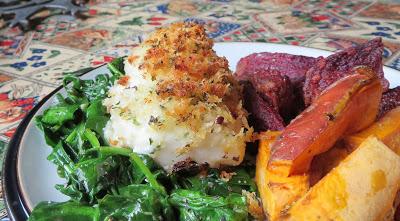 The length of time depends on the thickness of your fish. My pieces were quite thick.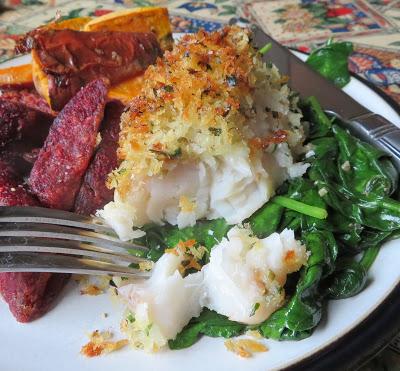 As you can see it was perfectly cooked . . .  and oh so delicious.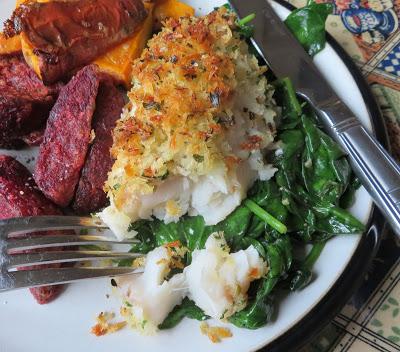 I served it with roasted beetroot, sweet potatoes and sauteed garlic spinach for the win!
Yield:
2
Author:
Marie Rayner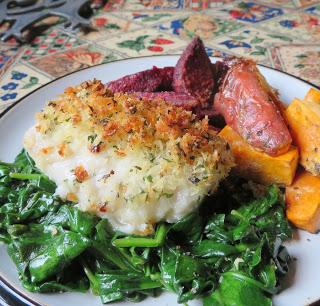 Gremolata  Baked Cod
Oven baked cod loins with a crisp gremolata breadcrumb topping.  Quick, easy and delicious
ingredients:
2 thick cod loin portions
3 TBS olive oil
salt and black pepper to taste
the juice of 1/2 lemon
60ml white wine (1/4 cup)
1 large clove of garlic, peeled and minced finely
70g panko bread crumbs (1/4 cup)
the finely grated zest of 1/2 lemon
1/2 TBS chopped fresh flat leaf parsley
1/4 tsp dried oregano
pinch red pepper flakes
lemon wedges to serve (optional)
instructions:
How to cook Gremolata  Baked Cod
Preheat the oven to 200*C/400*F/ gas mark 6. Line a baking tray with some aluminium foil and butter the foil. Sprinkle the cod fillets lightly with salt all over and pat it in.
Combine 1 1/2 TBS of the olive oil, white wine,lemon juice and 1/4 teaspoon salt together in a bowl, whisking well together.  Add the minced garlic.
Moisten the fish on both sides in this mixture, then place on the baking tray.
Mix together the bread crumbs, lemon zest, parsley, oregano, red pepper flakes,  1/4 tsp salt, some pepper and the remaining olive oil.  Divide the crumb mixture between both cod fillets, lightly pressing it onto the tops of them.
Bake in the preheated oven , uncovered for 15 to 20 minutes, until the crumbs are golden brown and the cod flakes easily when probed with the tines of a fork.
Serve hot with lemon wedges for squeezing, if desired.
Did you make this recipe?
Tag @marierayner5530 on instagram and hashtag it #EnglishKitchenCreated using
The Recipes Generator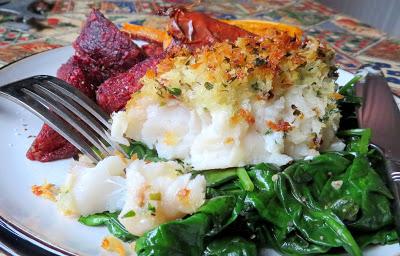 Just look at how nicely cooked that fish is.  This was one very beautiful piece of fish, thanks to Seafresh.A few things about Seafresh:
Same Day dispatch on orders received before 1 PM.
All packages are carefully hand packed.
Free delivery on orders above £50, £8 on orders below that amount. 
Responsibly and sustainably sourced.
Air Blast Frozen at source within 4 hours of being caught.
Wide variety to choose from. 
Do check them out on their
website
to find out more.
Follow them on
Facebook
,
Twitter
and
Instagram
.