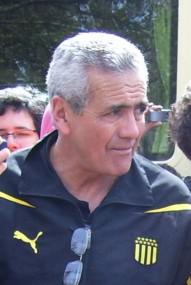 Despite the Uruguayan giants 2-0 win against El Tanque Sisley, Peñarol have decided to part ways with legendary coach Gregorio Pérez.
After meeting on Sunday, the club's executive board decided to relieve the coach of his duties. It seems like the 4-0 win at home against Colombian side Atlético Nacional in Copa Libertadores was too much to recover from
Despite support from club president Egdar Welker as well as the fans, it would not be enough. The coach was advised of his dismissal by Gervasio Gedanke as well as Fernando Morena directly at his house.
Initial reports are that the first team will be coached by Tito Goncalvez as they look for a replacement. The top name on their list is Banfield coach Pablo Da Silva. There has been a great deal of speculation of him leaving his post in Argentina to arrive on the other side of the River Plate.
Other candidates on their agenda are Pablo Repetto as well as Nelson Acosta.
Pérez is one of the most successful coaches in club history as he was a vital part of the club in the 90′s as they won four league titles with El Carbonero during his first two stints.  He was also Oscar Washington Tabárez' assistant with the Uruguayan national team during the 1990 World Cup in Italy.
FOLLOW ME ON TWITTER