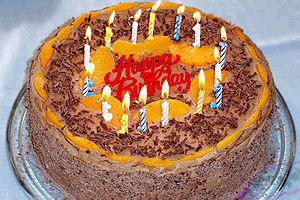 By Pill at de.wiktionary, from Wikimedia Commons
Birthdays are extremely important days that we really take heed of. We might not give priorities to other events like New Year or Valentines Day, but when it comes to birthdays, most people take the effort to remember.
That's why we have here the greetings "Happy Birthday" in all Languages. When you get to enroll to foreign language courses and take it on your selected language schools, perhaps you will get to tackle this.
But now, let's enjoy the following translations acknowledging the most important day of our lives—the day we all were born to this world.
AFRIKAANS – gelukkige verjaarsdag / geseënde verjaarsdag
ALBANIAN   – gëzuar ditëlindjen
ARABIC    – عيد ميلاد سعيد (aid milad said)
ARMENIAN   – ԾՆՈՒՆԴԴ ՇՆՈՐՀԱՎՈՐ
ARPITAN   – bon anniverséro
AZERI   – ad gunun mubarek
BAMBARA   – i ni san kura / sambé sambé
BASQUE   – zorionak zuri
BELARUSIAN – З днём нараджэння (Z dniom naradzhennia)
BENGALI   – subho janmadin
BERBER   – amulli ameggaz
BISLAMA   – hapi long leaf lo u BOBO joyeux anniversaire
BOSNIAN   – sretan rođendan
BRETON   – deiz ha bloaz laouen dit
BULGARIAN – честит рожден ден
BURMESE   -mwe nay mingalar pa
CATALAN   – feliç aniversari
CHEROKEE   – ulihelisdi udetiyisgv
CHINESE (simplified) -  生日快乐
MANDARIN: sheng ri kuai le /
CANTONESE: sang yut fai lok)
CHINESE (traditional) – 生日快樂
MANDARIN: sheng ri kuai le
CANTONESE: sang yut fai lok)
CORSE   – felice anniversariu
CROATIAN   – sretan rodjendan
CZECH   – všechno nejlepší / všechno nejlepší k narozeninám
DANISH    – tillykke med fødselsdagen
DUALA    – buña bwa yabè ba bwam
DUTCH    – gefeliciteerd met je verjaardag / gelukkige verjaardag
ENGLISH    – happy birthday
ESPERANTO – felicxan naskigxtagon
ESTONIAN   – palju õnne sünnipäevaks
FAROESE    – illukku við føðingardegnum
FINNISH    – hyvää syntymäpäivää
FLEMISH    – gelukkige verjaardag
FRENCH    – joyeux anniversaire
FRISIAN   – lokwinske mei dyn jirdei
FRIULAN    – bon complean
GALICIAN feliz cumpreanos
GEORGIAN   – გილოცავ დაბადების დღეს (gilocav dabadebis dghes)
GERMAN    – Alles Gute zum Geburtstag
- Herzlichen Glückwunsch zum Geburtstag (more formal)
GREEK    – na ta ekatostisis / chronia polla / xronia polla
GUARANÍ    – rogüerohory nde arambotýre
GUJARATI    – janam diwasani badhai
HAITIAN CREOLE -  jwayé zanivèsè / bon anivèsè
HAWAIIAN   – hau'oli la hanau
HEBREW   – yom huledet sameakh
HINDI   -  janamdin ki hardhik shubhkaamnaayein
HUNGARIAN- boldog születésnapot kívánok
ICELANDIC   – til hamingju með afmælið
INDONESIAN – selamat ulang tahun
IRISH GAELIC – lá Breithe shona dhuit ITALIAN buon compleanno
JAPANESE – o tanjôbi omedetô (gozaimasu) (more polite with "gozaimasu")
KABYLIAN   -  amulli ameggaz
KANNADA    – huttu habbada haardika shubhashayagalu
KAZAKH    – Туған күніңіз құтты болсын (twğan küniñiz quttı bolsın) / تۋعان كۇنىڭىز قۇتتى بولسىن (tughan kuningiz kutti bolsin)
KHMER   -  rik reay tngai kom nert
KINYARWAND – A isabukuru nziza
KIRGHIZ    – Туулган күнүң менен / تۇۇلعان كۉنۉڭ مەنەن (tuulghan kunung menen) KIRUNDI    – sabukuri nziza / umunsi mukuru mwiza
KOREAN    – saeng-eel-chook-hah-hahm-nee-dah
KURDISH   -  rojdana te pîroz be
LAO    – souksaan van kheud
LATIN   -  felix dies natalis / felix sit natalis dies
LATVIAN   -  apsveicu dzimšanas dienā
LIGURIAN    – bón conpleànno
LINGALA    – mbotama elamu
LITHUANIAN – su gimtadieniu
LOW SAXON -  efeliciteer mit ju verjaardag
LUXEMBOURGEOIS E – schéine Gebuertsdag
MACEDONIAN -  sreken rodenden
MALAGASY – arahabaina tratry ny tsingerinandro naterahanao
- manaova tsingerinandro naterahana finaritra
MALAY   – selamat hari jadi / selamat hari lahir
MALAYALAM – piranaal mangalangal
MALTESE   – xewqat sbieħ għal għeluq sninek
MAORI   – ra whanau koa
MARATHI   -  vadh diwsachya hardika shubhechha
MONGOLIAN – tursun udriin bayar hurgeye (Tєрсєн єдрийн баяр хvргэе)
MORÉ    – ne y taabo
NGOUMBA   –  kundah bial dohli
NORWEGIAN -  gratulerer med dagen
- gratulerer med fødselsdagen
OCCITAN   –  bon aniversari
PASHTO   –  kaleza mo mubarak sha
PERSIAN   –  tavallodet mobârak
PIEMONTESE – bon compleann
POLISH   – wszystkiego najlepszego z okazji urodzin
PORTUGUESE –  feliz aniversário / parabéns
PUNJABI    – janum din diyan boht boht wadayian
QUÉBÉCOIS (CANADIAN FRENCH) –  bonne fête
ROMANI    – baxtalo rodźendano
ROMANIAN  – la mulţi ani
RUSSIAN С   –  днем рождения (S dniom rojdeniya)
SAMOAN   –  ia manuia le aso fanau
SARDINIAN  –  bonos annos (logudorese) / bonus annus (campidanese)
SCOTTISH GAELIC –  co-latha breith sona dhuibh
SERBIAN    – Срећан рођендан (srećan rođendan)
SHIMAORE   –  mwaha mwema wa baraka
SHONA   –  bavudei rakanaka
SINDHI   –  junam dhin joon wadhayoon
SINHALA   –  suba upandinayak
SLOVAK   –  všetko najlepšie k narodeninám
SLOVENIAN – vse najboljše
SOBOTA   –  dobro letobra
SOMALI   –  dhalasho wacan
SONINKE    – an do siina kurumba
SPANISH    – feliz cumpleaños
SWAHILI   -  kumbukumbu njema [nndjema]
- pongezi kwa siku ya kuzaliwa
SWEDISH   –  grattis på födelsedagen
SWISS GERMAN – Viel Glück zum Geburtstag (formal)
- Viel Glück zum Geburi (informal)
TAGALOG   –  maligayang kaarawan
TAHITIAN   –  ia ora te mahana fanaura'a
TAMIL   –  piranda naal vaazhthukkal
TATAR   –  tugan konen belen
TELUGU   –  పుట్టిన రోజు శుభాకాంక్షలు (puttina roju shubhakankshalu)
THAI   –  สุขสันต์วันเกิด (souksaan wankeud)
TIBETAN   –  སྐྱེས་སྐར་ཉིན་བཀྲ་ཤིས་བདེ་ལེགས། (kyekar nyin tashi delek)
TSHILUBA   –  diledibua dilenga
TURKISH   –  dogum gunun kutlu olsun / nice yillara / iyiki dogdun
UDMURT   –  vordiśkem nunalenyd
UKRAINIAN –  З днем народження (Z dnem narodzhennya)
URDU   –  saalgirah mubarik
UYGHUR   –  تۇغۇلغان كۆنىڭىزگە مۇبارەك بولسۇن
(tughulghan kuningizge mubarek bolsun)
UZBEK   –  tug'ilgan kuningiz muborak bo'lsin
VIETNAMESE – chúc mừng sinh nhật
WALOON   –  ("betchfessîs" spelling) djoyeus aniversaire / bon aniversaire
WELSH   –  penblwydd hapus
WEST INDIAN CREOLE –  bon nanivèsè
WOLOF   –  beuss bou deloussi moo nex
YIDDISH   –  a freilekhn gebortstog
YORUBA   –  ajodun ayo fun e
As the list of languages is so vast, if you find any mistake, please feel free to comment here.