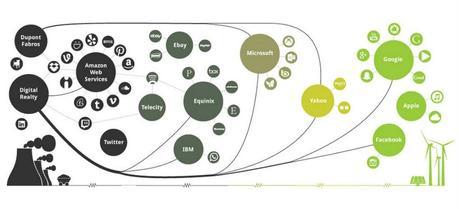 Where does your favorite internet company stand on renewable energy use? (Credit: Greenpeace)
In its new report called "Clicking Clean: How Companies are Creating the Green Internet," Greenpeace uses information provided by the internet companies to determine whether those companies are using dirty or clean energy.
According to the report, while shifting businesses to an online model can create significant gains in energy efficiency, the energy appetite of the internet continues to outstrip those gains thanks to its dramatic growth. Critically, the internet's growing energy footprint has thus far been mostly concentrated in places where energy is the dirtiest.
Greenpeace points out that "We cannot make the transition to a renewable powered society fast enough unless the internet is a platform leading the world toward a clean energy future, and not building a new attachment to our dirty energy past."
The report states that the pressing need for the internet to drive the clean energy revolution is perhaps most evident in China, which will host much of the internet's growth in the decade to come. China is also the country with the world's largest carbon footprint. As companies begin to build their internet infrastructure there, acceptance of status quo dirty energy would be disastrous for efforts to wean China off of polluting energy sources. Innovative approaches to clean energy procurement, by contrast, could be transformational there.
As per the report, some major companies "are taking meaningful steps to steer their infrastructure investments toward cleaner energy" but "most companies still are myopic to the critical nature of their energy choices, focusing only on maximizing efficiency."
Report Key Findings:
Six major cloud brands—Apple, Box, Facebook, Google, Rackspace, and Salesforce—have committed to a goal of powering data centers with 100 % renewable energy and are providing the early signs of the promise and potential impact of a renewably powered internet.
A number of leading brands, most notably Apple and Facebook, have made significant improvements in their energy transparency, discarding the previous dogma within the sector of withholding energy data due to competitiveness concerns. Transparency still remains weak overall among many brands, particularly colocation providers.
Amazon Web Services (AWS), which provides the infrastructure for a significant part of the internet, remains among the dirtiest and least transparent companies in the sector, far behind its major competitors, with zero reporting of its energy or environmental footprint to any source or stakeholder. Twitter lags in many of the same areas.
As a result of pressure by three major brands (Apple, Facebook and Google) located in North Carolina, Duke Energy, the largest utility in the US, adopted a Green Source Rider, opening the market to renewable electricity purchases for large customers in North Carolina.
Google maintains its leadership in building a renewably powered internet, as it significantly expands its renewable energy purchasing and investment both independently and through collaboration with its utility vendors.
Facebook continues to prove its commitment to build a green internet, with its decision to locate a data center in Iowa driving the largest purchase of wind turbines in the world.
Apple is the most improved company since the last full report by Greenpeace, and has shown itself to be the most innovative and most aggressive in pursuing its commitment to be 100% renewably powered.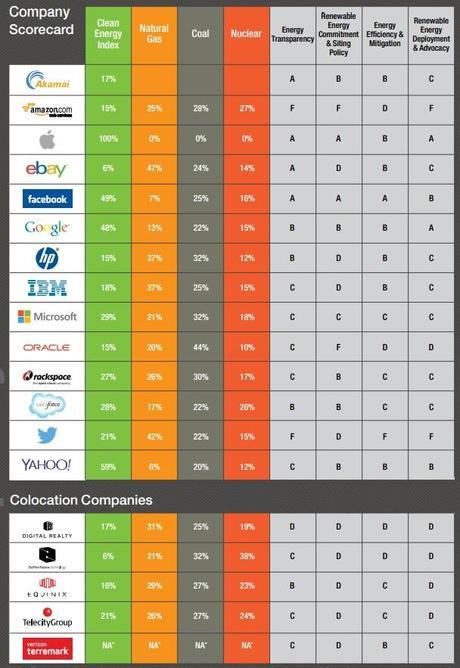 The Greenpeace's 'Company Scorecard' shows key data on companies' energy consumption.. (Credit: Greenpeace)
The full report is available for download here.