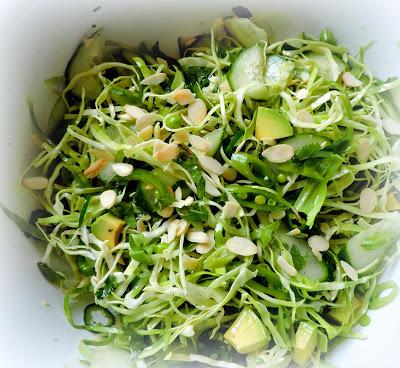 I really love salad weather and we have certainly been enjoying lots of that these past few weeks!  Summer and salads go together like, well  . . .  peas and carrots!  Especially when they are as delicious as this beautiful Green Slaw!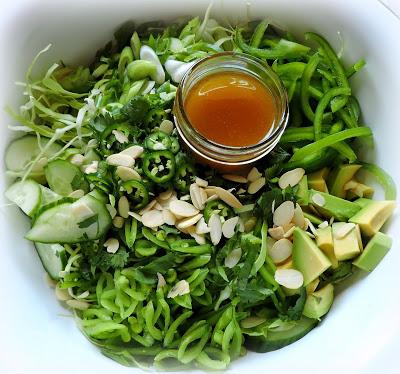 This recipe today is an adaptation of one I discovered on Foraged Dish, by way of  The View From Great Island. I was looking for something slightly different that I could make for our combined Canada/Independence Day bash on Monday evening, and when I saw this recipe, I knew I had found a  perfect contender!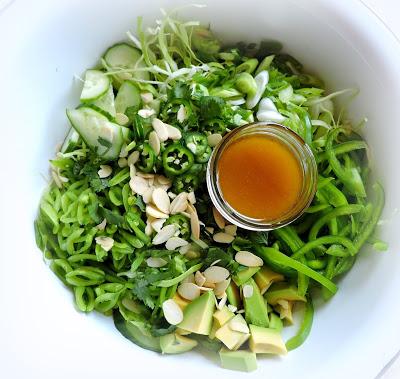 One of the reasons it really appealed to me was that it was not a claggy, mayonnaise based coleslaw.  I adore coleslaw with vinaigrette dressings.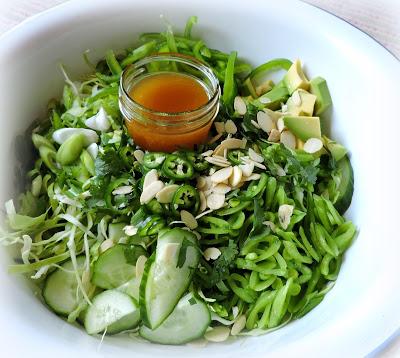 And this vinaigrette is amazing, with an almost fusion take on different cultural flavours, with fresh lime, olive oil, ginger, sesame oil, and  . . .  maple syrup.  Say what???  I thought it matched the idea of both American/Canadian/ British cultures, which are more and more becoming a melting pot of cultures/flavours/foods!  You can't get much more Canadian than Maple Syrup!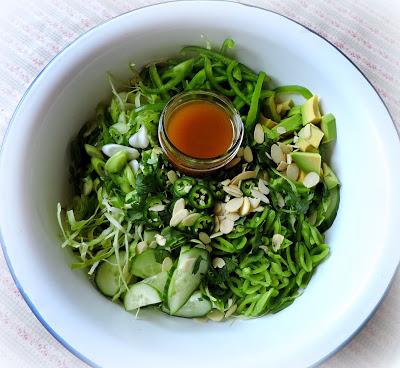 I also loved the idea of all of the fresh vegetables in the dish, each one being a variant of the color green . . .  almost like Ireland you know, with its many shades of green . . . and America is full of Irish people, and I myself am 27% Irish . . .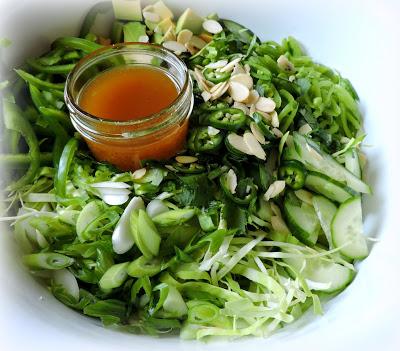 I used a very British cabbage here, which is long and pointed . . . loosely leafed . . .  the sweetheart cabbage. The original recipe used savoy cabbage, which is also fairly loose leafed . . .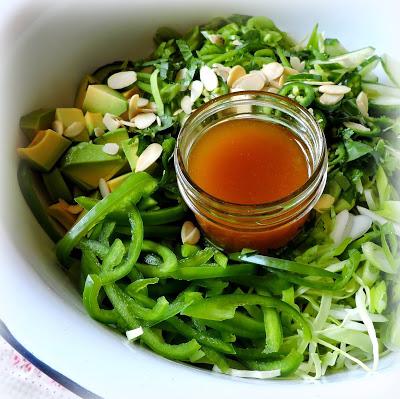 Add to that thinly julienned sweet green bell peppers . . .  slivered spring onions  . . .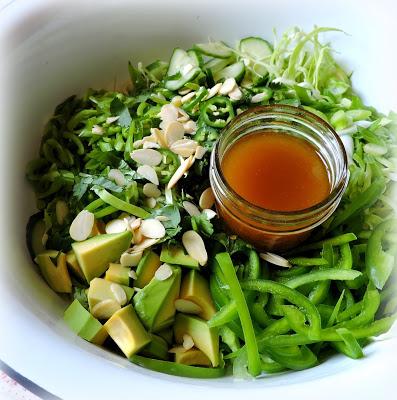 diagonally sliced sugar snap peas . . .  be sure to de-string them . . .  its very easily done.  Just insert your knife beneath the underside at the tip opposite the stem and pull towards you . . . the strings should pull right off.  Strings are chewy things, not crisp things, and they have no place in this salad, where only the crispest of intentions should lay  . . .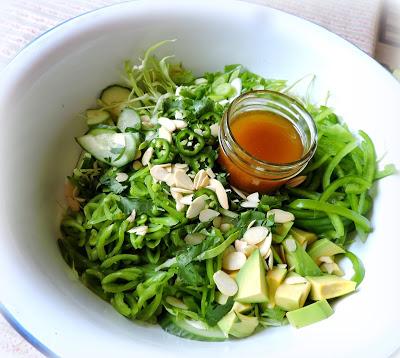 chunks of rich and creamy avocado are the exception to the rule  . . . luxurious . . . delicious  . . .  creamy . . .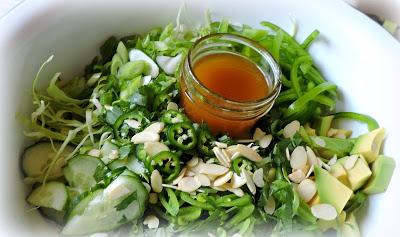 For a bit of a bite, a thinly sliced green jalapeno chili pepper . . . you can de-seed if you want to decrease the heat from the pepper . . .  but I just left the seeds in.  I knew the guys could take it and would actually probably really enjoy it . . .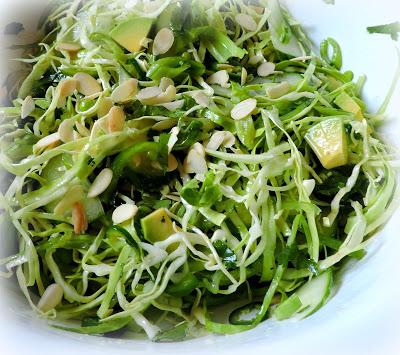 There is the soft leafed herb, with a bold, bold flavour  . . .  fresh coriander leaf . . . or cilantro as it is called in North America.  Very Tex Mex, but also Thai . . . fusion again . . .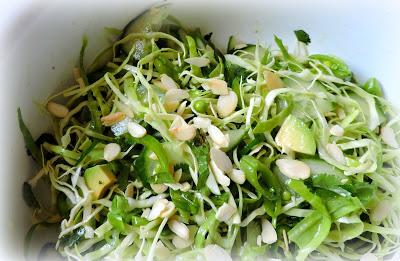 Finally  we have the nutty addition of toasted flaked almonds  . . .  almost sweet, and certainly crunchy . . . about 8 minutes on a baking sheet in a hot oven does the trick. Perfect.  Make a few extra to nibble on.  I always do.  I adore almonds.  Altogether this was beautiful!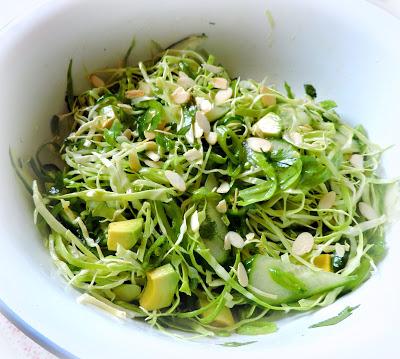 *Green Slaw*Serves 6 - 8Printable Recipe   
Green, fresh and slightly spicy. Goes great with all your grilled meat, chicken or fish. 
1/2 head of cabbage, thinly shredded with a knife(I used a sweetheart cabbage, but savoy is also recommended)1 green sweet bell pepper, trimmed, de-seeded and julienned1 cucumber, washed, dried and cut into half moons on the diagonal3 spring onions, washed and thinly sliced on the diagonal85g of sugar snap peas, trimmed, de-stringed and sliced thinly on the diagonal1 green chili, trimmed and thinly sliced (optional)1 ripe avocado, pitted,peeled and cubeda handful of fresh coriander leaf, coarsely chopped85g flaked almonds, toasted (1/2 cup)
For the dressing:60ml fresh lime juice (1/4 cup)60ml olive oil (1/4 cup)2 TBS toasted sesame oil1 tsp finely grated peeled, fresh ginger root1 TBS  maple syrupsalt and black pepper to taste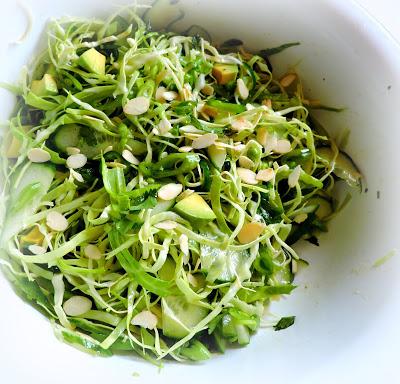 Prepare all of your vegetables and toss together in a large bowl.  Whisk together the dressing ingredients.  Pour over the salad and toss together again.  Sprinkle with the toasted almonds and served immediately.
Note - all of the vegetables can be prepared and tossed together well ahead of time, cover and chill. Add the dressing at the last minute before serving and sprinkle on the almonds.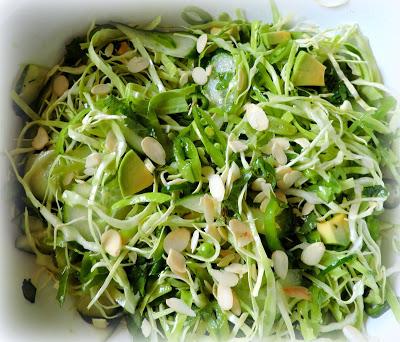 The lads actually enjoyed this salad on their grilled burgers, kind of like a pickle.  It made me happy to see them tucking in like they did!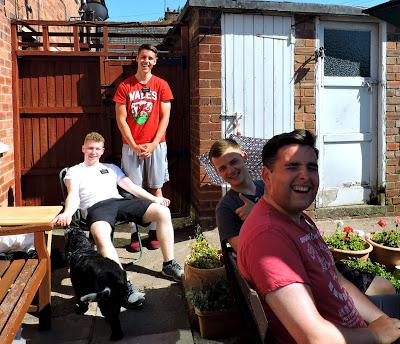 We were a motley crew mix of Alaskan, Canadian, Utah'n, Irish, and Brit!  What better cause for celebration!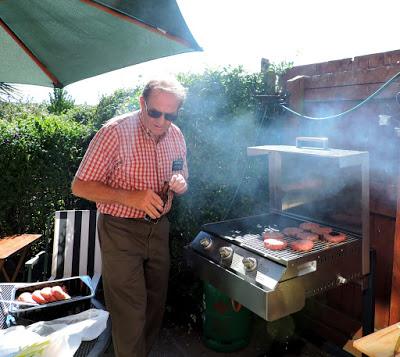 Elder Boyer did a fine job of grilling the burgers and dogs!  Oh boy, did he fall in love with the Space Grill!  I think he is putting one on his wish list for when he and Sister Boyer go back to the US after their mission is finished.  (Psst, that is a bottle of BBQ sauce in his hand, not a bottle of beer, lol) 
Happy 4th of July to all my American Readers!  Have a good one. Stay safe and enjoy all of your festivities, food, fireworks, BBQ's etc.!