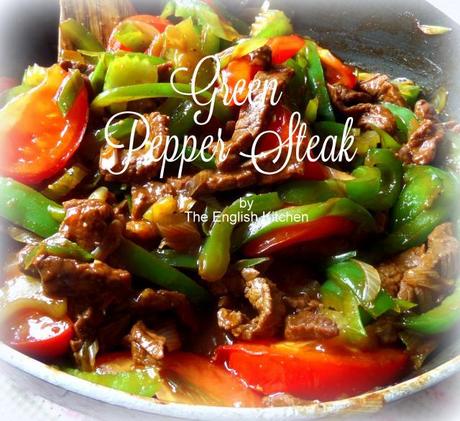 This is one of those quick, easy and simple recipes that every cook should have up their sleeves.  I wish I had a pound for every time I have cooked this over the past 45 years or so . . .  I'd be a very rich woman!  Green Pepper Steak is one of those delightfully quick and tasty dishes that goes together in a flash and can be on the table in not much more than half an hour or so.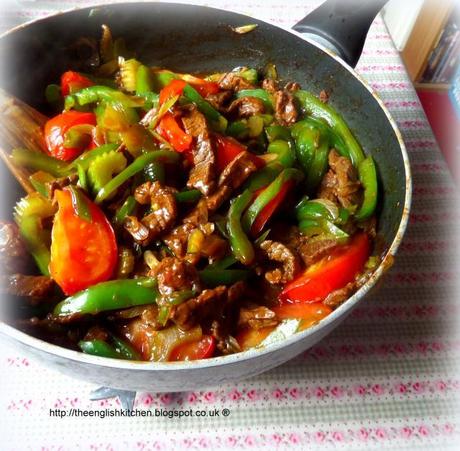 It's fairly economical as well, as it stretches a little bit of meat to heartily feed four people . . .  with the addition of some peppers, onions, garlic and tomatoes.  I will wager it fulfills the requirement for at least two of your five a day . . .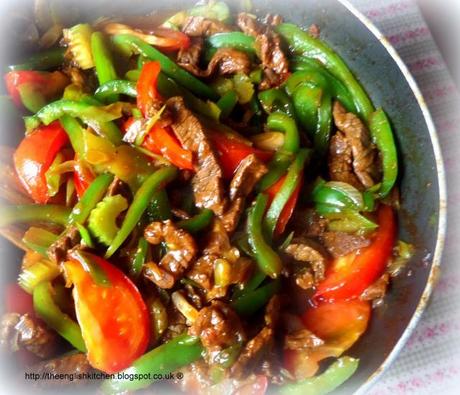 I love the crunchiness of the vegetables and the full flavoured mixture of the ginger, soy and garlic that almost marinates the meat as it simmers to fork tender . . .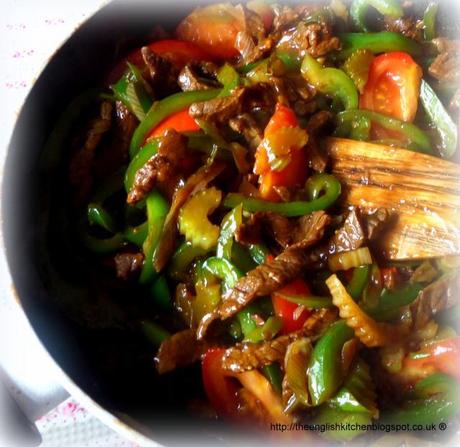 The tomatoes add a touch of color and sweetness, and maybe even a bit of richness to the dish.  In any case whatever . . .  it all marries beautifully and makes for a tantalizingly simple and quick weeknight supper.  All you need do is to cook some rice and Bob's your uncle.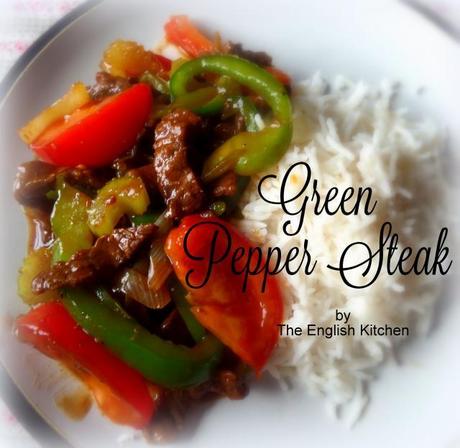 *Green Pepper Steak*Serves 4Printable Recipe  
Delicious and simple.  One of Todd's favorite meals that I serve with some steamed basamati rice.
  
1 pound of rump steak 60ml soy sauce (1/4 cup)1 clove of garlic, peeled and minced1 12 tsp fresh ginger, peeled and grated2 TBS mild flavoured cooking oil1 bunch of spring onions, thinly sliced2 green peppers, thinly sliced1 rib of celery, thinly sliced1 TBS cornstarch1 cup water2 tomatoes, cored and cut into wedgessalt and black pepper to taste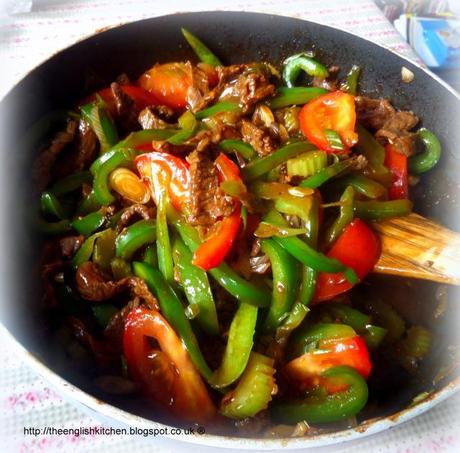 Slice the steak across the grain into thin strips, about 1/8 inch thick.  Whisk together the soy sauce, garlic, and ginger.   Add the steak and toss well together.  Heat the oil in a large deep skillet.   Add the steak.  Cook, stirring, over medium hight until browned.  Cover and simmer for about half an hour, until nice and tender.  Return the heat to high and add the spring onions, peppers and celery.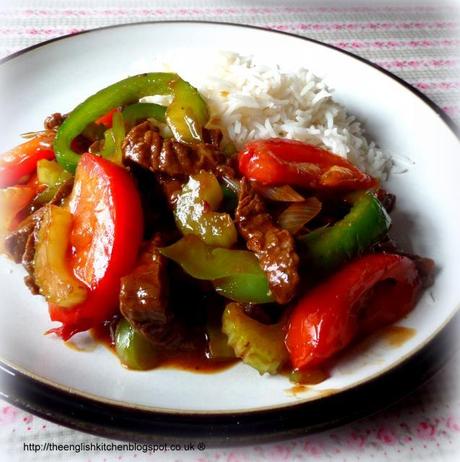 Cook, stirring for about 10 minutes, until the vegetables are crispy tender.   Whisk together the flour and corn starch.   Add to the pan and cook, stirring for 4 to 5 minutes, until nicely thickened.   Add the tomatoes and heat through.   Serve hot.