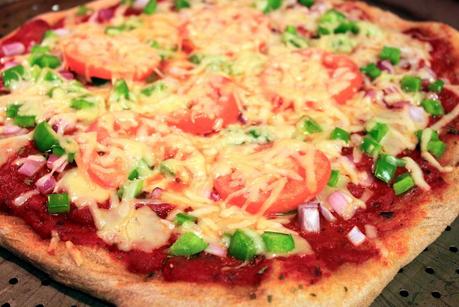 It's no secret that my husband loves pizza.
I've actually never seen anyone like pizza as much as this guy – sometimes I wonder if he'd be happy if all he had was pizza for the rest of his life. (Husband nods in agreement and says "I'm having pizza twice today. It's a good day.")
When I first met the hubby, his pizza of choice was Totinos. Yes, Totinos – the pizza that sells for less than $2 and is kind of like the mystery meat of frozen pizzas: it has 30+ ingredients, many of which you can't pronounce, and one pizza has 660 calories, 50% the daily value of fat and 50% the daily value of sodium.
Obviously not the best choice for a daily meal, and yes, the husband ate Totinos at least 3 times a week when we first started dating.
So it's no surprise that I've been on a mission to cleanse him from his Totinos obsession since we met

One of the ways I've done this is by finding healthy, organic, all-natural frozen pizzas, and the other way has been to make delicious, healthy, all-natural pizza at home. Both have been successful, as he no longer buys Totinos!
Here's my recipe for the pizza to cure unhealthy frozen pizza obsessions: my green pepper & onion pizza.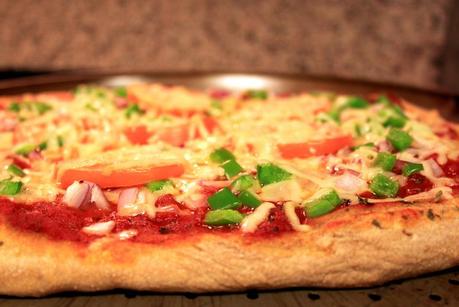 The Ingredients
1 green pepper, diced
1 red onion, diced
Sliced roma tomatoes (optional)
Freshly grated parmesan cheese
All-natural, no-sugar added pizza sauce (I love the brand from Trader Joe's)
Fresh, whole wheat pizza dough (I get the one from Trader Joe's)
Dried oregano
Garlic powder
Crushed red pepper
The Directions
Step 1: Cut your veggies, and spread out the pizza dough using your hands (much faster & easier than using a rolling pin)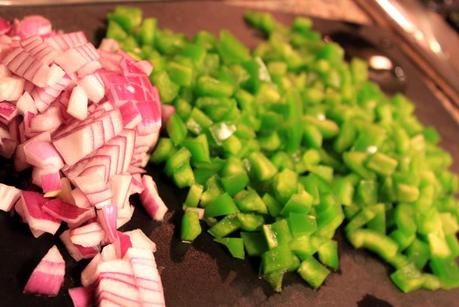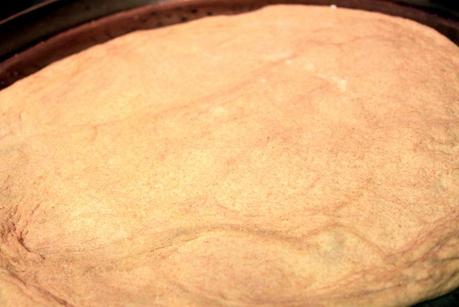 Step 2: Top the dough with sauce, sprinkle dried oregano and garlic powder on top of the sauce, and then top with veggies & cheese.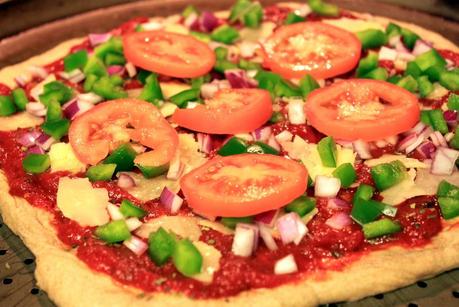 Step 3: Bake in a 450 degree oven for about 10 minutes until the cheese has melted and the crust has lightly browned.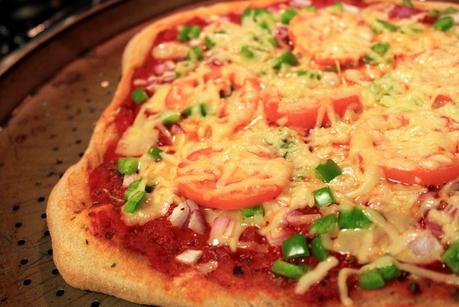 Let stand for about 5-10 minutes, slice and enjoy!
While this pizza is actually really healthy: fiber from the whole wheat dough & veggies, fat only from the cheese, no weird ingredients like Monocalcium Phosphate, etc., it's also so delicious that my husband, the pizza aficionado, couldn't stop eating it. Hope you enjoy this as much as we did!