During my recent trip to KL, the usual place I must go will be the baking supply shop.  I guess many of my like minded friends are all like that.  Gone are the days we will buy shoes, bags and clothes as our first priority.  Are you like me?

Thus, when I saw green pea flour and remembered how much trouble I had to go through to find this in Singapore.
Last year, I wanted to bake this but everywhere was sold out. Even if I were to mill it myself, strangely during this period, the green pea are no where in sight too.
Having this thought, I grabbed a packet immediately and that was the last on the shelf!  
I remembered this, Green Pea Cookie, was well liked by my family and friends. It was also a hot favorite back in 2010 (nice to have a blog for me to track back my memory).
This year, this is one of the item on my list.  Strike 2 off the list, let's see how much energy I have left to complete the list.
Note: You can find green pea flour in Sun Lit.  I was told that Phoon Huat does stock on this too.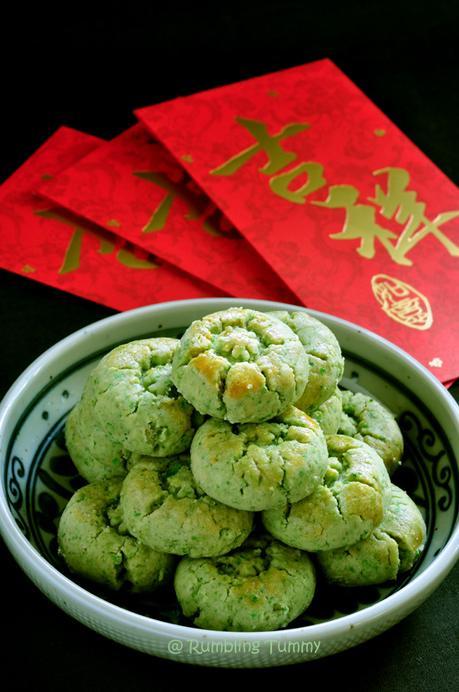 What you need:yield: 40 pcs
130g green pea flour or deep-fried green peas (milled) without skin
100g icing sugar
¼ tsp salt
¼ tsp baking powder
160g plain flour
100g groundnut oil (I highly suggest you use groundnut oil)
Egg wash:
1 egg yolk with 1 tsp milk and 2 drops of oil
Method
Preheat oven to 170°C.
Sift icing sugar and plain flour into a bowl.
Add all other ingredients and mixed well except the groundnut oil.
Add in groundnut oil and mix to form a dough.
Using a small scoop, scoop dough and roll into a ball.  Flatten slightly.
Brush on egg wash.
Bake for 15-20 mins till well-baked.
Cool on rack and store.

Enjoy!
If you have enjoyed this post by
Rumbling Tummy
, be sure to follow this Rumbling Tummy on
Facebook
, Instagram, Pinterest, Twitter and
Google+
.