That ubiquitous symbol of the Green Man is prevalent in European countries.  He is found on doorways and pub walls, in hotel entrances and outdoor venues, and of course, in the forest.  He comes in many forms and looks quite different each time you spot him.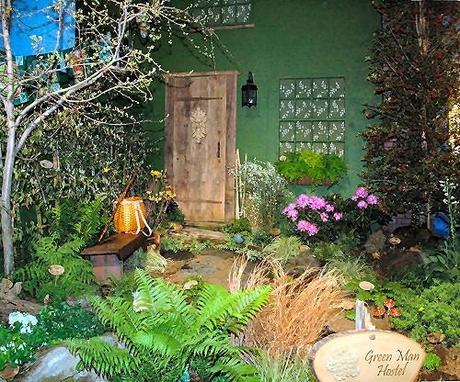 (pinterest)The Green Man
...is that spirit, energy, presence, inherent in every cell of the vegetative realm, and transmitted to the animal/human realms through the foods we eat, the flowers we smell, the trees we hug. He is Pan.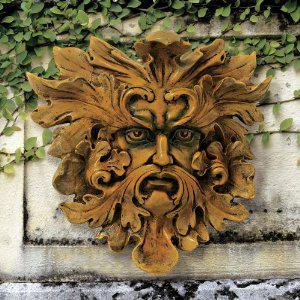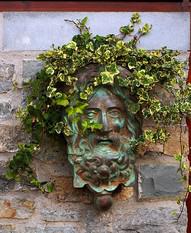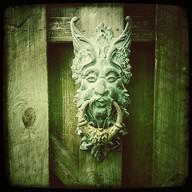 The Green Man I found online is cast iron and is weathering nicely on our back yard gate where he has kept company with the outdoor creatures for just over a year.  Here is our green man, guardian of the gate,  ready for a bit of artificial ivy to be twined around his head when the weather turns a bit warmer.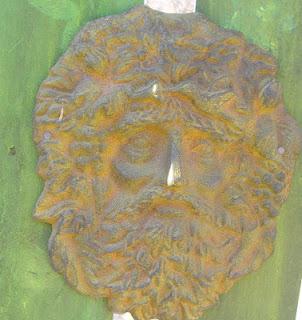 Yesterday I laid in a supply of green acrylics and will paint our garden shed door with a green man face so that he can keep the dogs company while they play outdoors.  This is a rough picture of the green man I'll paint on the shed bi-fold doors, starting today, hopefully: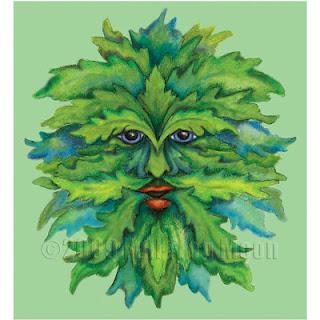 Look for an update next week on the Green Man permanently residing on the outdoor shed.  Those acrylic paints last a long time.