Award season may be over but the Cannes Film Festival has served up some seriously gorgeous red carpet looks this week! As one of the world's oldest and most prestigious film festivals, the event in Cannes brings out the cream of the crop of A-list celebrities! And in an atmosphere like the south of France, how could you not expect glamour around every corner at all of the different photo calls, premieres and galas.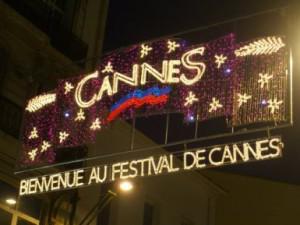 And there's one hot trend straight from Cannes that has truly caught my eye! Whether evening gown or summer dress, celebrities have been accenting their looks with bright green jewelry. A big color this spring, green sits right on that fine line between fun and elegant and adds the perfect pop of color to any outfit. Its tropical, playful and looks good on every skin tone. Two of my favorite stars to pull off green accents in Cannes were Angelina Jolie and Uma Thurman, both of whom wore their emerald baubles with white or cream, giving those green gems a chance to truly shine!
Angelina Jolie attended a photo call on Wednesday wearing a belted Salvatore Ferragamo dress that gave her a perfectly fresh look! Jolie kept her outfit mostly monochromatic except for her sparkling emerald bracelet and ring. Her jewels are from her own Style of Jolie jewelry collection, which is comprised of the finest collection of diamonds and emeralds, letting us know they cost a pretty penny. Emerald green has almost become Angelina's signature color and we love her look! Get 1928's Radiant Allure Blue Beaded Bracelet accented with marquise cut emerald hued gems to get the same look for less!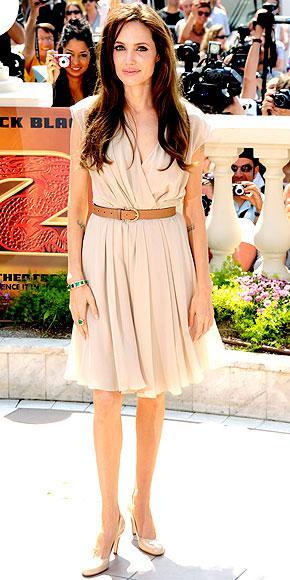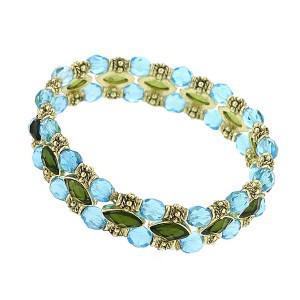 Another great look from Cannes that also included some green jewelry was Uma Thurman at the festival's ever so fancy opening ceremony. Thurman looked stunning in a white feathered Versace gown and some major emerald green chandelier earrings. We've got a similar pair from the same collection as the bracelet above! Check out our Ocean Goddess Green and Blue Chandelier Earrings and the rest of the Malibu Collection for fabulous finds in this trending color palette of aqua and emerald. (Annie posted more from this collection HERE!)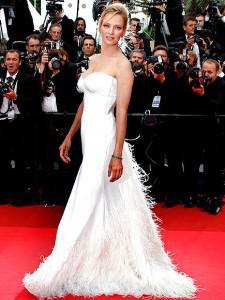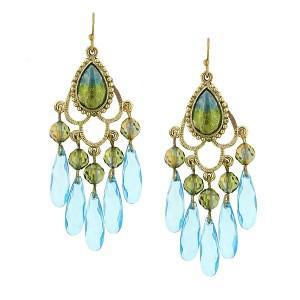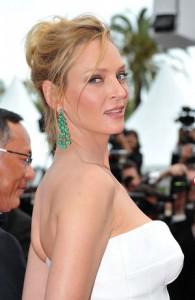 Have you purchased any ocean inspired jewelry? How do you accessorize to get a summery, tropical style? Share with us here, on our Facebook or @1928jewelry on Twitter. We're on a race to reach 5,000 followers by the end of the month, and if we do, big savings are coming your way. Fabulous!
Happy Friday, jewelry gals!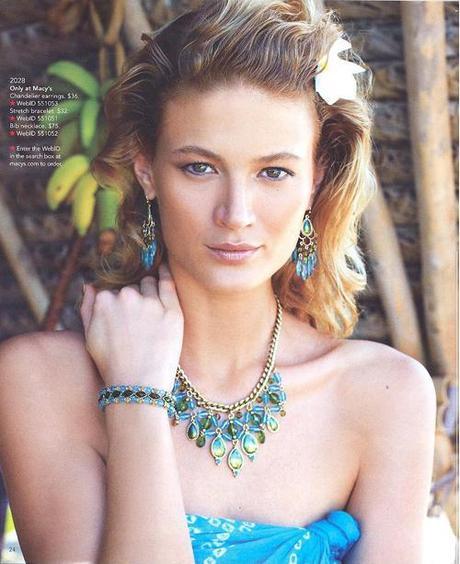 Need more reasons to get in on the green trend? Take a look at this gorgeous photo of the Malibu Collection featured in Macy's Spring catalog. Beach-y, natural, yet totally ready to wear with a flirty little sun dress. Get yourself some aquamarine and green jewels today!