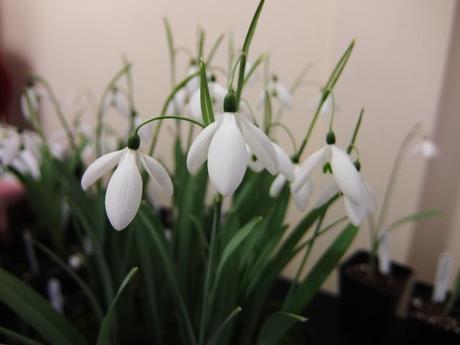 Galanthus 'Fly Fishing'
"The world isn't all green and white" said Bob Wallis, our first speaker at the AGS Snowdrop Conference this weekend.  He, and his wife Rannveig, then went on to show us snowdrops in the wild particularly Turkey and Iran, where they grow and what with.  It is quite amazing how many species of snowdrop there actually are and the environment they grow in.  For many, including me until recently, snowdrop (Galanthus) grew in English churchyards – how wrong could I be.  There is Galanthus peshmenii which comes from Greece (I think) and grows on rocks and cliffs not the conditions we would expect for our spring favourites.  Then you have Galanthus fosterii with its shiny green leaves and long outer  petals, Galanthus woronowii which has broad  leaves and a small flower and really needs the protection of a greenhouse in this country, and Galanthus krasnovii with claw like outer petals.  These were just my favourites of a long list and also my favorite talk of the four we had. The biggest lesson is that the differences aren't just in the flower markings but in the leaves and size of the plant; something the magazines never really cover.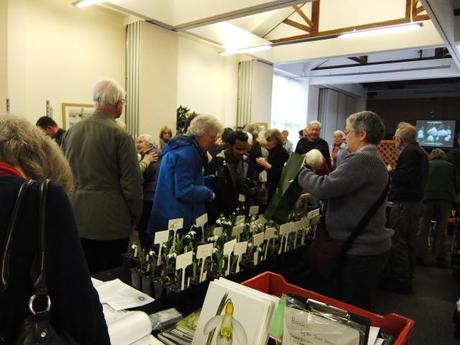 I am a novice to the world of snowdrops and am as far away from calling myself a Galanthophile as I am from claiming to be a Professor because I read an academic tome but I find the subject fascinating.  For me, an amateur gardener who didn't have the chance to study Botany and probably never will but has a deep-seated interest in learning as much as possible about plants this sort of event is wonderful.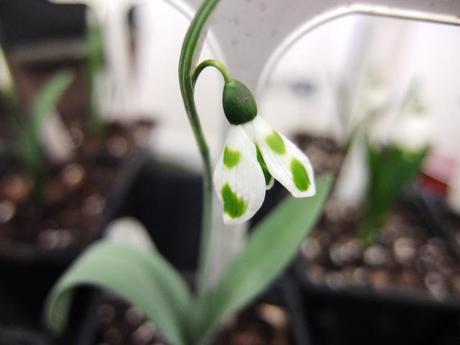 Galanthus Kencot Ripple
Around 150 people, some of them very respected Galanthophiles assembled in Stratford.  Of  course no snowdrop event would be complete without the opportunity to  buy some treasure. On Bob's advice I stuck to cheap but even that meant £12 a plant – that's one bulb – so two snowdrops were purchased which to me were distinctly different.  Another snowdrop keen friend at my HPS group's advice was that she only bought snowdrops that were obviously different to her, whilst some I think like to tick them off a list a bit like twitchers who collect birds they have seen.  At the other end of the spectrum there was one snowdrop – 'Kencot Ripple' for sale at £500! I don't think anyone bought it.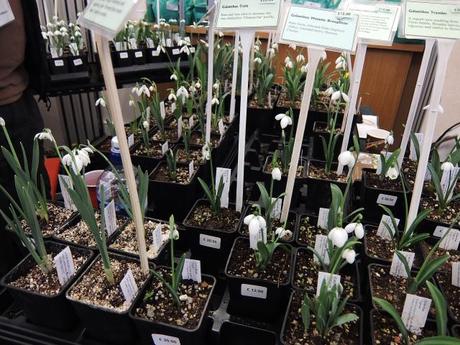 The rest of the day was taken up with four talks.  The first I have mentioned  above and was my favorite.  Then we were treated to some very artistic photos of new snowdrops  many of which weren't yet available but all that had very distinctive  green or yellow markings.   This talk was by  leading galanthophile Matt Bishop, who despite his modest claims at not being very good at lectures, delivered a very well received talk.
Poor Jim Almond had to contend with an audience who had just finished a substantial lunch and were somewhat dozey but he did a sterling job talking to us about snowdrops that have a Shropshire connection.  I hadn't realised that there was such a strong focus on snowdrops in this part of the country.  Margaret  Owens, a much revered galanthophile is based there, and she and some of her like-minded friends have discovered and breed a number of popular cultivars including of course 'Godfrey Owen'.  There was also a display table which featured snowdrops from this area.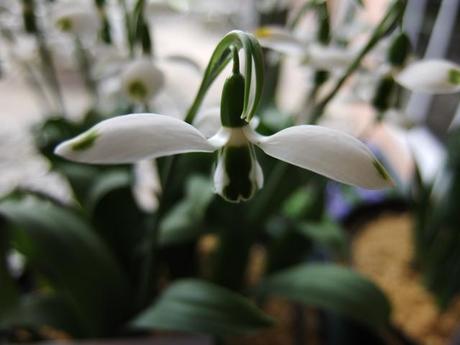 Galanthus 'Big Bertha'
Our final talk of the day was by Alan Street of Avon Bulbs who is at his wit's end with the weather and trying to have enough snowdrops to show at the RHS London Show at the end of February.  The mild weather has meant  his snowdrops are all flowering early, and along with the rain which is making life very difficult in his part of the world, are causing him a lot of angst.  However, his talk was lively and amusing and focussed on his time with Avon Bulbs and the snowdrops he has introduced.
Between the talks there were opportunities to buy more snowdrops  and snowdrop related books and a whole range of other things you didn't know you needed as well as the chance to talk snowdrops to like-minded people and in my case gain advice on how to grow them and the best ones for me to try.
I had a lovely and fascinating day.  I don't think I will ever be a galanthophile or feel the lure of those snowy white delicate flowers like some I know but I really enjoyed the opportunity to spend a day learning about a plant and seeing it from several different aspects; which is lucky as I am booked to attend the HPS Snowdrop Day in two weeks time!