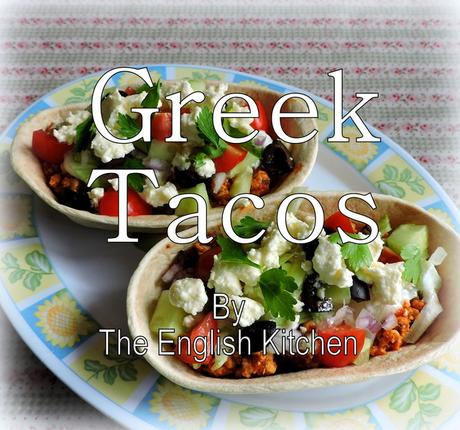 I am a great fan of Mediterranean flavours   . . .  oregano, feta cheese, olives, lemons, tomatoes, cucumbers . . .  coriander.  Greek salad.  Yum!  Yum!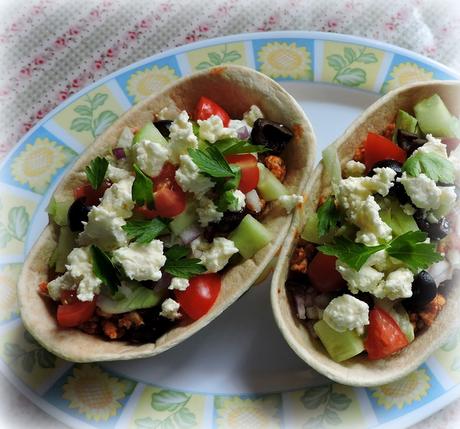 I also happen to love, LOVE Tacos.   They are so easy to make and eat . . .  and they don't heat up the kitchen.  Easy peasy lemon squeasy.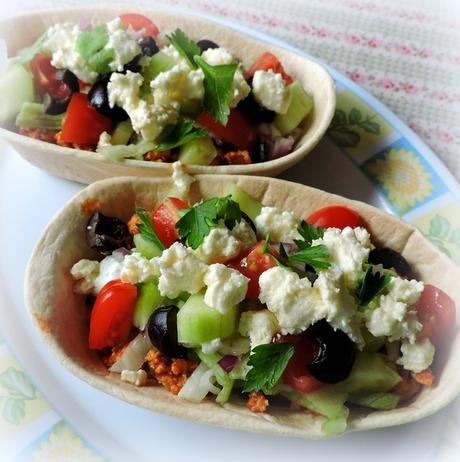 It just makes sense to combine those two loves into one very delicious and simple . . .  quick and easy supper dish.  Greek Turkey Tacos!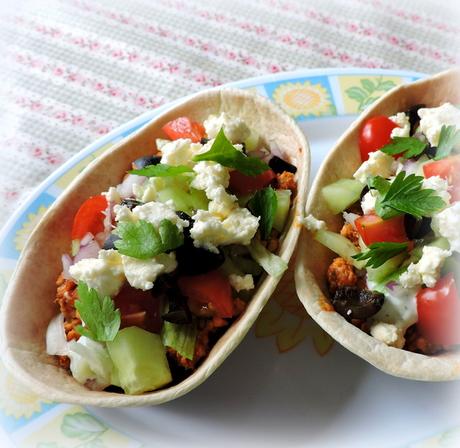 Turkey is so good for you, filled with lots of anti-oxidants and so low in fat, yet filled with flavor.  I use ground turkey because I like it and its healthy!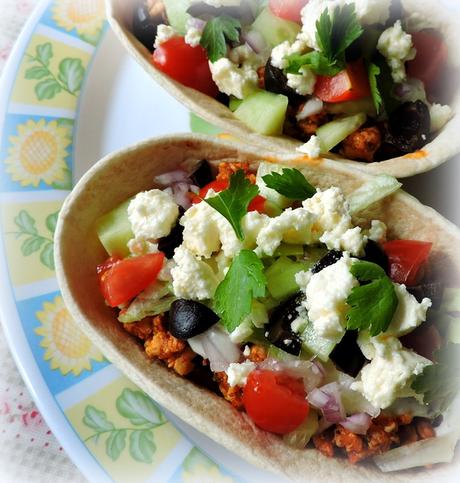 Filled with flavours, textures, colour, crunch . . .  these are fabulous.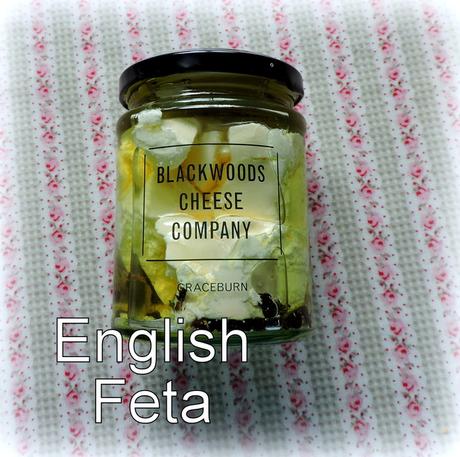 And that cheese  . . .  sooooooo good.  I got it from Larder Fare.  It's British Feta, and extremely tasty, but I will tell you more about that on another day.  Creamy, salty and delicious!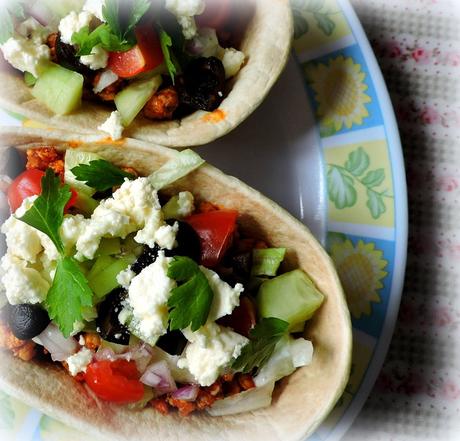 If you don't give these a go, you are going to be missing out on something really special!


*Greek Turkey Tacos*Serves 4Printable Recipe These are delicious, full stop. Simple to make and healthy too! 
For the filling:1 TBS olive oil1 red onion, peeled and chopped1 1/2 pounds of lean ground turkeysalt and black pepper to taste1 TBS mminced garlic1 pot of tomato puree (about 2 TBS, tomato paste)6 fluid ounces of water1 tsp chicken stock powder1 1/2 tsp dried oregano1/2 tsp ground coriander1/2 tsp ground cumin2 TBS fresh lemon juiceYou will also need:flour tortillas(I used the stand up ones and they were great!)Tzatziki sauce (homemade or storebought)Shredded lettucediced baby plum tomatoesdiced peeled cucumberdiced red oniondiced black olivescrumbled feta cheesetorn coriander leaf (cilantro)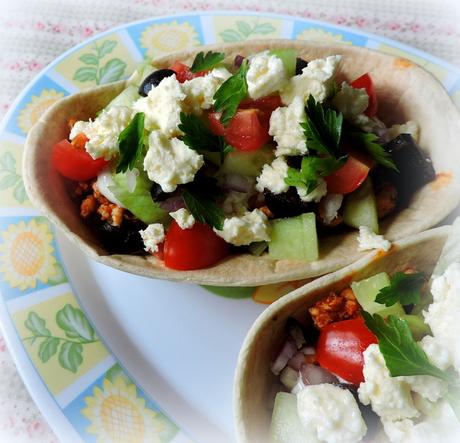 Heat the olive oil in a large skillet.  Add the onion.  Cook, over medium heat, stirring frequently, until softened.  Crumble in the ground turkey.  Season with the salt and pepper.  Cook, breaking it up and stirring, until it is nearly cooked through.  Add all of the remaining filling ingredients, except for the lemon juice.  Bring to the boil, then reduce to a simmer and cook, stirring occasionally, until the sauce had reduced significantly, some 6 to 8 minutes.  Stir in the fresh lemon juice.   Keep warm.
Heat your tortillas according to the package directions.   Fill as follows:  ground turkey mixture, Tzatziki sauce, lettuce, tomatoes, cucumber, onion, olives and feta cheese on top. Scatter over some coriander leaf and serve immediately.  DEEEE-LICIOUS!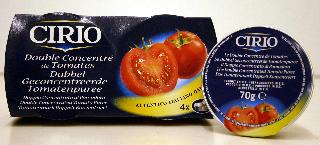 The Tomato Puree I used for this dish came from Cirio. A staple ingredient in many dishes, Supercirio Tomato Puree delivers a genuine and delicate taste that is both distinctive and unmistakably authentic. Rich, thick and packed with Cirio's vivid red tomatoes, its texture is inviting and enriches flavours to stimulate the taste buds and bring the homemade taste of Italy to your home. Unlike many other purées, Supercirio may also be used without diluting with water.  I love the Cirio tomato products.
I do hope you will give these delicious Tacos a try.  I just know you are going to love them too!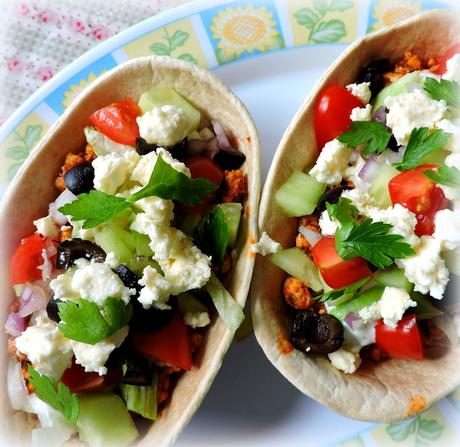 Bon Appetit!