Blogging Marathon# 54: Week 4/ Day 1
Theme: Lentils -- 3 Ways
Dish: Greek Lentil Salad
My theme for this week's blogging marathon is '
Lentils -- 3 ways'
. Valli wants us to use 3 different lentils in 3 different ways, so for the next 3 days I have some interesting dishes using lentils.
I love dals and I am always looking for ways to incorporate them into my daily diet. Lentils are one of the most important sources of protein for vegetarians and I stock up on quite a few varieties in my pantry.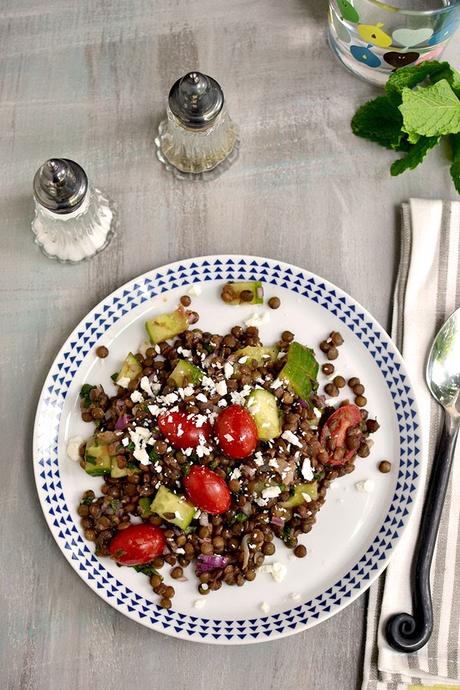 For the first day, I made a Greek Lentil salad using Puy or French Lentils. These tiny lentils cook up in about 25~30 minutes and do not need to be pre-soaked. So it is really quick and easy to make this salad. Recipe is from
Vegetarian Times magazine
.
This salad is mild tasting, but you can easily spice or jazz it up by adding more lemon juice, more herbs and may be some olives. I liked it just as is because it is light and refreshing, but filling at the same time. It is great to pack for lunch or a picnic.
Ingredients:
Serves 4
French Puy Lentils - 1cup
Onion - 1 small, quartered
Bay leaves - 2
Shallot - 1 large, finely chopped
Lemon juice - 2~3tbsp (adjust as per taste)
Cucumber - 1 small, diced
Cherry Tomatoes - 8~10, halved
Fresh Mint - 3tbsp, finely chopped
Olive Oil - 1tbsp
Feta Cheese - as needed (optional)
Salt & Pepper - as needed
Method:
Place lentils, onion, bay leaves and 6 cups of water in a large sauce pan; bring to a boil. Reduce heat to medium-low and cook for 25~30 minutes or until the lentils are tender. Drain, remove onion and bay leaves, and cool.
In a large bowl, stir together shallot and lemon juice. Add lentils, cucumber, tomatoes, mint and oil; stir to combine. Season with salt & pepper. Chill for 1 hour. Serve topped with feta.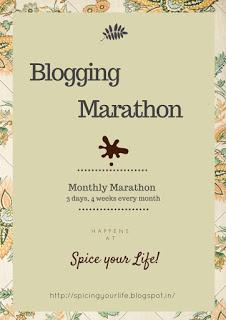 Lets check out what my fellow marathoners have cooked today for 
BM# 54
.