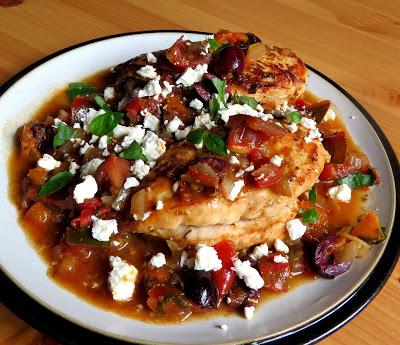 The recipe I am sharing with you today for Greek Chicken with Tomatoes & Feta is one which was very popular with my boss and her friends when I was working at the Manor.  I cooked it quite often for her and the ladies for luncheons and sometimes for her and her husband in the evenings.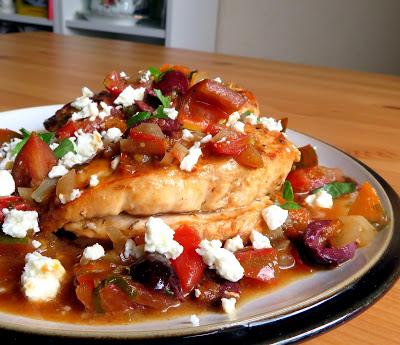 The chicken is impeccably cooked after being marinated for several hours in a tasty herb, lemon and white wine marinade, which not only makes it really tender, but the flavours are wow!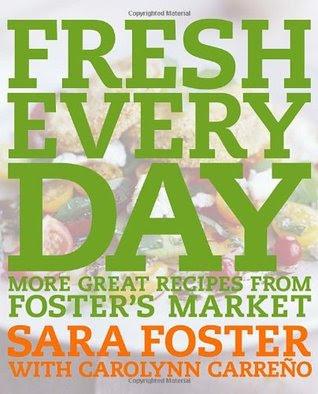 The original recipe came from this cookbook, Fresh Every Day by Sara Foster. This was one of my boss's favorite sources for recipes she wanted me to cook for them. I was so impressed with it actually that I ended up buying a copy for myself.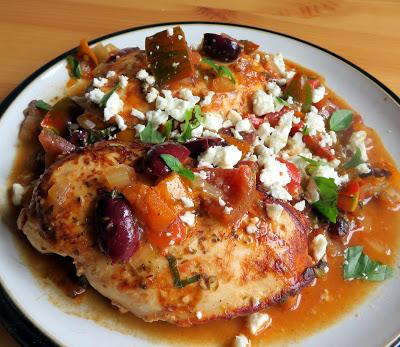 The recipes are pretty basic actually, making great use of fresh seasonal produce and herbs. There are a few exotic ones, but most are very doable and quite simple.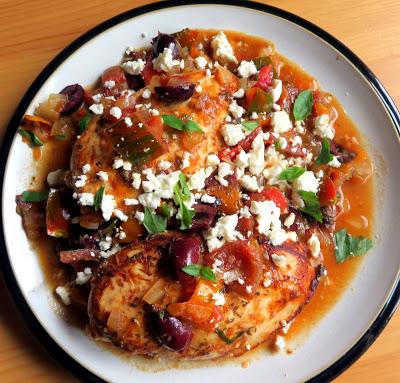 The sauce for this chicken is created using the marinade as well as fresh tomatoes and onions.  I used a mix of tomatoes from my box of heirloom tomatoes, but the recipe actually calls for plum tomatoes, which are excellent for sauces.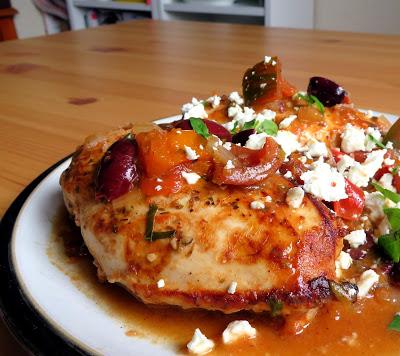 Added to that are onions, minced garlic and some kalamata olives . . . very Greek . . .  oregano, basil  . . .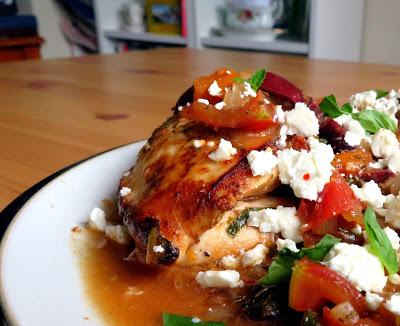 Once the chicken has browned, these things get reduced along with the reserved marinade down into a lush and flavor filled sauce.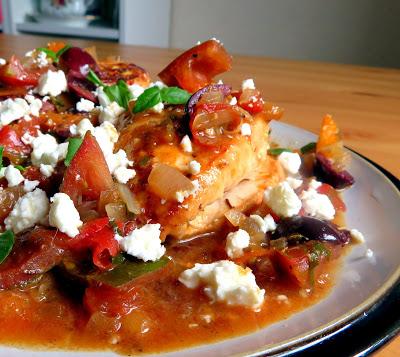 It is served sprinkled with crumbled feta cheese   . . . and a garnish of fresh basil and oregano leaves . . .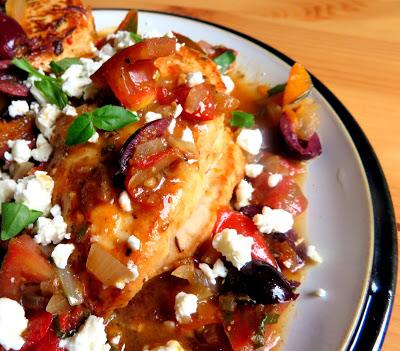 So you get beautifully cooked, tender and moist flavourful chicken breasts . . . .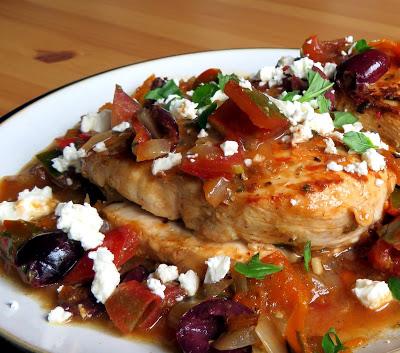 Adorned with a beautiful lush and rich sauce . . .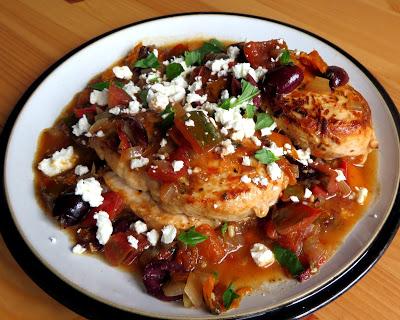 And crowned with salty crumbled feta cheese  . . .  it migh tlook like a bit of a hot mess . . .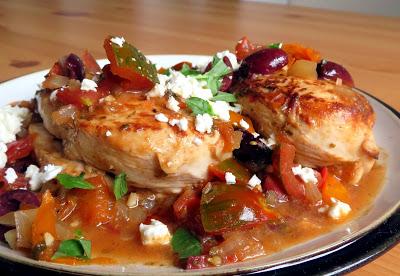 But I can promise you that it is anything but a hot mess  . . .  it is perfection . . .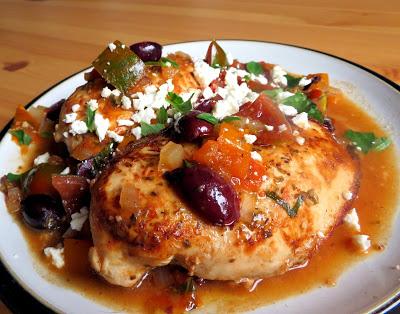 Savoury, tangy, sweet, salty, herby perfection.  I have small batched it to feed two people, but it can easily be doubled or even tripled, having done so many times myself.  
Greek Chicken with Tomatoes & Feta
Print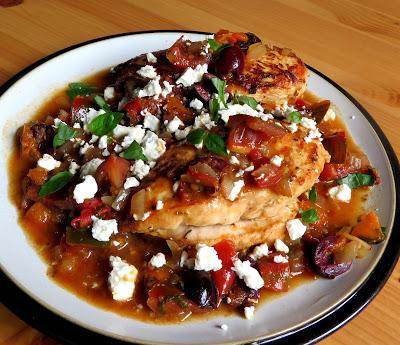 Yield: 2
Author:
Marie RaynerI small batched this fabulous chicken recipe from the cookbook "Fresh Every Day" by Sara Foster. The flavours are beautifully fresh!
Ingredients:
2 boneless, skinless chicken breasts
1 TBS Lemon juice
1 tsp fresh lemon zest
120ml white wine (1/2 cup)
1 TBS chopped fresh oregano, plus more to garnish
sal and black pepper to taste
1 TBS olive oil
1/2 TBS butter
1/2 small onion, peeled and diced
2 plum tomatoes, cored and chopped
1 clove garlic, peeled and minced
10 Kalamata olives, pitted and halved
3 fresh basil leaves, rolled and juilienned, plus more to garnish
1 ounce of Feta cheese, crumbled
Instructions:
Pat the chicken dry and put into a dish with a cover. Add the lemon juice, lemon zest, wine, oregano, and salt and pepper to taste, rubbing it all into the chicken. Cover and place in the refrigerator to marinate for several hours.  Bring to room temperature before cooking. (You can leave it as long as overnight.)
 Heat the olive oil and butter in a large skillet. Remove the chicken from the marinade, reserving the marinade. Cook the chicken in the hot fat, turning it only once, for 4 to 5 minutes per side, until golden brown.  Remove to a plate, loosely cover with foil and keep warm.
Add the onions and tomatoes to the skillet and cook over medium heat, stirring often, for 2 to 3 minutes, until the onion has softened and the tomatoes have released some of their juices. Add the garlic and cook for a minute, stirring. Add the reserved marinade and bring to the boil. Reduce the heat and simmer until reduced by half. Taste and season as required.
Return the chicken to the pan. Add the olives and basil. Simmer on low for a further 6 to 8 minutes until the chicken is cooked through and the juices run clear.
Transfer the chicken to heated serving plates.  Spoon some sauce over each serving.  Crumble the feta over top and garnish with herbs. Serve immediately.
Did you make this recipe?
Tag @marierayner5530 on instagram and hashtag it #EnglishKitchenCreated using
The Recipes Generator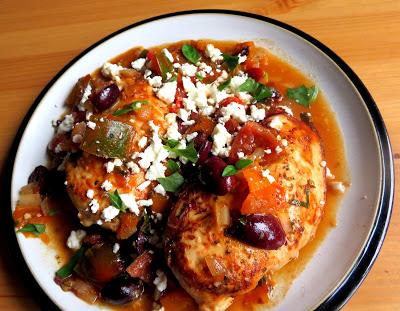 When I served this at the Manor, she liked to have couscous with it. We enjoyed it the other day simply with some steamed rice. I did not serve a vegetable on the side.  This was quite simply more than enough!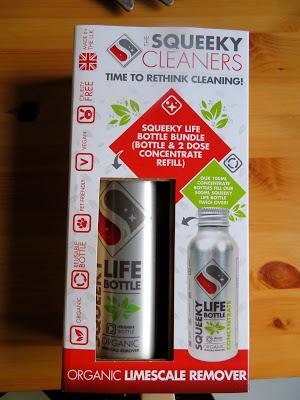 I was recently asked if I would like to try a new a cleaning product. Squeeky Cleaners are an eco-friendly, 100% natural and organic cleaning brand that kills 99.9% of all viruses and germs.  
I was very surprised to learn that although we purpote to be cleaner and healthier than our ancestors might have been, we are living in incredibly more and more toxic environments. Our cleaning products are filled with chemicals and toxins. 
We may see our indoor air as being cleaner and less polluted than the outside air but surprisingly, according to the British Lung Foundation, types of indoor air pollution include particulate matter (PM) – microscopic particles of dust and dirt in the air, gases – carbon monoxide, nitrogen oxides, sulfur dioxide. 
We think our homes are sparkling clean, but air poor quality can affect asthma, COPD and allergies. Indoor air pollution can be caused by many things. These include: cooking, poor ventilation, damp, toiletries and chemicals in cleaning products. 
Harsh toxic chemicals found in many household cleaners affect skin, airways, lungs and eyes, with long term research suggesting that certain chemicals cause cancer and can even change our DNA over a period of time.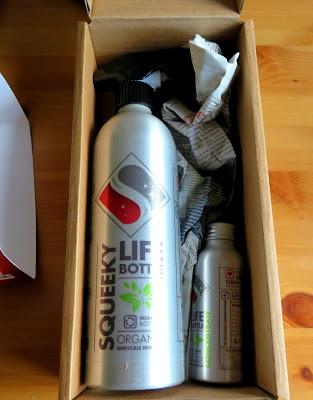 Squeeky cleaners have created and range of 100% natural, organic, eco-friendly, pet safe and vegan friendly cleaning products which are great for the home and planet. Their products can bring comfort to householders who worry that modern day living cannot be clean and natural without the use of harsh chemicals. All of their products are plant based and made with essential oils. They are safe, yet powerful and kill over 99.9% of all germs and viruses.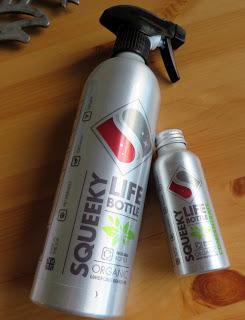 Squeeky cleaners have a range of products to make all areas of the home and garden super clean. One of their most popular products is the Organic Limescale Remover Life Bottle Bundle which brings a super clean shine to bathrooms and kitchens, even to the most toughest stains. The bundle includes a reusable UK aluminum life bottle and refils for just £14.99. For more information visit
Squeekyshop.co.uk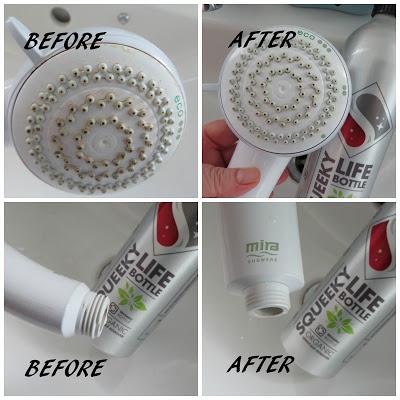 I decided to try this out on the most minging thing in our home, the shower head for our shower. I am forever having to clean black mold and lime scale from it. I know it doesn't look too bad before but there was quite a bit of lime scale on it and some black mold around the screw on part.
This cleaner had a very pleasant smell that was not obnoxious in the least.  And as you can see it did an excellent job of cleaning  the shower head of its lime scale and is mold. I did have to apply a bit of effort, but you would expect to when it comes to lime scale that stuff is like tartar on the teeth! 
My cleaner was here this morning and she used it in the kitchen and she really liked the smell as well, and felt it had done a great job where she used it.
With a re-usable bottle, (which is also 100% recyclable) 100% Organic and pet friendly, Vegan, cruelty free and having been made in the UK (which is important to me), this ticks all my boxes!

Follow my blog with Bloglovin