As soon as the popularity of LED (light emitting diodes) lights comes into the discussion, what you'll mainly learn about is how this particular lighting source helps you lower your expenses using its minimal energy consumption, extensive lifespan and minimum upkeep. You may even learn about utilizing LED lights in an effort to care for the environment, because you'll be utilizing less electricity sources and won't be contaminating landfills once you dispose of old LED bulbs as they contain no hazardous chemicals.
Aside from all these substantial and serious reasons why you ought to use LED lighting methods, there's also a lighter yet equally valid reason for the interest in LED: they're basically pretty to see, and there are many exciting methods to use the fairy dust-like sets of LED strip lights.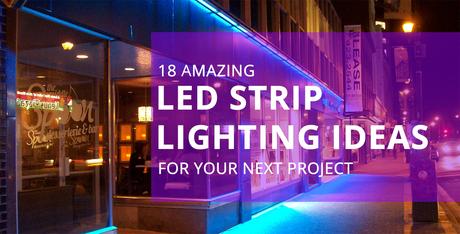 Here are some enjoyable, fun and simply ingenious approaches to display LED lights:
Ready to make a light-and-water show right at your own kitchen sink or shower? There are now taps having built-in LED lights that could help to make regular tap flowing water as beautiful as a shopping mall fountain. You can also get showerheads you may install so that streaming water will show up in a stunning display of colors. LEDs could be designed to be heat-sensitive, so that water can shift color (red for hot, blue for cold) as temperature changes, minimising burns or even that surprise of chilly water. Too complicated and futuristic for your style? Well, some people believe it has its practical purposes as well - glowing water could make morning showers more appealing, thus helping you minimize being late, and when you arrive from an event in the wee hours of the morning, flashing water from the sink will let you brush your teeth even if you're way too drowsy or too tired for it.
Drive the insects away - using light. Hang on, isn't that simply the contrary-bugs and night time pests like illumination, right? That's exactly why these things go swarming over uninvited towards the lamps you set up every time you try to experience a summer time dinner party al fresco. But seemingly pests just adore ultraviolet light, while moths as well as mosquitoes are generally drawn to heat, both of which LED lights do not emit. For your next outdoor event, consider setting up LED strip lights for accent light instead of the typical candles or Japanese lanterns, and then determine if those insects stay at bay.
Make a stunning fashion statement. LED strips are really flexible that they can be bent into different configurations or modified for many different applications. Want to happily stroll in the rain? Consider an umbrella fitted with glowing raindrops or one with an azure glowing shaft, similar to a light sabre. Create the boldest statement shirts ever by putting on a top with dancing LED lights at the front. Kitchen tops, surf boards, bar counters, wallpapers - they all can glow at night now, because of LED light technology.How about you? What's the single thing you would love to see with some nice LED lights on?
The popularity of LED strip lights at this time has started the creativity of plenty of people. We don't just use it for the help it provides any longer, but likewise for entertainment.