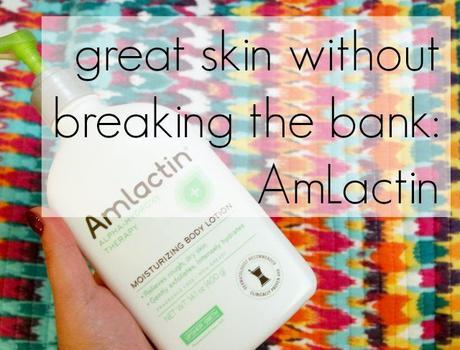 When I was younger, I could get away with buying body products based on scent, not skill. I wanted to smell like fruit or flowers; hydration wasn't a priority and with my young skin, not a necessity. Not so any more with my over-40 skin. Not only have I graduated from smelling like fruit to my signature fragrance, I also look for products to care for and properly hydrate my skin. According to a 2015 national online survey of over 1,000 women in the US over 18, nearly two-thirds reported that the older they get, the more difficult it is to keep their skin moisturized. As we get older, our skin's natural renewal cycle slows down and can cause dead cells to build up on the skin's surface, giving a rougher texture and dull appearance. Oil glands also become less active, which can make it harder to retain moisture.
When AmLactin reached out and asked if I'd like to partner with them I didn't hesitate. Over and over, you readers have recommended AmLactin in comments, in emails, and on Facebook. So many of you already trust AmLactin to provide you with great skin without breaking the bank, I looked forward to trying it and sharing my feedback with those who have not tried it. Well I tried their Ultra Hydrating Body Cream, Moisturizing Body Lotion, Cerapeutic® Restoring Body Lotion, and their Foot Cream and was quite impressed.
One of places showing my age the quickest is my hands. Though I get regular manicures (helps me stop nail biting), my hands are still dry and can look rough. This is pretty normal at my age, as the skin on the back of your hand is much thinner than on your face, making it look older faster. That doesn't mean I have to like it. AmLactin® Moisturizing Body Lotion has 12% lactic acid and is pH-balanced for the skin, it helps boosts the skin's natural renewal process through gentle exfoliation and deeply moisturizes. After using... I have to say it works! I love that it's not greasy; I can keep it on my desk at work, apply it and immediately type without slipping and sliding. This is a product I'll be re-purchasing when my bottle runs out.
I've mentioned how I use dry brushing to help with Keratosis Pilaris (KP), but it doesn't get rid of it all. AmLactin® Ultra Hydrating Body Cream has a patented ULTRAPLEX® formula that gently exfoliates and is clinically proven to deeply hydrate. It smooths rough, dry, bumpy skin-including dry skin associated KP. Again, I have to say it works! This is not a lotion that you glide on wet skin and it absorbs instantly; I found I had to do some serious rubbing but it did absorb, it did hydrate all day, and with use it got rid of most of my KP. This is a great product to have on hand in the winter months when my KP is strongest, but not something I'd use on a daily basis.
My feet have not been pampered this summer - I didn't really focus on them during our road trip, and they got quite a beating on my beach trip and my recent trip to Raleigh, NC for a music festival (review to come). Each time I got home, I babied my feet with AmLactin® Foot Cream and immediately saw improvement, with calluses smoothed and skin looking soft and hydrated. After a week of use, my feet looked as though I got regular pedicures and didn't abuse them all summer long! This is a summer must, and makes me less self-conscious wearing sandals when I don't have a fresh pedicure.
AmLactin's Restoring Body Lotion contains ULTRAPLEX® and three essential ceramides to relieve extreme dryness for 24 hours. While this is a really nice product that leaves your skin really silky and hydrated, I was a bigger fan of their Moisturizing Body Lotion which absorbed more quickly and better fit my "I'm running late for work and need to slap this lotion on fast" sort of lifestyle. However, this was just as silky and hydrating as fancy lotions three times its price. Uncover smooth, radiant skin with AmLactin Alpha-Hydroxy Skin Care. Its unique exfoliating and hydrating alpha-hydroxy therapy gently removes dead skin cells to reveal soft, hydrated skin. It's the difference between skin care and skin therapy. AmLactin moisturizers are available on Amazon.com and at your local Target, CVS, Walgreens, Costco, Walmart and Rite Aid. Learn more about AmLacting by visiting them on Facebook or their website.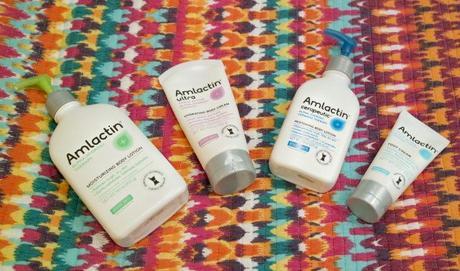 You know I'm all about quality, and I especially love it when I can find quality that is kind to my wallet. AmLactin offers just that and I am so glad I finally tried the brand.
Would you like to try AmLactin Skin Care for FREE? Follow these steps and enter my Soft Skin Giveaway:
Visit AmLactin's website and look at each product.
In the comments section below, tell me how your skin has changed over the years AND provide a link to the product you'd most like to try by September 30, 2016.
On October 1, 2016, I will randomly pick 1 commenter to receive $100 worth of AmLactin products!
*Giveaway is open to United States residents only. Product and shipping provided by AmLactin Skin Care.
This is a sponsored conversation written by me on behalf of AmLactin Skin Care, but all opinions and content are mine.