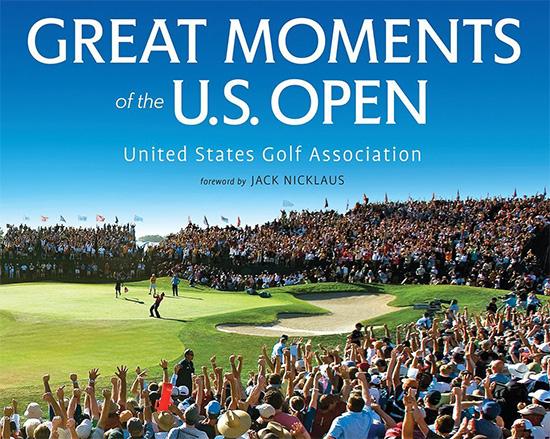 In anticipation of the 2013 U.S. Open (June 13-16), one of the most famous events in golf, the USGA has announced the release of their first ever book, which celebrates the history of the U.S. Open.
In a nutshell, the 216-page coffee table book, titled Great Moments of the U.S. Open, chronicles the past 100 plus years of U.S. Open history while celebrating the accomplishments of individual champions, past and present. Complete with a foreword by four-time U.S. Open champion Jack Nicklaus, Great Moments of the U.S. Open provides readers with stunning photos, stories and artifacts from the USGA that bring the gutsiest, classiest and most improbable victories to life.
Great Moments of the U.S. Open, written by Robert Williams and Michael Trostel, is available online through Amazon for less than $25.  This is a must have for any golf enthusiasts... but you don't have to take our word for it, here's a look inside the book at the official foreword written by Mr. Jack Nicklaus...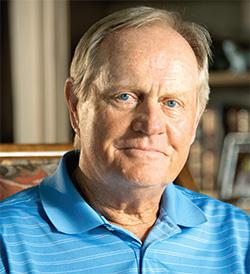 Putting records aside, I love the major championships. I always did as a player, and I still do as a fan. When I look at the game of golf from a touring professional's perspective, I believe the most significant part of the game, and what I believe most careers should be based on, are the majors. They are the measuring stick. They are the lasting championships. They are the ones people remember. The ones that live on to be passed down through generations.
While they are all meaningful, I have always considered the U.S. Open the most important major championship. The U.S. Open represents our national championship, and because I am an American, there is a special connection to that major and an enormous sense of satisfaction when one is fortunate to win.
In addition, I have always loved USGA championships. I have played in a total of 71, and since I was a junior, they have always been the ultimate and complete examinations of a golfer. I always felt that the USGA did the best job of preparing a golf course that will test you completely. A U.S. Open typically challenges every shot a golfer has in their bag. There are courses that demand length, but all of them require accuracy. A U.S. Open requires shotmaking and shot placement on greens, and, of course, it tests your putting ability. Most importantly, it tests your mental ability – from course management to patience to performing under pressure. I feel very proud of the championships I have won, thus I always looked forward to playing USGA championships – none more so than the U.S. Open.
Every competitive golfer realizes that a victory is a four-day process and the cumulative result of several hundred shots. But every major champion can typically point to a seminal moment – one shot, one swing, one putt – that was critical in their ultimate victory. When I look back on my four U.S. Open victories, there are such moments that were vital to victory and remain unforgettable to this day. Some came with a 1-iron in hand, others with a putter in hand. All ended with joyous fists to the sky.
From a very young age, I dreamed of winning the U.S. Open. Never could I have scripted that my first professional victory as a 22-year-old rookie in 1962 would also be my first U.S. Open and major championship win and that it would play out in the backyard of my long-time friend and rival Arnold Palmer. To get to the 18-hole playoff against Arnold, I needed to convert a crucial up and down from thick greenside rough for par on number 17. I faced a difficult, lightning-fast 4- or 5-footer to save par. To eliminate the break, I decided to ram the putt in the hole, with the risk being that I could face a bogey putt of double the length. After a couple of deep breaths, I fired. My long-time idol, Bob Jones, later wrote in a letter to me that while watching the U.S. Open on TV at home, he almost jumped out of his chair when the putt went in.
It was in 1967, during my second U.S. Open victory and my first of two at Baltusrol, that I got my hands on the famous "White Fang" putter that served me so well that year and helped me to a final-round 65 and a U.S. Open scoring record. Yet the one moment or swing I remember most from that championship came on the final hole. I was playing with Arnold, and we came to the 18th with me holding on to a four-shot lead. If I birdied the par-5 finishing hole, I would break Ben Hogan's 72-hole record of 276. But I faced a 238-yard third shot that played more like 260 because it was uphill, all carry and against the wind. I put everything I had into a 1-iron and put the ball to 22 feet. I made the putt and secured the win and the record. The next time I went to Baltusrol, I dropped a ball at the exact same spot and couldn't even reach the green with a driver.
I have said many times that if I had only one round of golf to play, it would likely be at Pebble Beach. My love affair with the windswept, oceanside links of Pebble Beach began with my win there in the 1961 U.S. Amateur. It blossomed in 1972 with the third of my U.S. Open victories. The win was memorable in and of itself, but on the 71st hole I hit one of the most unforgettable shots of my career. It was at the famed 17th hole, the long par 3 that borders the Pacific and, particularly on this day, plays into the teeth of an angry wind. I had a three-shot lead with two holes to play, and with 219 yards to the pin, went with my trusty 1-iron. On my backswing, I actually felt myself closing the clubface and working too much inside my target line – all spelling a hook. My tempo, however, was probably never as good as it was that week, and I was able to correct my swing on the way down. The ball flew low and true, and although I couldn't see the result, the crowd's roar told me what I needed to hear. The ball had taken a couple of hops, hit the flagstick and stopped 6 inches from the hole.
My return to Baltusrol in 1980 for a U.S. Open Championship was a special one for many reasons. A difficult season in 1979 led to a revamping of my swing in early 1980, and at 40 years old, I was certain I had my skeptics. But a 63 in the opening round tied the 18-hole U.S. Open scoring record and sent a message to many, including myself. My 68 in the final round helped me lower my own 72-hole U.S. Open scoring record, and I remember the warm embrace of the fans that day, who kept chanting, "Jack's back! Jack's back!" Yet the day and my fourth U.S. Open title were not sealed until the 17th hole. Isao Aoki had pushed me all day, and he was looking at a 5-footer on 17 for birdie. I hit a sand wedge to 22 feet, made the critical birdie and, to this day, can't forget the rush of emotions that overwhelmed me. The look on my face after I rolled in that putt remains one of my wife Barbara's favorite images.
Throughout golf history, we have read countless tales of memorable moments played out on the closing holes – usually the 18th green – of a major, and there's no doubt I have been fortunate in my career to have a few. But when I look back on my USGA championship career, I can't discount several moments that happened on the first tee that served as important bookends to a championship legacy I cherish.
I think back to when I was just 13 years old and playing in my first national championship, the U.S. Junior Amateur at Southern Hills in Oklahoma. I was the youngest in the field, and I remember nonchalantly stepping on the first tee of my first match about 30 seconds before it was to begin. On the tee was Joe Dey, then the executive director of the USGA, who would later become a close friend, confidant and mentor. Hewas joined by Colonel Lee S. Reed, a Kentucky gentleman dressed in all white, goateed and in many ways looking like Colonel Sanders. The Colonel looked at me, and with Joe's nod of approval, said, "Mr. Nicklaus, half a minute more getting here and you would be on the second tee, one down."
Needless to say, I have never been late for a tee time since. Fast-forward 47 years, and at age 60, I found myself standing on the first tee of the 2000 U.S. Open at Pebble Beach. I knew the week would be an emotional one as I played in my 44th and final U.S. Open. The emotions were amplified when I was asked to take the spot of the defending U.S. Open champion, Payne Stewart, which was left vacant by his tragic passing in October 1999. When they asked for a moment of silence on the first tee to honor Payne's memory, the emotions welled up inside me and I had to reach for a towel to wipe my eyes. I regrouped but eventually experienced my own misty-eyed moment on the 18th green when I said my final goodbye to U.S. Open championship golf.
The moment was a confluence of many things – the finality, the warm-hearted applause by the gallery lining the 18th, my son Jack II on the bag and my wife and other family members awaiting me behind the green. I had reached the par-5 green in two shots, but through teary eyes ended up threeputting. Any other time, I would have walked away angry. This time, it just gave me one or two more strokes and a few extra minutes to say goodbye to an old friend – the U.S. Open.
Good golfing,
Jack Nicklaus

For more information about the USGA, visit www.usga.org.