Great Gift Idea For Men: The Dollar Shave Club!
Give the men in your life the gift of a smooth shave and savings without breaking your own bank!   As seen in Forbes magazine and The Wall Street Journal as well as on ABC News, The Dollar Shave Club is quickly becoming the club to join for a great shave for just a few bucks a month!
Behind the Dollar Shave Club:
Co-founders Mike Dubin and Mark Levine met at a party and got on the topic of the frustration of purchasing razors. Between the prices, the "technology breakthroughs" and other complaints discussed, the two decided to team up and revolutionize the way men purchased their razors, forever!  Through that conversation, the Dollar Shave Club was born!
Products:
The blades are available for purchase in The Humble Twin ($1; +s/h), The 4x ($6; s/h INCL.), and The Excecutive ($9; s/h INCL.), depending on the recipients needs.  The Dollar Shave Club is not just limited to just razors!  The club also offers wipes, creams, and post shave moisturizer for purchase as add on's to your order.
How Does It Work?
Small enough to fit in a mailbox, the Dollar Shave Club arrives at the recipients front door every month.  The  "Buy Giftcard" option on the easy-to-use site is perfect for gifting a membership!  The gift card is easily customizable and sent through email!
Why This Is A Great Gift Idea:
The price of The Dollar Shave Club alone makes the membership ideal for any guy!  The membership is perfect for those who continuously forget to buy new blades every month!   Aside from the amazing products and the convenience of the club, the Dollar Shave Club prides itself on helping create new jobs in America!  Love this!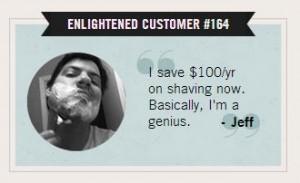 For more information on the Dollar Shave Club and all the awesomeness it has to offer, check out DollarShaveClub.com!  Be sure to Like the on Facebook and follow them on Twitter for news and updates!
Be sure to watch for the next budget friendly gift idea on A Lot on Your Plate!