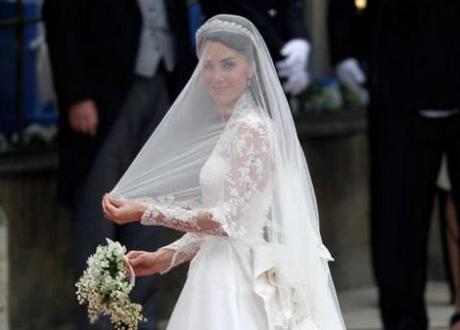 The already svelte Duchess of Cambridge. Audrey Pilato. http://www.flickr.com/photos/americanistadechiapas/5678661592/sizes/m/in/photostream/
Gossipy women's mag Grazia admitted this week that it photoshopped the picture of the Duchess of Cambridge on their 9 May cover — making the already tiny Duchess of Cambridge look even slimmer. The weekly title was forced to issue a statement after reader complained to the Press Complaints Commission.
Irin Camron at feminist-oriented blog Jezebel criticised the shot back in May, claiming the publication "took the liberty of slicing at the princess's already-narrow waist"; the Duchess's weight was already the focus of media attention after she slimmed down significantly in the lead up to the Royal Wedding. Grazia denied the allegations at the time, in a statement made in The Huffington Post: "Grazia did not make any changes to the image of the Duchess of Cambridge to make her look or appear slimmer than she is."
Yet after an official complaint was made, the magazine was forced to admit that the image had been altered. The reason they gave for the alterations was that poor old Wills was always getting in the way: "We wanted a great image of the Duchess on her own, but all the photographs had the Duke in too." In order to make the doctored photograph appear normal, the reproduction house supposedly "copied over her arm to complete the picture", the result being a significant and freakish reduction to the Duchess's already very slim waist.
"We would like to reassure all our readers that we did not purposely make any alternations to the Duchess of Cambridge's image to make her appear slimmer, and we are sorry if this process gave that impression," Grazia wrote in a statement after being accused of photoshopping the image.
Grazia is, of course, not alone – several magazines and advertisers have been caught out getting a bit photoshop-happy these days: GQ admitted to digitally lengthening the legs of actress Kate Winslet on a 2003 cover, causing a media furore, while L'Oreal were recently forced to withdraw advertisements of starring Julia Roberts and Christy Turlington because of digital retouching.
Is the use of photoshop an irresponsible convention or a justifiable practice in the fashion world?
"Impossible aspirations." "The image reignited debate over what are said to be magazine editors' impossible aspirations for the female form," The Daily Mail commented today. As Jezebel wryly commented, "[S]orry, Princess. Even on your wedding day, met with near-universal praise for your look, apparently you could use a little slim-down help from the art department." Many people expressed their anger on social media site Twitter: One user, ClareMurphy09, tweeted, "How are we ever going to helps young girls to feel comfortable in their own skin if this continues??"
Important role models. Kate Middleton and her sister Pippa are seen as role models to young women, but their slim frames have attracted a worrying level of attention from those with eating disorders. Leah Chernikoff, writing at Today.com, claimed, "[I]mages of both siblings are now serving as "thinspiration" on "pro-ana" and "pro-mia" websites". Chernikoff spoke to Jill M. Pollack, director of the Center for the Study of Anorexia and Bulimia who asserted, "Every little girl at one time wants to be a princess, and these images will not only reach teenagers but middle and elementary schoolers".
Misleading. "Such digital manipulation of images may be 'common practice' on the glossies – but it does appear to be in breach of the Editors' Code," noted Dominic Ponsford, writing in the Press Gazette. This code states that, "[T]he press must take care not to publish inaccurate, misleading or distorted information, including pictures."
A common practice. Lisa O'Carrell at The Guardian quoted Grazia's statement that this sort of digital enhancement was "common practice among glossy magazines" and the slimming of the Duchess was "an inadvertent result".