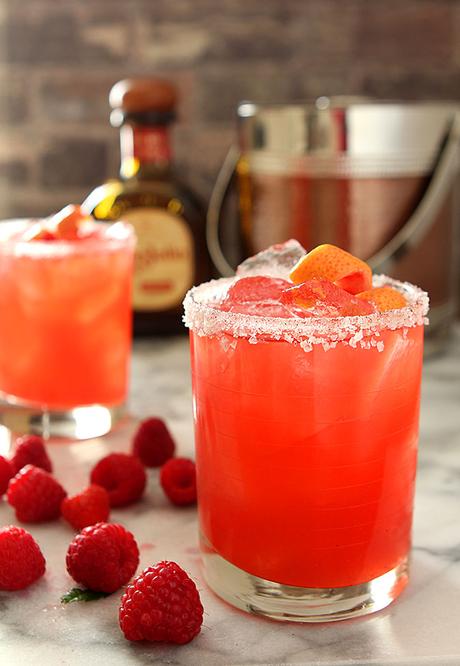 News Flash!! National Margarita Day is Monday, February 22nd. While I may forever bemoan how the quintessential summer cocktail could have a National day in February (maybe people are so over winter and anxious for summer?), I must admit that joining in this celebration has resulted in my offering some fantastic cocktails at this time of year with seasonal produce I might otherwise ignore. I'm slowing giving up on my 'summer only' mantra and enjoying a marg all year round. Truth is that this whole cocktail business of mine; deciding to start creating drinks at home...you know, that? It all started with a margarita. This margarita. Still the best; still simply amazing. But I've learned to try so many new variations and have to admit, this Grapefruit and Raspberry Margarita one is my current favorite. Today.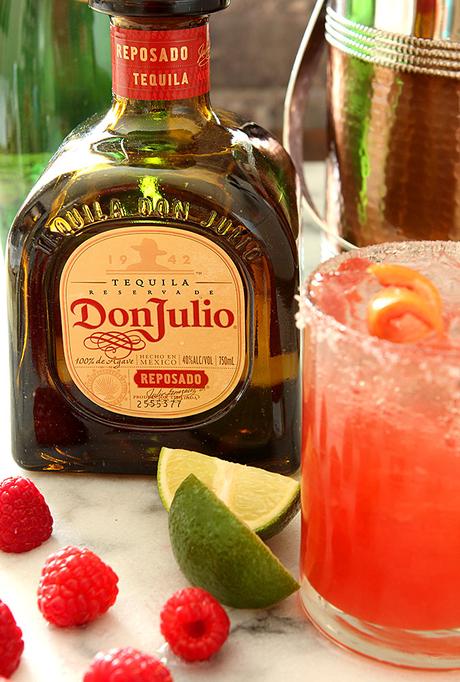 This recipe is actually a revision of one provided to me by the folks at Tequila Don Julio Reposado. If you've heard me preach at all about Tequila you know I'm a big fan of Reposado. This tequila is barrel aged for eight months in American white-oak barrels resulting in a golden amber color and a rich, smooth finish-the very essence of the perfect barrel-aged tequila. Reposado tequila benefits considerably from that aging process while not bearing the high price of a premium tequila so it's perfect as part of a refreshing drink or chilled on the rocks.
The cocktail from mixologist Jason Bran was called the La Puebla Margarita. I'm sure there must be some meaning to that but I typically avoid making up names for drinks; preferring that they just say what they are; probably more important when blogging about them then if standing behind a bar...so I hope he will forgive me. I took a few more liberties during the process of preparation. The recipe as written would have you making enough raspberry syrup and Vanilla infused Maldon Sea Salt for an army...I thought much better to trim those quantities and yes, trim the prep a bit too. Of course I've not had the original but this was so good I'm sticking to my guns...no complaints were heard from my testers (OK, neighbors) and that matters the most.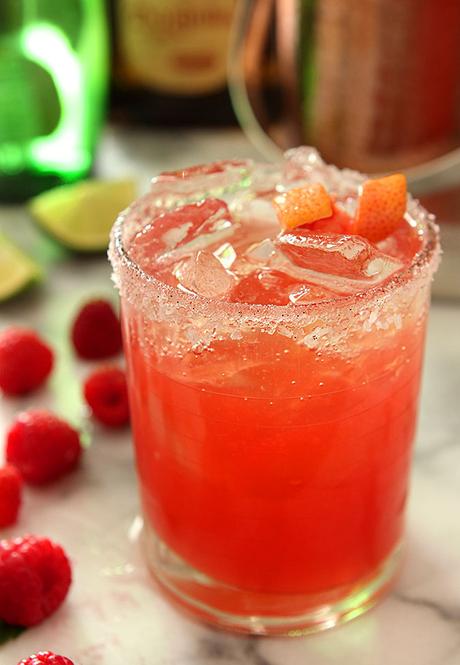 If you love margaritas like I love margaritas, well then you must celebrate with me on Monday. If this one doesn't necessarily tickle your fancy, well no worries; I've made LOT of margaritas and you're sure to find one in this list...I have several! Also, since it is a National Holiday, we can stay home from work and sip all day? NO?? Well, it should be! In any event, try this one...bet you like it. Cheers!