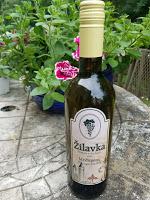 The Mediterranean climate that attracts viticulture in Croatia's coastal regions do not end at the Adriatic but extend into Herzegovina -- the southern region within Bosnia-Herzegovina. Grapes have been cultivated in this region for at least a millennium, with vineyards planted in limestone soils from the coast to the city of Mostar. Žilavka is the predominant white grape that flourishes even during drought conditions.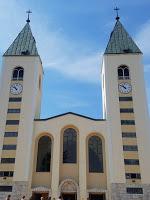 St. James Cathedral
The grape is noted for its abundant acidity and sugar concentration providing the potential for high alcohol levels, two traits that influence its use in brandy distilling. As a single varietal wine, Žilavka provides an interesting nutty, sometimes pine-ish, character. Wineries often enhance the body with barrique oak aging, which doesn't dissuade from the nutty aspect of the wine. We found a couple of these styles in Mostar, but our most memorable was an unoaked version from a store in
Medjugorje
- the famous pilgrimage site.  The bottle was purchased from a market near St. James Cathedral and the clerk told us it was his family's label - translated "Homemade dry white wine".  The wine was dry, only 12% alcohol, and greenish with noticeable pine notes - made me think of Vermentino.  Looking forward to our next visit. Cheers.