"Khvanchkara production" was started by the Georgian Noble Dimitri Kipiani in the 1880s. He made perfect demi-doux (semi-sweet) red wine from Aleksandrouli and Mujuretuli -- unique grape varieties by the incomplete fermentation method. It was called "The Kipiani Wine". In 1907 Dimitri Kipiani sent his wine to the city of Osten in Belgium, where the European Wine Festival was being held. To everyone's surprise, The Kipiani Wine was granted the Gold Grand Prize, which is kept at the Georgian National Museum today. This was a great victory for Georgian wine-making and personally, for Prince Kipiani. -- Khvanchkara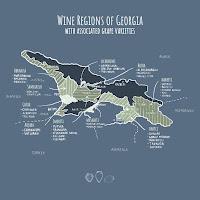 The
Republic of Georgia
is one of the most ancient winemaking areas and today consists of ten major wine regions. The Racha wine region is located in the middle of this Caucasus country sandwiched between the Imreti wine region to the south and the Greater Caucasus mountains to the north.  This mountain range creates a series of hills and valleys throughout the region with vineyards found on north/south slopes. Within Racha, the Khvanchkara micro-zone is known for its scenic slopes that follow the river valley of the Rioni River. The area ranges from 450 to 750 meters (1500-2500 ft) above sea level and has a humid climate and moderately cold winters proceeded by hot, dry, and sunny summers. Grapevines are planted at low densities with thin canopies to prevent fungal rots as high humidity levels are very common.  And because of the sunshine, the grapes can carry high sugar levels - resulting in historically sweet and semi-sweet wines.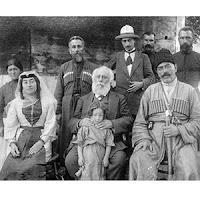 One of these traditionally sweet and semi-sweet wines was made from the white Tsolikouri grape. In the vineyard, 
Tsolikouri
 vines produce a medium-sized bunch of grapes that have relatively thick skins - required for battling mildew diseases. In addition, the grapes provide generous yields that contemporary winemakers are vinifying into drier wines.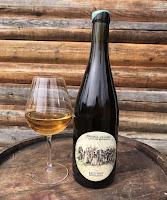 One example of drier Tsolikouri is produced by 
Didgori Winemaking
, an offshoot of
Kabistoni Winery
owned by viticulturist Gela Kipiani. In 2002 he revitalized several vineyards with a dream of restoring Kipiani Wine in the Racha region.  Today, Giorgi Kipiani operates the winery while carrying on the family name. "He labels the bottles with honor in the Didgori name, which pays tribute to a traditional Georgian singing from the fifteen-person polyphonic folk ensemble, of which he has been a member for 12 years".  Their wine is produced in small batches of 300+ bottles made using one of a dozen available qvevri. Didgori wines are all-natural and free from chemicals, sulfate, or artificial intervention.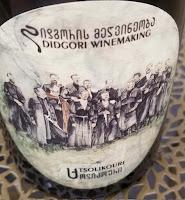 During a recent
Wines of Georgia
tasting, I was able to sample a couple wines from Didgori Winemaking including their
Tsolikouri 2019
. The wine was produced with 6 months of full skin contact providing a bit of orange funk - but not overwhelmingly oxidized. Instead, it is very fragrant with fresh acidity that lifts the wine throughout the palate. And the finish lingers -- a delicious natural wine. 
Didgori Winemaking wines are available in CA, NY, OR, IL, DC, VA, & TX through Terrell Wines. And thanks to Wines of Georgia for the images and tasting. Cheers.