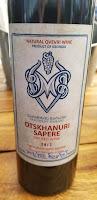 Imereti is one of ten wine regions distinguished by the Wines of Georgia and it is located in western-central Georgia and situated along the middle and upper reaches of the Rioni River.  It is bordered by the Likha ridge, the Caucasus ridge, the Meskheti mountains, and the Tskhenistskali river, which weaken the moderating influences of the Black Sea. Imereti's climate is mainly humid subtropical with weaker influences from the Black Sea; winters in Imereti are mostly cold and summers are drier and hotter. Since 70% of the region is mountainous, vineyards in Imereti are mainly cultivated in river valleys from 50 to 500 meters above sea level.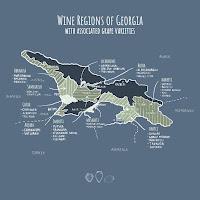 In terms of winemaking and viticulture, Imereti is divided into three zones: Upper, Middle, and Lower Imereti. Both climatic and soil differences occur between these zones, although in general, Imereti contains mostly stony and calcareous soils, with limestone and carbonate rocky soils present on occasion.  Both traditional and modern techniques are used in both areas from the modern training systems of vines to the very traditional training method for Imereti using low poles. In addition, winemaking occurs in both modern stainless steel and in Qvevri --which is called Churi in the Imereti region.  The Churi jugs are buried in the ground where the underground temperature is consistent and the micro-oxidation processes give the wine an amber color. This process also softens the tannins into a velvety structure. 
Imereti is most known for its white wines as the Imereti climate is conducive to producing highly acidic and fresh wines. However, the region's red wine production is increasing, starting with the ancient Otskhanuri Sapere. In fact, this is one of the oldest grape varieties in Georgia with the historic center in the village of Otskhana. Like white grapes, Otskhanuri Sapere is known for its high acidity and gentle body.   On the vine, the grape is a late ripener and generally resistant to many vine diseases. 
One producer is Vartsikhe Marani located in the village of Vartsikhe in Imereti, Georgia. According to the winery, "Vartsikhe Marani owns vineyards in Georgia's western Imereti region as well as the eastern Kakheti Region. In its western location, the air from the Black Sea to the west and the Caucasus Mountains in the north creates a humid subtropical climate, offering optimal conditions for the cultivation of several rare indigenous grape varieties unique to the region".  They produce 100% natural wines made in Churi using "traditional Georgian methods dating back thousands of years".  
During a recent Wines of Georgia tasting, we were able to sample the 2017 Vartsikhe Marani Otskhanuri Sapere Dry Red Wine that was bottle 343 out of only 950 produced.  The aroma was very herbaceous with dark fruit spreading through the palate that was balanced with layers of structured and creeping tannins. An excellent wine.  The U.S. importer is Terraneo Merchants. Cheers to Georgian wine.