Vineyard Landscape of Piedmont: Langhe-Roero and Monferrato: This landscape covers five distinct wine-growing areas with outstanding landscapes and the Castle of Cavour, an emblematic name both in the development of vineyards and in Italian history. It is located in the southern part of Piedmont, between the Po River and the Ligurian Apennines, and encompasses the whole range of technical and economic processes relating to the winegrowing and winemaking that has characterized the region for centuries. Vine pollen has been found in the area dating from the 5th century BC, when Piedmont was a place of contact and trade between the Etruscans and the Celts; Etruscan and Celtic words, particularly wine-related ones, are still found in the local dialect. During the Roman Empire, Pliny the Elder mentions the Piedmont region as being one of the most favourable for growing vines in ancient Italy; Strabo mentions its barrels. UNESCO World Heritage list for its cultural landscapes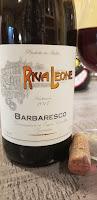 One of these five wine regions is the
Barbaresco DOCG
, a classification that was created forty years ago. Barbaresco has a slightly maritime climate which means it enjoys a warmer, drier, and milder than its neighbors. The vineyards are located in the Langhe -- on the right-hand side of the Tanaro river and extending from the area northeast of Alba to the communes of Barbaresco, Neive and Treiso, as well as San Rocco Senodelvio (once part of the Barbaresco municipality but now part of Alba). The dominant variety grown is Nebbiolo, but Dolcetto and Barbera also play a part. The vines are generally grown on limestone-rich marl soils. similar to the Tortonium soils of the Barolo and La Morra areas in Barolo, at 650–1300ft (200–400m) above sea level on very steep, "pre-alpine" hills. They are situated on south-facing slopes for best exposure. (wine-searcher.com)
Nebbiolo is an old cultivar, with historic mentions of the variety going back to the second half of the 13th Century when it was called Nebbiolo di Barbaresco. In Barbaresco, Nebbiolo (little fog) ripens early and contains fewer tannins, and thus is very drinkable at an early age.  However, there is still plenty of acidity and tannins to make this an age-worthy red.  And as the name "little fog" suggests, the grape is resistant to vaper-induced diseases like black rot and downy mildew.
Barbaresco DOCG regulations stipulate that Barbaresco must have a minimum alcohol content of 12.5 percent and undergo two years of aging, one of which must be spent in wooden barrels. For the added designation of riserva, the aging increases to four years, with one of those years in wood. Barbaresco wines are characterized by their rich, spicy flavors and perfumed sweetness and are considered more elegant and refined than their Barola counterpart.
Recently we opened a bottle of one of these elegant and refined wines from winemaker Stella Grasso through MGM Mondo del Vino and available in the United States through importer Mack & Schuhle Inc. The  Riva Leone Barbaresco 2017 ($25) is medium-bodied, with structured cherries, mint, tea, and lasting acidity and tannins.  An exceptional wine.