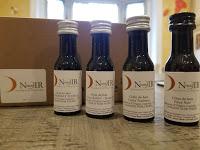 In a previous post on the
Grape Spotlight
thread
Jura Savagnin & Vin Jaune,
I related the Vin Jaune oxidative winemaking practice and the intriguing Jura region and because of the
Hopwine
program, I'm able to expand further with wines from
Domaine Noir Freres
.  Jura's is a cool climate with warm, relatively dry summers and cold winters, and the majority of Jura's vines are planted on south-facing slopes -- to absorb as much of the sun's rays. A minority of vineyards are located in the more mountainous areas of eastern Jura, where heights can reach p to 4,500ft (1370m). However, the majority of vines are planted in the slightly lower-lying land in the west which average 1,000ft (305m).
"It should come as no surprise that the key soil types here are Jurassic limestone and marlstone. The Jurassic period was named after Jura because the region's limestone mountains are representative of the geological developments which occurred between 145 million and 200 million years ago. The name of L'Etoile, the village which is home to one of Jura's most distinctive appellations, is said to be derived from the star-shaped marine fossils which characterize its limestone-rich soils (etoile is French for 'star'). Chablis and the upper Loire Valley are built on a similar geological structure". -- wine-searcher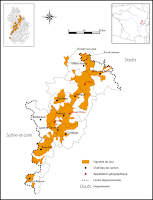 DalGobboM - Own work CC BY-SA 3.0
Although our package didn't include a Vin Jaune, it showcased three of Domaine Noir Freres' most prolific grape varieties.  Limestone = pinot noir and the Côtes du Jura Pinot Noir - 2018 is exceptional. The structure is solid, surrounded by light cherries and decent tannins. Similar to the family's Poligny vineyard being located in the heart of Jura and saturated in limestone and marlstone. Pre-phylloxera, red wine grapes dominated the region, and Jura Pinot Noir may move the ratio closer to older times. 
That being said, Savagnin Blanc is the region's signature grape and it provides a spicy and funky profile to 100% varietal or blended wines. Domaine Noir Freres banishes the grape to 12 to 24 months in oak for the Côtes du Jura Cuvée " Creux d'enfer" - 2018 Savagnin Floral and expect a vibrant floral aroma. The wine has a Roussanne-ish quality with great depth. And the 24-month aged Côtes du Jura Cuvée Tradition - 2018 blended with Chardonnay has similar Roussanne pungent perfume qualities with major spicy and nutty notes. I would love a 750ml of this lady.