Previously believed to be distinct cultivars Malvasia delle Lipari, Malvasia di Sardegna, Greco di Gerace (Italy), Malvasia de Sitges (Spain) and Malvasia dubrovačka (Croatia) displayed an identical molecular profile when analyzed by 15 SSR markers. Ampelographic comparison supports the genetic analysis indicating that they are all the same variety; they do not differ in any important morphological trait. This genotype is scattered all over the Mediterranean area and as far as the Canaries and Madeira. -- Malvasia delle Lipari, Malvasia di Sardegna, Greco di Gerace, Malvasia de Sitges and Malvasia dubrovačka  - Synonyms of an old and famous grape cultivar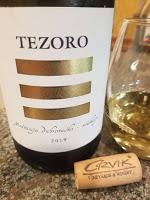 As its name suggests, the Croatian synonym for this grape,
Malvasija dubrovacka
, is dominant near the southern Dalmatian city of Dubrovnik. Malvasija dubrovacka is an ancient grape with the earliest written documentation dating back to 1385 (Archive of the Republic of Dubrovnik). Andro Crvik (
Crvik Vinogradi & Vinarija
and third generation of winemaker) says the wine was "used to honor the 'most excellent' visitors to the Republic of Dubrovnik and was served as a diplomatic wine". South of the historic walled city, in the village of Konavle, these vines are planted from 550 to 3,300 yards from the Adriatic. Crvik continued, "... the small berries and loose clusters usually produce wines with higher alcohol. In good years, the wine can be stored for 15 to 20 years, in some situations even longer".
When in Dubrovnik, examples of Malvasija dubrovacka, like the Crvik Tezoro, are available at the Malvasija Wine Bar. Or you can travel just south of the Dubrovnik airport to visit Crvik Vinogradi & Vinarija and the small karst fields on the south side of Konavle where their Malvasija dubrovacka vines are planted. Karst fields are formed by the dissolution of soluble rocks like limestone meaning well-drained soils. Combined with abundant sunshine and tempering effects from the sea - they create an ideal grape growing environment.
I received this 2019 Crvik Tezoro Malvasija Dubrovačka ($29.00) from Croatian Premium Wine Imports and plan to stock on more in the near future. The senses are immediately stimulated by the floral and orange blossom aromas which are followed by a complex mixture of lime and buttery depth and ending with a slowly rising finish. Plus, the 14.3% abv feels more like 12%. An excellent wine.
Disclosure: We received samples from Croatian Premium Wine Imports in order to share our opinion about their products, but this isn't a sponsored post.