Like all the so-called archeological vines of Campania, Fiano barely escaped extinction. In the 1930s, the region was hit with phylloxera. That blight was followed by the devastation of World War II, which left Campania felix smoldering. During post-war recovery, the government encouraged farmers to plant prolific workhorse grapes like Malvasia and Trebbiano. Fiano, with its small berries and naturally low yields, was abandoned. Ode to an Ancient Grape: Fiano - Patricia Thomson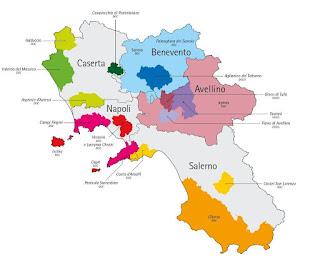 Fiano di Avellino DOCG
(2003) is an appellation for white wine, located in the Avellino province within the Campania region and just to the south of our last Grape Spotlight --
Greco di Tufo
.  
Fiano was saved from extinction by the 
Mastroberardino
family and by other small producers and now is grown in several regions of Campania. However, it flourishes in the area of Avellino which is closest to the Apennine Mountains. This smaller region maintains its own mild microclimate; large diurnal temperature variations; and mineral-rich, volcanic, and calcareous soils.
Fiano most likely was recognized as a distinct grape variety over two thousand years ago. Its name is derived from Vitis apiana, meaning vine beloved of bees.  A different kind of vineyard pest. According to wine-searcher.com, "this wine was appreciated in the Middle Ages. The story goes that Charles d'Anjou, King of Naples, was so enamored with this variety that he had 16,000 Fiano vines planted in the royal vineyards".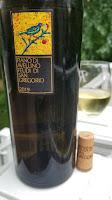 Over 20 years ago the Capaldo and Ercolino families established
Feudi di San Gregorio
in the tiny village of Sorbo Serpico in order to produce wines from indigenous grapes well suited to the porous volcanic soils of Mount Vesuvius.  They stress the importance of the microclimate of
Irpinia
, a historical region of the Campanian Apennines, "where vineyards have always coexisted with fruit trees, woodland, olive trees and herbs: a rugged and yet gentle territory with a strong and genuine identity".  In addition, "Irpinia is an ancient inland whose vineyards were even described by ancient authors such as Pliny, Columella and Strabo. The Irpinia region is very varied, with a succession of mountains, hills and plains with rivers and streams in between. The territory's orography causes a system of winds that gives the region good rainfall and creates a microclimate that sets it apart from the other Campania areas: vegetation is varied and thick; the short winters are extremely cold and snowy, while the summers are mild and long".
Feudi di San Gregorio Fiano di Avellino 2019 ($28)
This wine aged for about four months in stainless steel and is a very unique profile with citrus notes mingling with spices and nuts. Such an interesting combination without oak treatment. Expect sufficient minerality and light acidity. Excellent.