Millennia ago, long before the Caucasus region was divided up into nation-states, people living here were cultivating grapes. An ever-increasing body of archaeological and micro-botanical research suggests that wine was made in considerable quantity over 6000 years ago at sites along the Arpachay River, a valley in Nakhchivan's Sharur region. Several sites suggest an even older knowledge of wine by the Shulaveri-Shomutepe Culture near Aghstafa in what today is western Azerbaijan. Evidently, the South Caucasus region is of the oldest centers of wine-making anywhere on the planet. Azerbaijan Wine Traditions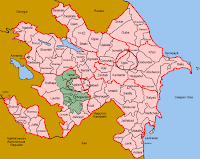 The Republic of Georgia gets most of the wine attention within the Caucasus region but neighbors Armenia and Azerbaijan share many traits from the dawn of winemaking civilization. In Azerbaijan (located directly east of Armenia; southeast of the Republic of Georgia, and directly south of Dagestan Russia) there are three major wine growing regions: the Caspain Shoreline, Ganja and the Lesser Caucasus, and the Shirvan Valley and the Greater Caucasus. One of the largest fruit juice producers in the South Caucasus is located in this last region: Az-Granata.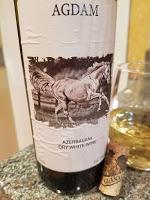 In 2021, Az-Granata will be celebrating its 10th anniversary and in addition to the juices, they produce a range of alcoholic beverages - 24 million bottles annually - of brandy, raki, vodka, whiskey, and wine. Their vineyards are located in the Adnaly Valley of the Greater Caucasus Mountains, at an altitude of 400-700 meters (1,300-2,300ft) above sea level.  These 500 hectares of vineyards are planted with a mixture of  Caucasian and European grape varieties: Madrasa, Bayan Shira, Saperavi, Rkatsiteli, and Shirvanshahi with Cabernet Sauvignon, Merlot, and Muscat. The winery also specializes in pomegranate wine as the word "granat" from which the winery takes its name means "pomegranate" in Russian.But our focus today is on the
Agdam Azerbaijani Dry White Wine
($16.99). The wine is 100% Rkatsiteli and its name, Agdam, refers to one of the largest districts of Azerbaijan and located in the center of the Karabakh region. This is an ancient and historical region known for breeding horses with excellent temperament and speed. The wine also has a good temperament with its straw color, weighty stone fruits, and a touch of honey from aging in oak barrels, and adversely loses spiciness and acidity.  It is available in the United States through
Winery LLC.
  Next, I want to try the 100% Saperavi
Baku Dry Red Wine
and perhaps the
Shusha Semi-sweet Pomegranate Wine
.