Grant Bowler, who considers himself both an Australian and a New Zealander, played the evil Were, Cooter in Season 3 of True Blood and below is part of an interview he provided to the Sydney Morning Herald to Kylie Williams.
While his character may have been killed in series the actor says that doesn't mean he can't rise from the dead. He says that while the werewolf biker gang leader was fatally shot, it doesn't mean he can't return in the next series. "There's always a chance that Cooter may come back from the dead but I'm not telling you whether he does or he doesn't," Bowler says "Alan Ball  is the cleverist man I've ever met and I'm not alienating him for anybody," he laughs.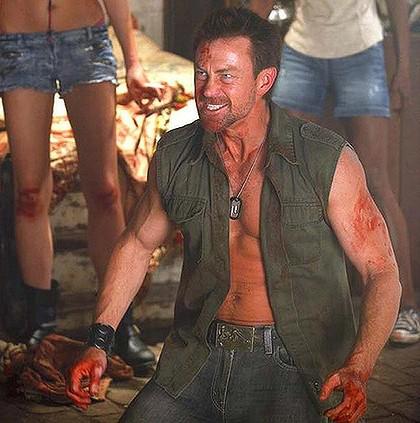 Bowler has good reason to hope his character can return after having a ball working on the HBO series last year.
"I loved it, I loved the people, loved the job," he says.
"It was good fun that one. I made a lot of really, really good friends, who are still really, really good friends and had a ball doing it."
"So when you can go to work and do that. That's pretty cool."
Those friends included Denis O'Hare, who played the vampire King of Mississippi and Cooter's boss.
O'Hare was recently in Australia for the Supanova fan convention and spent time with Bowler and his family.
"Denis spent two days with my mum and dad when he was over here last time," Bowler laughs.
"True Blood is ridiculous like that. It's honestly like a love in."
It wasn't just that the cast got along so well either, Bowler says the quality of the acting also made it a joy to work on.
"It was an exceptional group of actors to be honest," he says.
"You're working with people you just dream of working with and everybody is bringing the best that they've got to the table and challenging each other every day of the week. It would be very, very difficult to find something more exciting than True Blood."
Bowler also relished the chance of playing a bad guy in the series.
"I love playing bad guys they're always much more fun than the good guy," he says.
To read the rest of this interview with Grant Bowler, click here.