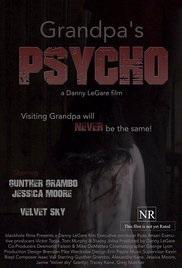 Director: Danny LeGare
Writer: Danny LeGare (Screenplay)
Starring: Gunther Grambo, Alexandra Kane, Jamie 'Velvet Sky' Szantyr, Jessica Moore
Plot: A dark and gritty psychological thriller that explores one small town man's need to purify the world of sin, one sinner at a time. His medieval and brutal cleansing process directly contradicts the devotion he has for his granddaughter. Tension builds as we discover secrets surrounding the psychotic behavior of this quaint god fearing little town.
There may be spoilers the rest of the review
Verdict: Disturbing Thriller
Story: Grandpa's Psycho starts as we see Grandpa Murry (Grambo) coming into a room with a tied up naked woman to who he starts reading scripture from the bible too before killing her. Move forward we now know what Grandpa is capable off which adds the scare factor when his grand-daughter Megan (Kane) comes to visit.
Grandpa Murry has been cleaning up the misbehaving woman causing problems in his quiet little town using his secluded little lake house as the location. Murry also is living a normal life on the outside where he looks after grand-daughter and daughter as well as being well-respected within the neighbourhood. We are left to wonder how long it will be before Murry get caught and who will be his latest victim.
Grandpa's Psycho is a thriller that just keeps us on edge from start to finish, we get a small town man doing what he thinks is good for the people involved. Having a villainous character believe they are doing good is always a difficult task but this balances his good and bad side perfectly. There are a few twists that I don't want to give away that do give this film an extra disturbing levels. I did like the idea that any of victims do come off bad people, not evil just bad showing that when you meet new people you should honor them with respect instead of just swearing in their faces. The tone of the story is paced the same the whole way through giving us a tension filled story.
Actor Review
Gunther Grambo: Grandpa Murry is the lonely widowed bible loving man living in isolation away from the world, by day he is loving father and grand-father but by night he makes woman pay for their sins against God the Lord's work as he calls it. Gunther gives us a haunting performance in this role.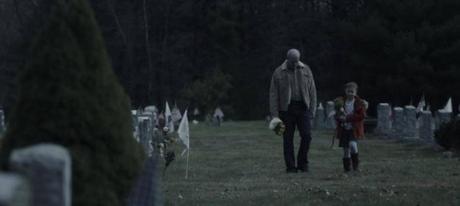 Alexandra Kane: Megan is the grand-daughter who loves spending time with her grand-father out at the lake. She cares for him as she believes him to be lonely but is easily lead to learn from his example. Alexandra is good in this role for a young actress.
Tracey Kane: Lisa is the daughter of Murry, she is struggling with her newly single life keeping a job which leaves her having to leave her daughter with her father when she is working. Tracey is good in this role where her character never knows what is going on.
Jamie 'Velvet Sky' Szantyr: Rachel is one of the victims from out of town, Murry is tired of how she acts while he is trying to help him leading here to push him to the limits. She becomes the hardest case yet because she simply won't believe in any of his religious ways. Jamie is good if only in a small supporting role.
Support Cast: Grandpa's Psycho has a small supporting cast which is are either victims or town's people.
Director Review: Danny LeGare –  Danny gives us a thriller that gives us a disturbing tone throughout.
Thriller: Grandpa's Psycho keeps the tension going through the whole film.
Settings: Grandpa's Psycho keeps us in the small town making us believe that this could happen to visitors.
Special Effects: Grandpa's Psycho has good effects when needed but doesn't turn to effects.
Suggestion: Grandpa's Psycho is one for all the horror thriller fans to watch (Watch)
Best Part: Grandpa Murry is a very creepy character.
Worst Part: Some people may not like the ending.
Believability: No
Chances of Tears: No
Chances of Sequel: Could have one.
Post Credits Scene: No
Oscar Chances: No
Budget: $150,000
Runtime: 1 Hour 29 Minutes
Overall: Disturbing thriller that will continue to leave wondering once it has finished.
Rating