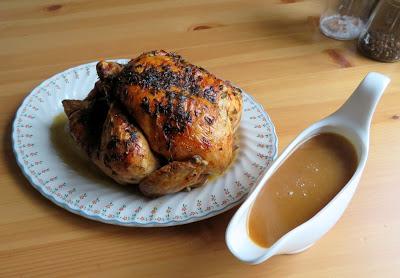 Grandmother's Roast Chicken & Gravy. Is there anything on earth that tastes better than the memory of such a dish? I think not.  Family dinners and meals prepared for us lovingly by our Grandmothers are truly sacred things, that nothing else can ever come up to!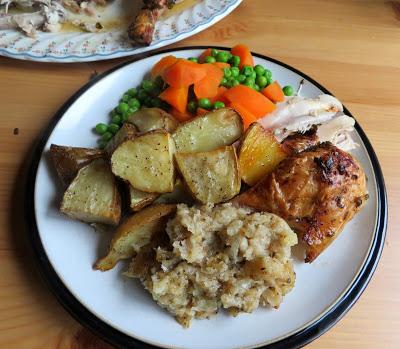 Sadly my maternal Grandmother passed away when I was only five years old, although I did have the priviledge of having lived with my maternal grandparents for several years off and on before that happened. My Paternal Grandmother passed when I was an adult with children of my own, so I do have great memories of meals enjoyed in her home, but not many as we lived quite a distance from her.  I do remember her French pancakes and cipate with a particular fondness however, but we will talk about that another time.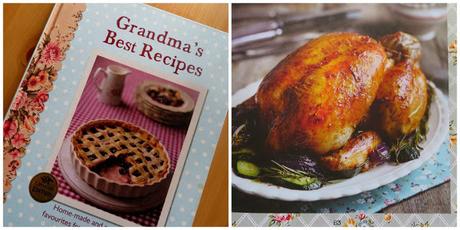 The recipe I am sharing today comes from one of my favorite cookbooks, published by Parragon, entitled Grandma's  Best Recipes. I have shared it on here before.  The left shows you my copy of the book and the right what the recipe photo looks like in the book. Quite often the photos describing recipes in cookbooks are not actually of the recipes. If you look close enough you will see descrepancies between them and the recipe. For instance, in this one rosemary and roasted courgettes and red onions.  Where is the lemon thyme butter coating?  Nevermind. The recipe itself sounded delicious enough for me to want to cook it.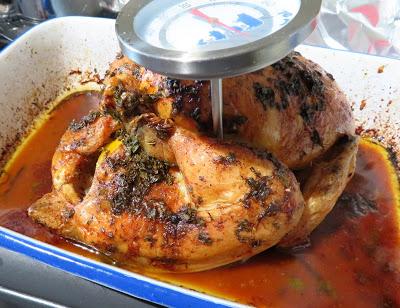 This is the reality, which does look quite different, but was incredibly delicious so I forgive them!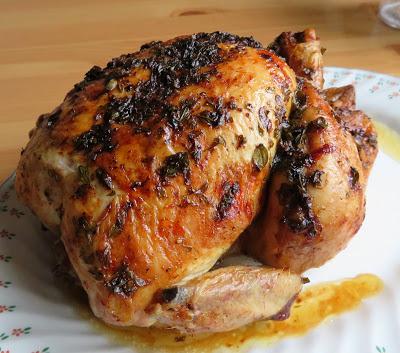 Roast Chicken was not something we had very often in our home when I was growing up. Chicken was a lot more expensive in those days. It still isn't really cheap if you want a quality bird, and I do.
Since the beginning of lockdown I have been purchasing my meat and poultry from
Geoff Hughes Family Butchers
at the Indoor Chester City Market. They have been incredibly brilliant. From the start they offered "free" home delivery to any one who was isolating and I have to say their products and service have been exemplary to say the least. I have been incredibly pleased and impressed with everything.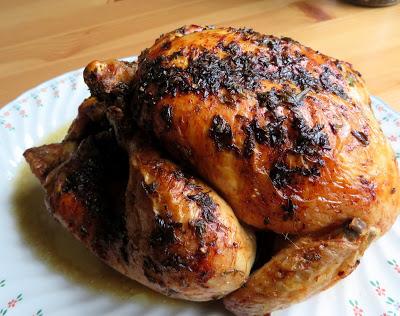 If you are in the area, why not stop by and check them out and if you do make sure you tell them I sent you! Even now they are delivering to my home as Todd and I are not venturing out to buy food in grocery shops, and I have to say with assurity, I will never buy or be happy with supermarket meat or poultry again. Not ever. There is just no comparison.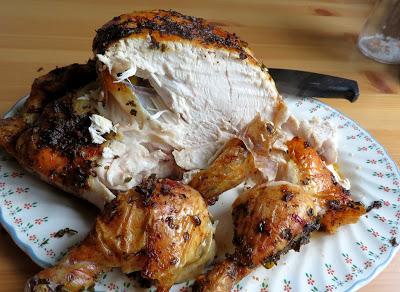 Every roast chicken I have gotten from them has been succulent and beautifully flavoured, and moderately priced. Yes, a bit more than a supermarket bird, but again . .  NO comparison when it comes to quality, succulence and flavour!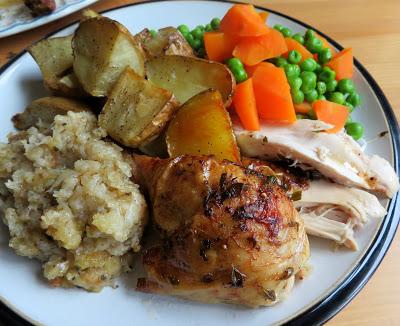 This roast chicken recipe is really a good one. It differs only slightly from my usual one. I do normally use lemon and thyme for my roast chickens, and plenty of butter, but I have also used garlic in the past.  This recipe uses chopped lemon thyme. If you can't get that, then add a bit of finely grated lemon zest to the chopped thyme.  A whole lemon is quartered and put into the cavity which helps to create even more flavor and moistness.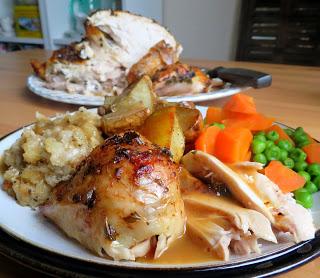 The lemon thyme gets mashed into softened butter and rubbed all over the outside and inside of the chicken. Can you say flavor boost!!!  Of course there is plenty of salt and pepper as well.  Also some white wine is poured over the chicken before baking. I used a Pinot Grigio. (that's what Ramona drinks on HWNYC.)  I don't really know anything about wine, so that's what I bought. I figured if it was good enough for Ramona it was good enough for my chicken.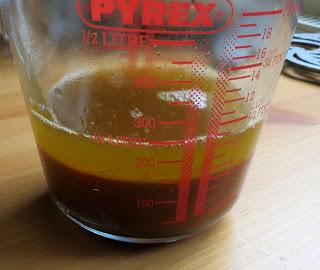 It did make for an excellent gravy.  I make my own gravy from scratch. Always have done. I eschew gravy packets as much as possible as they are loaded with salt and artificial flavours. Just don't really like them. I use the pan juices from my roasting dish.  There was quite a bit of fat from the chicken and the butter, but that's okay. You will need two tablespoons of it for the gravy, you can get rid of the rest. KEEP THE JUICES!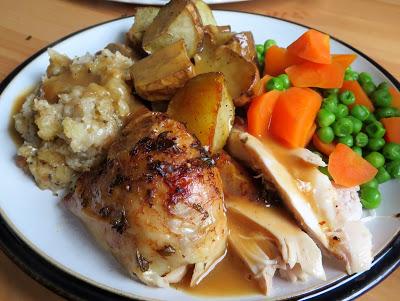 Making gravy is really easy. You can just shake some flour in a jar with some water and add to the pan juices if you want, but on this particular day I used some chicken fat and flour to create a roux, to which I added a mix of the pan juices and chicken stock to create a really beautifully flavoured gravy.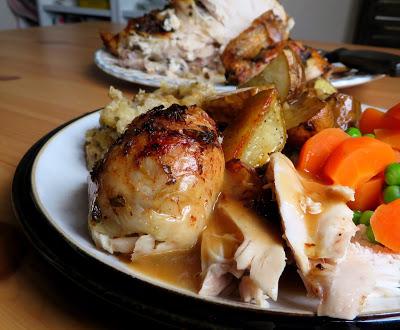 With that tender succulent chicken and the flavours of lemon and thyme, it turned out to be fabulously tasty!  I served the roast chicken with some oven roasted unpeeled potatoes, and my favorite
Sage and Onion Stuffing
recipe.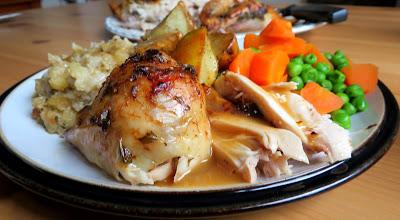 Everything was pretty wonderful, just like a warm hug from your Grandma!  
Grandmother's Roast Chicken & Gravy
Print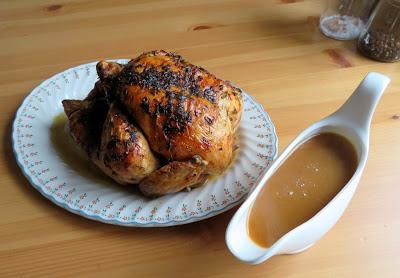 Yield: 6
Author:
Marie RaynerNobody knows how to roast a chicken better than your Grandmother!
Ingredients:
For the chicken:
2.25kg free range roasting chicken (5 pound)
55g butter (2 ounces)
2 TBS chopped fresh lemon thyme
1 unwaxed lemon quartered
125ml good white wine (1/2 cup)
salt and black pepper to taste
For the gravy:
2 TBS chicken fat
2 TBS plain flour
juices from the chicken plus stock to equal 480ml (2 cups)
salt and black pepper to taste
Instructions:
Preheat the oven to 220*C/425*F/ gas mark 7. Wipe your chicken inside and out with paper towels and then place into a roasting tin.
Soften the butter with a fork, mix in the chopped thyme leaves and season generously with salt and black pepper.
Butter the chicken all over, inside and out, with the thyme butter. Place the lemon quarters inside the chicken cavity. Pour the wine over the chicken.
Roast in the preheated oven for 20 minutes.  Reduce the oven temperature to 190*C/375*F/ gas mark 5 and continue to roast for a further 1 1/4 hours, basting it every 15 minutes or so with the pan juices. If you think the skin is browning too quickly, shield the chicken with a bit of foil. If the bottom of the roaster is drying out add a bit more wine or water.
To test if the chicken is done, pierce the thickest part of the leg with a skewer. The juices should run clear.  Remove from the oven if done and place onto a serving plate, tented lightly with foil while you make the gravy so that the chicken can rest.  Resting time is important so that the juices from the chicken can be re-absorbed.
To make the gravy, decant the juices from the baking dish to a glass measuring jug. Skim off 2 TBS of the fat and discard the rest.
Add broth or water to the juices in the jug to the equivalent of 480ml (2 cups).
Heat the chicken fat in a saucepan.  Add the flour and cook for several minutes to cook out the floury taste. Slowly whisk in the chicken broth/pan juices.  Cook whisking constantly until the mixure thickens and boils.  Cook for a few minutes. Taste and adjust seasoning as necessary.
Carve the roast chicken and serve with some of your favorite vegetables, potatoes, stuffing, etc. and of course with some of the dellicious gravy spooned over top.
Did you make this recipe?
Tag @marierayner5530 on instagram and hashtag it #EnglishKitchenCreated using
The Recipes Generator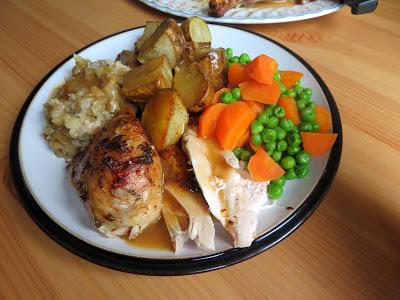 We had the pleasure of a generously portioned Roast Chicken Dinner on the day and sandwiches the day after, plus I have frozen the bones to make us a delicious
Chicken Soup
a bit later on in the month or summer. 

Follow my blog with Bloglovin