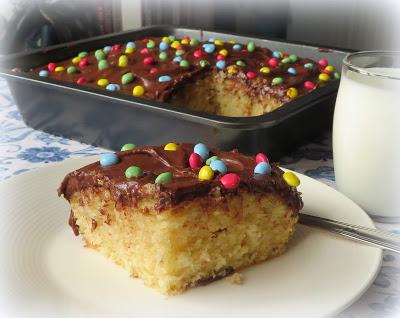 Do you want the good news or the bad news first.  Okay, I'll give you the bad news.  My stove is broken. It's a combined gas electric and until I can afford to have it fixed, nothing is coming out of it.  The gas burners have an electric ignition and the oven is totally electric.  I managed to get this cake baked and then Kaput!!!  That is the good news  . . .  at least this cake was finished baking!  Every silver lining and all that!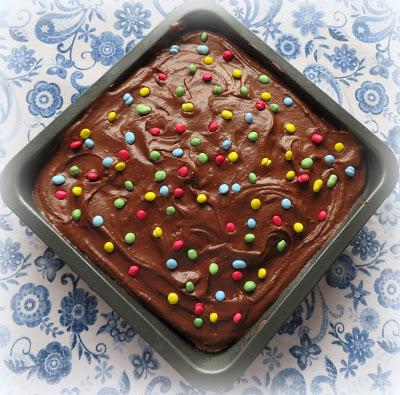 Normally I would have a whole queue of recipes waiting to post so you mightn't even have noticed.  Unfortunately with recent events, that is not the case, so this cake is pretty much it until further notice.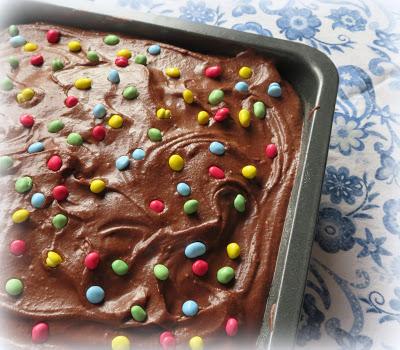 Perhaps this is the Universe's way of  telling me to slow down . . .  and maybe that's not a bad thing.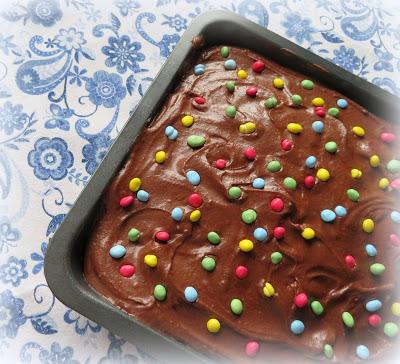 This is a really lovely cake.  Its pretty basic, but its moist and delicious . . .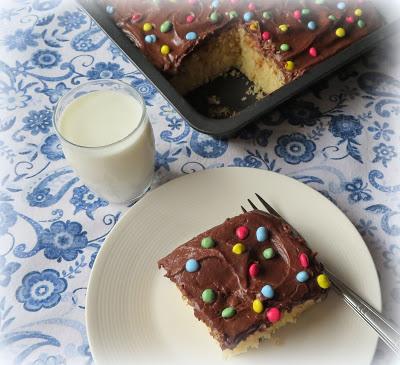 Its the kind of cake that your nan would have cut and sat down in front of you when you went around to visit.  My maternal grandmother passed away when I was five years old. That must have been so hard for my mom . . .  she would have only been about 28 years old.  When I think about it, I am so blessed to have had my mom around for as long as I did.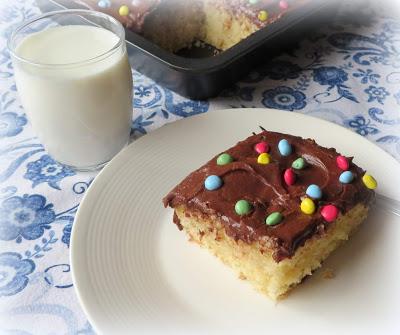 My paternal Grandmaman passed away when I was about 28 years old, so a lot older (in her 80's).  I don't recall her ever making us cake, but she made beautiful meat pies and pancakes.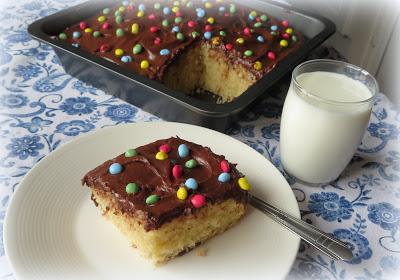 This cake is a lovely cake, truly.  Its simple . . .  there is nothing complicated here . . .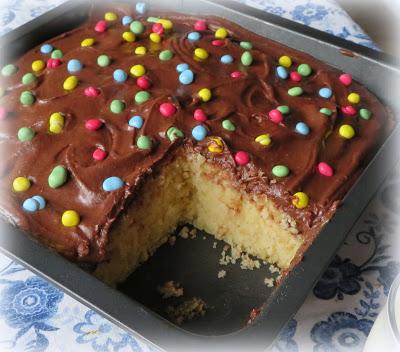 Just simple flour, sugar, butter, eggs and vanilla . . . oh, and buttermilk.  I actually didn't have any buttermilk today, so I added some lemon juice to whole milk to make sour milk, and it worked beautifully.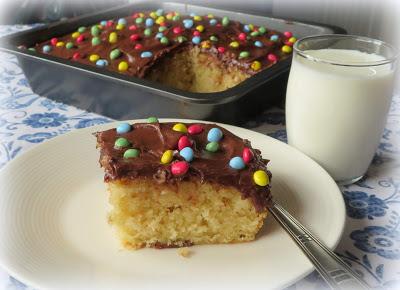 Just beat all the ingredients together and spread the batter in a pan and bake . . .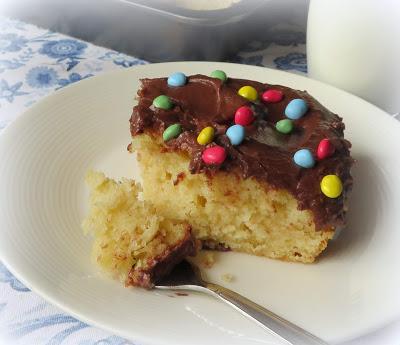 The frosting is also really easy, and uses simple ingredients . . .  icing sugar (or confectioner's sugar as it is also known or powdered sugar) . . .  butter, cocoa powder (not drink mix), vanilla and some more buttermilk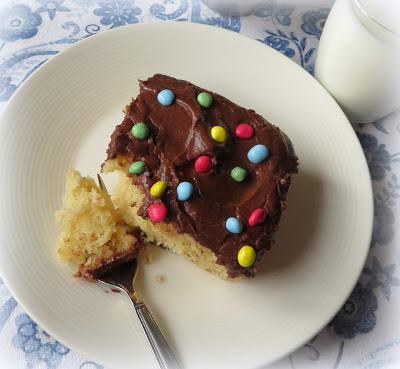 Spread this creamy chocolate frosting on top of the cooled cake and you are basically done . . .
I like to put some sprinkles on top to dress it up a bit.  They look really pretty!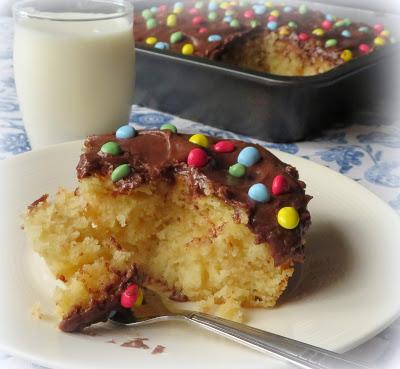 With a glass of cold milk on the side, you can't lose.  The kids, big and small . . .  are really going to love this!
Yield: 9
Author: Marie Rayner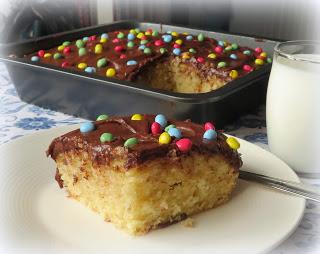 Grandmother's Buttermilk Cake
prep time: 15 mins
cook time: 35 mins
total time: 50 mins
Tried and true, moist and delicious, this classic home style buttermilk cake is sure to put a smile on everyone's face.
ingredients:
85g butter, softened (6 TBS)
190g granulated sugar (1 cup)
2 large free range eggs
310g plain flour (1 1/2 cups)
1/2 TBS baking powder
1/4 tsp salt
120ml buttermilk (1/2 cup)
1 tsp vanilla extract
For the frosting
60g butter (1/4 cup)
195g icing sugar, sifted  (1 1/2 cups)
30g, cocoa powder, sifted (1/4 cup)
1/2 tsp vanilla
1 1/2 TBS buttermilk
instructions:
Preheat the oven to 180*C/350*F/ gas mark 4.  Butter an 8 inch square baking tin and dust lightly with flour, tapping out all the excess.
Using an electric whisk, beat the butter and sugar together for the cake until light and creamy.  Beat in the eggs, one at a time.  Sift together the flour, baking powder and salt.  Slowly beat this into the creamed mixture, alternately with the buttermilk, beginning and ending with a dry addition.  Stir in the vanilla.  Spread evenly in the prepared baking tin.  Bake in the preheated oven for about 35 minutes.  A toothpick inserted in the center should come out clean.
Leave to cool completely in the tin.
To make the frosting beat the butter until creamy, then beat in the remaining ingredients until smooth and spreadable.  Spread over the cooled cake. Cut into squares to serve.
Created using
The Recipes Generator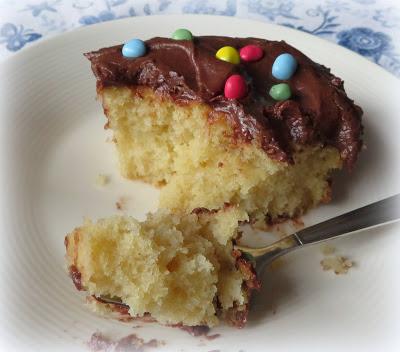 I really hope that my stove isn't out of commission for very long, but maybe I do need a break.  Hope you bake this cake and that you  and your family truly enjoy it!  Bon Appetit! 
Note
- ingredients can be doubled successfully to make a larger cake.  Just bake in a 9 by 13 inch pan for 35 to 40 minutes.