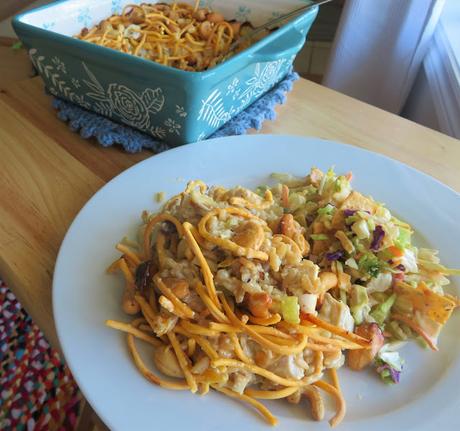 Grandma's Chinese Chicken Casserole.  This is one of my all-time favorite chicken casseroles. I can't begin to tell you why it is called a Chinese casserole because there doesn't seem to be anything remotely Chinese about it.
Not unless you count the crispy chow mien noodles and salted cashew nuts on top! Everything else reads like an ordinary chicken casserole!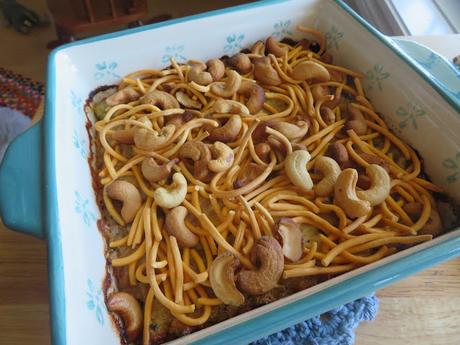 If it was good enough for Grandma to call it Chinese, then its good enough for me to call it Chinese.  No matter, its delicious which is all you need to know! 
This is something I like to make when I have leftover cooked chicken to use up. I eat chicken a lot and I always have leftover chicken waiting to be used.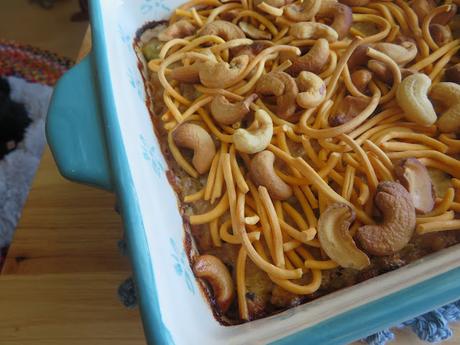 The original recipe called for a can of cream of chicken soup. I didn't have any today and so I made a simple chicken cream sauce to use in its place and it worked deliciously!
In fact I may never use a can of soup in this ever again!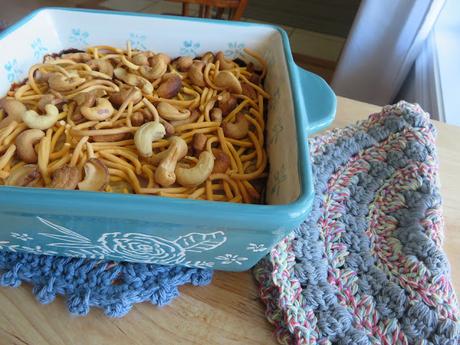 If you can make a simple béchamel sauce or a cream sauce, then you can make the sauce for this. The only thing different I did was to add half of one of those Knorr chicken gel stock pots.
This gave it a rich chicken flavor. If you don't have one of those, use 1 tsp of chicken bullion powder. I think it would work very well.  I like the gel stock pots myself. I have been using them for years and was so happy to see that they also have them here in Canada.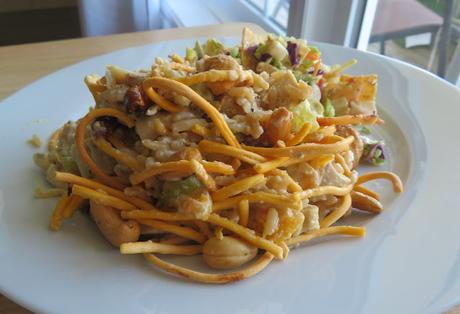 I cut my regular recipe in half so that it now makes only 3 to 4 servings. I would say 3 realistically. Unless you are extremely hungry and it will feed 2 generously.
This is also a great store cupboard meal.  I used a pouch of the already cooked Uncle Ben's Rice. They are sized to feed two people. I used the mushroom and wild rice one.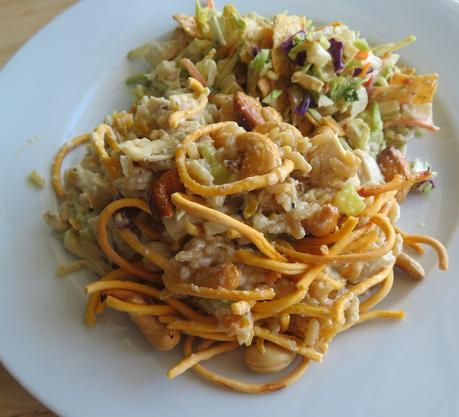 That was a good call on my part. I loved the extra mushroomy flavor it gave to the finished dish. I like using those pouches of cooked rice.  They come in handy for all sorts.
I always have several in the cupboard. Usually just brown rice or plain basmati rice, but today I happened to have the mushroom and wild.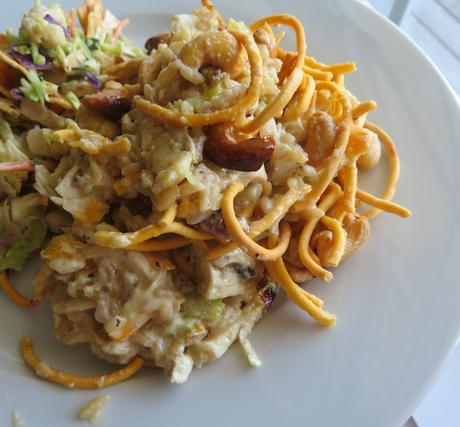 I am not against using things like this for convenience sake.  I am not a tinned soup snob, nor am I a convenience food snob.  They have their uses.
And casseroles is one of them! We don't always have time to make everything from scratch, so if we can hook together a few things like this to make something truly delicious for our families, I say why not!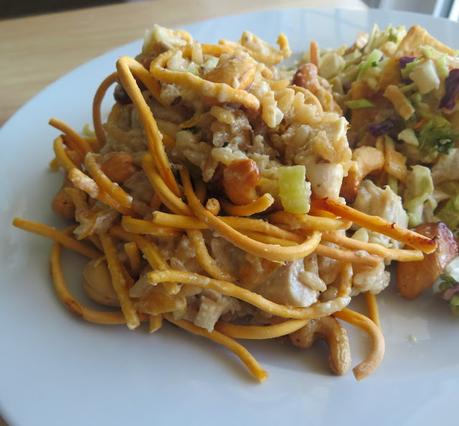 When I made this in the UK, I could never put the crispy chow mien noodles on top. They simply did not exist over there. I made do with just the nuts, or some cracker crumbs and the nuts.
I don't think it really matters, just so long as you have something crunchy on top to add some extra texture.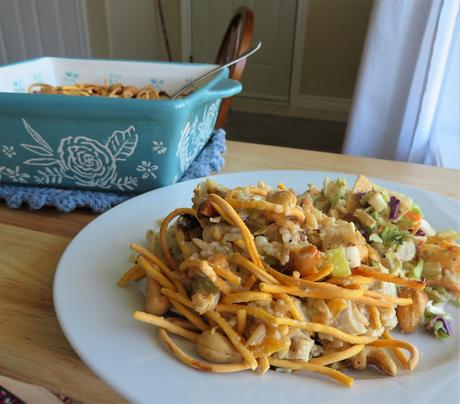 The chow mien noodles are extra nice however and beautifully crunchy.  When we were kids sometimes we would buy a can of chow mien noodles and eat them as a snack.  
I have not seen the canned ones since my return to Canada. Perhaps they don't make them anymore.  These noodles are always nice to have in the store cupboard because they do make nice crunchy toppings on casseroles and they are a must for haystack cookies.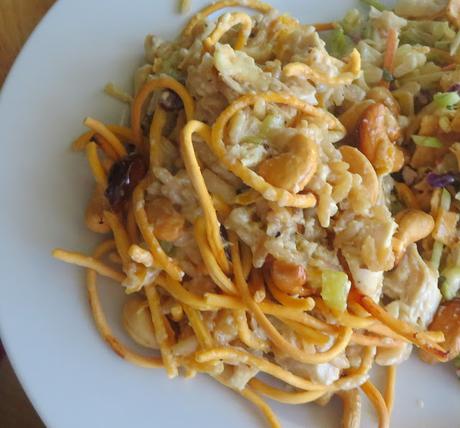 This really is a fabulous casserole with the crunch of celery, grated carrot, onions and plenty of chicken, all stirred together in that sauce,  along with some rich mayonnaise.  
I am no stranger to casserole love however.  Some more of my favorites are:
Chicken and Dumpling Casserole for Two Creamy Parmesan Chicken Casserole Curried Chicken and Coconut Rice Casserole Chicken and Green Bean Casserole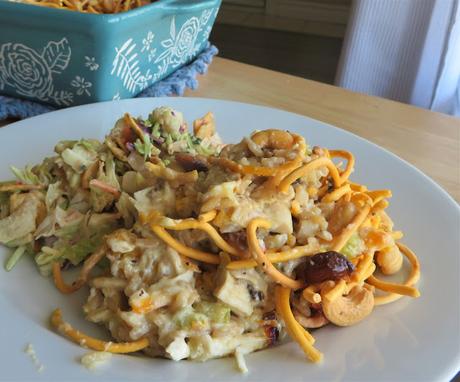 Again, they are just the tip of the iceberg. If you put Chicken Casserole into the search engine at the top of this page, you will discover lots of chicken casseroles, each one as delicious as the next!  
Like I said I am a huge fan of casseroles in general and I especially love chicken casseroles.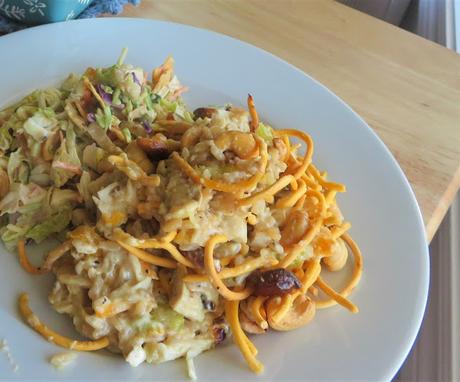 If you are looking for an extra creamy, delicious and rich chicken casserole to feed yourself and your partner, with some added crunchy toppings then you have just struck gold. This is the one for you! 
I served mine with some coleslaw on the side and a splash of soy sauce and some green tabasco.  Not traditionally Chinese I know, but hey ho, it tasted fabulous, and that's what counts most!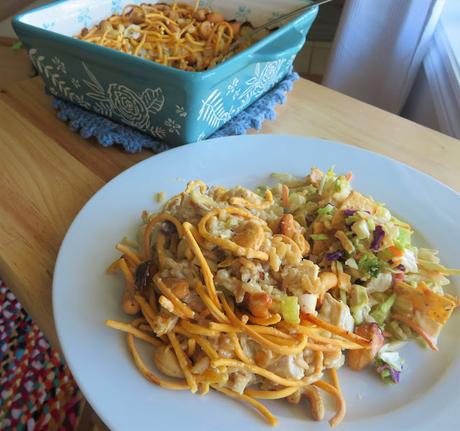 Chinese Chicken Casserole
Yield:
3 - 4
Author:
Marie Rayner
Prep time: 10 Min
Cook time: 40 Min
Total time: 50 Min
I cut my regular recipe in half to make fewer servings and replaced the condensed soup with a homemade sauce in this fabulously tasty old favorite! Its delicious!
Ingredients
For the sauce:
1 TBS butter
1 TBS flour
1/2 Knorr gel chicken stock pot
1 cup (240ml) whole milk
For the casserole:
Sauce as above
2 cups (280g) cooked chicken, cubed
1 small onion, peeled and finely chopped
1/2 medium carrot, peeled and grated
1 small stick of celery, trimmed, washed and chopped
1/2 cup (110g) mayonnaise
1 pouch Uncle Ben's cooked rice, mushroom and wild rice (about 1 1/4 cups cooked rice)
1/2 tsp garlic granules
1/4 tsp coarsely ground black pepper
to finish:
1 cup salted roasted cashews
1 cup crispy chow Mein noodles
Soy sauce and hot sauce to serve
Instructions
Preheat the oven to 375*F/ 190*C/ gas mark 5.  Butter an 8 inch square baking dish. Set aside.
Melt the butter for the sauce in a small saucepan. Whisk in the flour and the gel stock. Cook for a minute. Whisk in the milk and cook, whisking constantly until the mixture bubbles and thickens.
Crumble the rice into a bowl. Add the cooked chicken, onion, carrot and celery. Stir in the sauce and mayonnaise, along with the garlic granules and pepper. You should not need any salt.
Pour this mixture into the prepared casserole dish.  Bake in the preheated oven for 25 minutes.  Remove from the oven. Scatter the cashew nuts and crispy noodles on top. Return to the oven and bake for a further 10 to 15 minutes. 
The casserole should be hot and bubbly and totally heated through. 
Spoon out to serve.  Pass the soy sauce and the hot sauce. Delicious! 
Notes:
If desired you can use 1 can of condensed cream of chicken soup, undiluted, in place of the sauce.
Nutrition Facts
Calories
694.24
Fat (grams)
45.71
Sat. Fat (grams)
10.49
Carbs (grams)
40.78
Fiber (grams)
2.40
Net carbs
38.37
Sugar (grams)
3.37
Protein (grams)
28.63
Sodium (milligrams)
803.45
Cholesterol (grams)
111.37
Did you make this recipe?
Tag @marierayner5530 on instagram and hashtag it #TheEnglishKitchen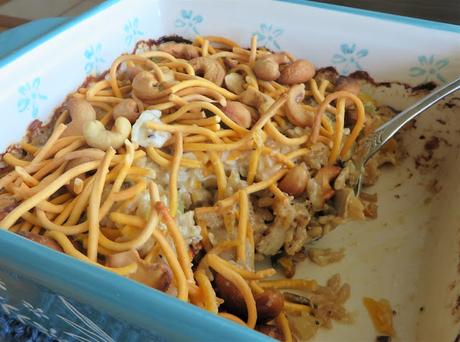 This content (written and photography) is the sole property of The English Kitchen. Any reposting or misuse is not permitted. If you are reading this elsewhere, please know that it is stolen content and you may report it to me at: mariealicejoan at aol dot com 
 Follow me on Bloglovin