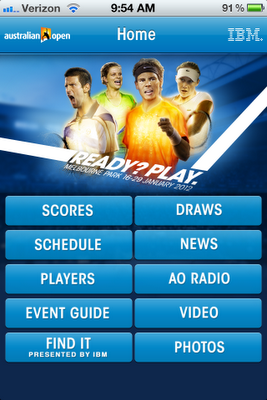 Well, the Grand Slam season has finally commenced with today's start of qualifying rounds for the 2012 Australian Open. Thank goodness. I was getting bored with college football Bowl games (thanks for nothing LSU).
The good news is that there are several places to keep up-to-date with what is going on down under so you don't miss a single exciting moment of pro tennis. First and foremost is this blog right here -

Tennis Fixation

- where I will, of course, keep you informed of the latest Aussie Open news, especially who is wearing what and what they could possibly have been thinking when they chose to do so. As a bonus - I've included an Australian Open widget in the sidebar to the right so you can check in on the latest scores, photos, events, etc.
Another fabulous source of info is the 2012 Australian Open web site. The tennis Slams do a good job of improving their sites each year and this year's Aussie Open site is no exception - easy to navigate, tons of useful information, simple shopping, and lots of useless (but interesting) trivia. You can spend hours on it (as I'm sure I will) finding out little tidbits. For example, bet you didn't know that Wilson provides "4,000 dozen" tennis balls for use during the Australian Open (that's 48,000 balls but I'm not sure why they couldn't just say that instead of 4,000 dozen). To visit the site, just click on this link - www.australianopen.com.
Now, if you're like me, you don't want to ever ever be out of touch with what's happening at a Slam. So be sure and download the free Australian Open app for your iPhone or iPad. I've included a screen shot above to show you all of the info you can get from this useful app. Again, the 2012 version of the app is a vast improvement over what they put out last year and I'm sure I'll waste plenty of time fooling around with it when I'm out and about. Just search for "Australian Open" in the app store to get it.
While I've given you some great places to go for Aussie Open info, what I haven't given you is photos and commentary on the "fashion" we'll be seeing on the courts down under. Don't worry - I'm working on those posts. So check back in very soon to see what fashion hits and/or misses we can expect to see on our favorite pros in the next few weeks.


© Kim Selzman 2012 All Rights Reserved