I love entering contests, and when I came upon the "Legends from Europe Contest" I knew I wanted to give it whirl!   What is Legends from Europe?  They're makers of hams and cheeses, and here's what they say~~'These world-class hams and cheeses look and taste different, yet have a lot in common. Made for centuries with traditional methods, they belong to an elite group certified under the Protected Designation of Origin (PDO) system.'
The Legends contest is kind of  like one  of my favorite Food Network shows 'Chopped'~~you're assigned a certain product to use, and you go from there!  So, when I contacted them by email saying I wanted to enter, they sent back to me that my product, which raises awareness for them, would be Grana Padano.
Now just what is 'Grana Padano'?  Who better to describe it than the Legends website~~'Grana Padano is a naturally made cheese with a mild flavor so pleasing that it has become the world's best-selling European cheese in the elite PDO category. Produced in northern Italy's Po Valley, this raw milk cheese is rich in nutrients, very digestible and lower in fat than many other cheeses.'
Rather than using a regular cheese with your morning eggs, why not try something that adds panache and perfection~~Grana Padano'~~it fills the bill!  Plus, sometimes the very most simple recipes are the best!
Food Styling Note~~Serve these eggs straight in the littl' skillet and you'll save yourself washing a plate!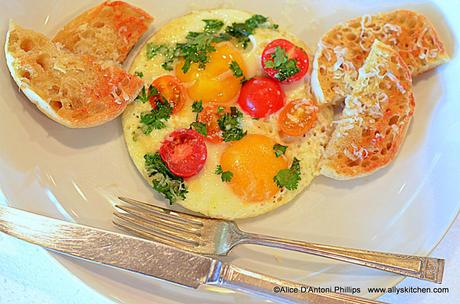 Serves:  1 (multiply recipe for additional servings)
What you need & What you do:
2 tbl butter (divided)
2 eggs
1/8 tsp sea salt
3 tbl grated Grana Padano (divided) (Note:  You can substitute Parmesan.)
4 cherry tomatoes cut lengthwise in halves
1 tbl chopped cilantro
1 English muffin sliced in half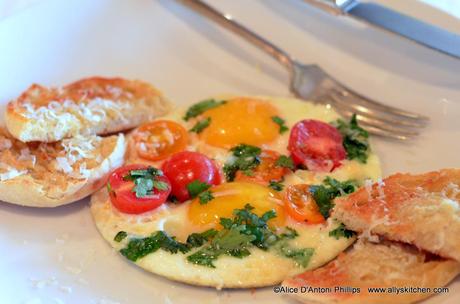 Melt 1 tbl butter in a small (6") non-stick skillet over medium low heat.  Crack the eggs into the skillet.  Sprinkle on the salt.  Sprinkle 2 tbl of the Grana Padano on the white portions of the eggs.  Randomly lay the halves of the cherry tomatoes  on the white parts of the egg. Cover with a lid and let the eggs cook about  5-7 minutes to a 'sunnyside' up.  When done, take a rubber spatula around the perimeter of the skillet and gently slide the egg 'caprese' onto a plate.  Sprinkle with chopped cilantro.
Butter the English muffin and sprinkle on 1 tbl of the Grana Padano.  Place under the oven broiler and toast to a golden brown.  Serve with the caprese eggs.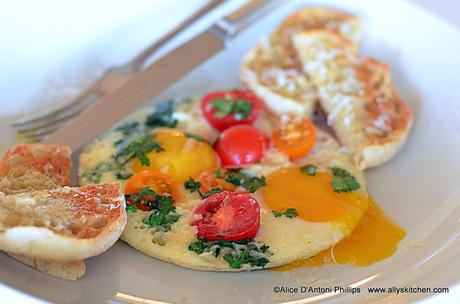 ©alice d'antoni phillips   www.allyskitchen.com

Comments
comments