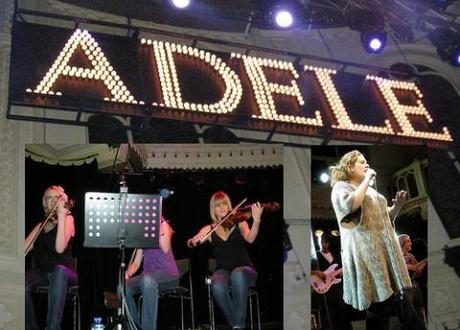 Adele: Star of the show? Photo credit: Karen Blue, http://flic.kr/p/558MKS
The Grammy Awards 2012 took place under the shadow of Whitney Houston's death; the singer was discovered dead in her hotel room the day before the show. However, the show must go on, and the evening saw awards handed out in over 75 categories.
Alongside the tributes and tearful acceptance speeches, the Grammys weren't without controversy, as Chris Brown returned to the show for the first time since being convicted of domestic violence.
Tributes to Whitney Houston. "Ms. Houston's death Saturday afternoon presented the awards show's producers and hosts with the challenge of adding last-minute tributes to the pop legend, while not letting the program become maudlin," reported Ethan Smith for The Wall Street Journal. Host LL Cool J opened the show with a prayer for Houston, while Rihanna and Stevie Wonder referenced the singer during their performances and Jennifer Hudson sang 'I Will Always Love You' in tribute. Late singer Amy Winehouse was also remembered at the awards, as the 'Back to Black' star's parents took to the stage to accept a posthumous award for her duet with Tony Bennett.
Jennifer Hudson's emotional performance of 'I Will Always Love You', in tribute to the late Whitney Houston: Footage below.
Lack of theatrics. The Grammys were understandably subdued under the circumstances, wrote Rebecca Nicholson in The Guardian:  "Reverence, not controversy, ruled the evening. Speeches were humble, outfits were demure (even Lady Gaga's) and there were few, if any, surprise winners." But Nicholson found it refreshing to see Nicky Minaj turning up with a pet Pope and flying the flag for "eccentric pop stardom": "I'm all in favour of a healthy dose of trashy theatrics to balance things out," said Nicholson.
Rapper Nicky Minaj was widely tipped to take the Grammy for best new artist, but was pipped to the post by folk group Bon Iver.
Out of touch? The closing number that saw Paul McCartney perform with Bruce Springsteen demonstrated that "the Grammys are better at showcasing legends than attempting to capture the pop zeitgeist", wrote Todd Martens on a Los Angeles Times blog. Martens also felt that the show was "more bloated than ever" and argued that producers shouldn't give artists more than one performance slot.
Watch Adele's Grammy performance below. Is the British soul singer back to her best?
Adele wins big. British singer Adele "stole the show", according to Reuters, winning six Grammys including album of the year and record of the year. Grammys night saw Adele's first performance for months, as the singer has been resting her voice after undergoing vocal cord surgery last year.
The Foo Fighters were just behind Adele, with an awards haul of five, including best rock performance.
Chris Brown controversy. Chris Brown's return to the Grammys was not welcomed by everyone. The R&B star performed at the first ceremony for the first time since dropping out in 2009 after he assaulted then-girlfriend Rihanna; Brown also took the award for best R&B album. Writing at HelloGiggles ahead of the awards, Sasha Pasulka was deeply unimpressed, accusing the music industry of issuing "an enormous 'f**k you' to every woman who has been, is or will be on the receiving end of domestic violence". Pasulka slammed a statement by executive Grammy producer Ken Ehrlich in which he claimed the awards were "the victim of what happened": "It was rather thoughtless of Rihanna to go and get herself hit in the face by her boyfriend, because it's put such a burden on the Grammys. Maybe if she hadn't made such a big fuss out of it, things could have been easier for everyone," snarked Pasulka. Louis Peitzman was in agreement at Gawker: "Frankly, the idea that any person can violently abuse someone else and maintain a thriving career in the entertainment industry is embarrassing."