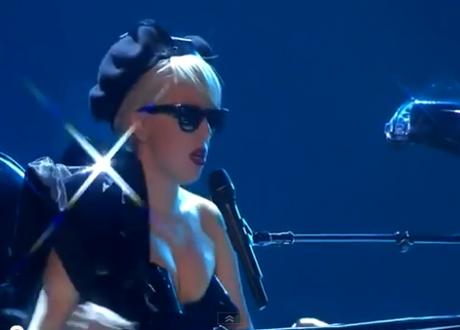 Yes! It's Lady Gaga, at the Grammy Awards nomination show this year. http://www.youtube.com/watch?v=q_rpd9c57D8
Nominations for the 54th Annual Grammy Awards have been announced. Kanye West (who's already gathered 14 Grammys) is the leading contender, with seven nominations; Adele is just behind, jointly with Bruno Mars, with a sextet of the little beasties. The Foo Fighters and Lil Wayne are also up for biggies. Winners will be announced in all 77 categories (and that's boiled down from 110 – "farewell, best Hawaiian Music album", as MTV wryly noted) in February 2012.  But have the Grammys lost their relevance? Are they really becoming the Granny Awards?
Album of the year nominations: Adele's 21, Foo Fighters' Wasting Light, Lady Gaga's Born This Way, Bruno Mars' Doo-Wops & Hooligans, and Rihanna's Loud. From Spin magazine.
Grammys should stay in touch. Pop and Hiss, the LA Times Music blog, certainly thinks the Grammys are outdated. It said that the nominations for this year showed a "deep chasm" between the recording academy's "goals and the listening habits of the general population." Look at the nominations – is Rihanna's Loud, up for best album, really an album? Did the Foo Fighters' Wasting Light "move rock forward"? Bruno Mars is "exceedingly safe." What wasn't on the list for best album was Kanye West's "epic" My Beautiful Dark Twisted Fantasy. The same songs dominate – Adele, Mumford and Sons, Bon Iver, Bruno Mars. The awards are still timid about new ways of discovering music. What's the point of these awards? If they lose sight "of the artistry that makes music soar," they'll soon "be out of business."
Run for the hills! Hadley Freeman, on The Guardian's Music blog, said that you would only turn to these nominations to see the worst music of the year. The only explanation for the "sonic boom of hell" that was a duet between "that master of subtelty, Ludacris", and Jason Aldean is "sadism". The only thing missing was "background imagery of strip malls and the Kardashians for the tableau of American Hell to be complete." The nominations were "predictable and daft." Why, for instance, is Bon Iver a "newcomer"? Why is Skillrex, "the Most Hated Man in Dubstep", even there at all? The show was "cringeworthy", too ,with Lady Gaga saying "conventional things" like "'have a good time!'" Usher looked like he had constipation. Kanye West didn't even bother to turn up, earning "Best Snub" from Freeman.
The British are coming! Or not.  Look closely amongst the 385 nominations, said Neil McCormick in The Daily Telegraph, and you might see a few Brits – Adele, of course, Radiohead, Mumford And Sons, Coldplay, even Susan Boyle. But Adele aside, there's "no forthcoming British invasion on the cards." Basically, Americans like Adele because "she makes American music." And she has "a cute accent." And Skrillex's nomination just shows that the American music industry "continues to look inwards for its stars" – European and British producers have been making music like his for a decade.
Below, watch her Ladyship of Gaga warbling at the Grammys.