"Their" or "There", "Then" or "Than", "it's" or "its"? Do you find all these confusing? Well, it's okay! You're not the only one. There are many people who are not so well-versed in the English Writing Skills.
Does this lack of Grammar knowledge and writing skills make you feel embarrassed on social media or on your Job?
No! No! You don't have to quit writing again. Never! What if I tell you that there's a straightforward solution to all your grammar problems? What if I also tell you that this easy solution is free? Of course, I am not lying.
Here comes this superman who can not only save you from making Grammatical mistakes but can also help you in improving your English writing skills. This tool is called Grammarly. 
In this article, we'll not only review this tool but will also provide you with the tutorial and the features it offers.
What is Grammarly
Grammarly is a tool which is created to solve all your Grammar related problems. It analyses your text and scans for common and even the most complex grammatical mistakes and instantly corrects it.
According to their feature page, it provides 400+ checks to your content and offers better suggestions and corrections.
Grammarly Features
Grammarly offers a huge list of features which no other Grammar checker offers. Here is the list of some highlighted features:
Comes with a  Free and a Premium Version for advanced users.
Native App for Windows and Mac Users
Simple and Complex Grammar and Spelling Check
Grammarly Punctuation Checker  and Sentence Structure Checker
Vocabulary Improvements
Grammarly Plagiarism Detector
Suggestion according to different style of Content
Can check your text across the Web
Comes with Browser Extensions
Integrated with Outlook
Grammarly for Word, an extension for Microsoft Word
Provided definitions and explanations for each Grammar suggestion.
Who should use Grammarly
Grammarly is a tool made for everyone who uses the Internet. However, this is a recommended tool for the people engaged in Content Writing work such as Bloggers, Students, Businessmen and Proofreaders.
If you are always afraid posting on Social Media because of those Grammar Nazis, then Grammarly is the weapon for you.
Write perfect emails, articles, essays and much more!
Grammarly Tutorial – How to use Grammarly
In this section, we'll provide you quick tutorials on each of the primary services offered by Grammarly.
Grammarly for Word
This feature is only available in Grammarly Premium. If you're not satisfied with the inbuilt Grammar checker in Microsoft Word, you can use the Grammarly extension for Word.
To enable this, Login to your Grammarly Account > Apps > Click on "Install" button. This will download the Add-on setup for Word. Run the EXE Setup to install the extension for both MS Word and MS Outlook.

Now, when you open the Microsoft Word, you can find it in the "Grammarly" tab.

Grammary Proofreader for Web
An online proofreading tool by Grammarly. This is a simple online Grammar checker. If you have a bunch of text or need to analyze an already written document in DOC/DOCX OR TXT file without any additional plugin, you can use this feature.
To use this, Login to your Grammarly Account > My Grammarly > "New/Upload"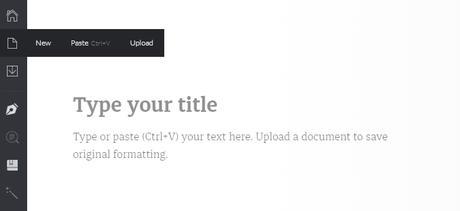 You can either upload, type or copy/paste text in this editor.
 Grammarly Extension
This is one of the most useful features of Grammarly. This will save a lot of time for you. I'm sure, this feature would be the one which will make you love Grammarly even more.
Grammarly for Chrome, Grammarly for Firefox, Grammarly for Safari and Grammarly for Edge.
To install the browser extension, Login to your Grammarly Account through the desired browser.
Now, head on the "Apps" section from the left navigation pane. Click on the "Install" button to Install the browser extension.

Grammarly will be integrated into your browser. Now, whenever you type anywhere on Internet, this extension will automatically detect and will provide you with suggestions and corrections on the spot. Isn't this easy?
Grammarly for Facebook and Twitter
This is a part of the Grammarly Browser Extension. As mentioned above, with this, you don't even have to be afraid while writing on Social Media.
It doesn't matter if you're writing a new status on Facebook or commenting on a post, you will get instant corrections.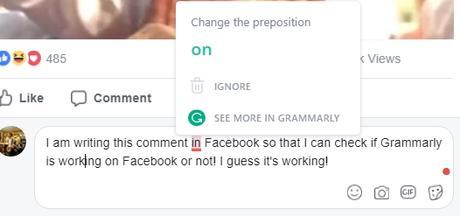 Similar to Facebook, it is available on other Social Sites too, including Twitter.

Grammarly Review
We have already covered the features and the services Grammarly offers. In this section, we'll review the technical analysis capabilities and the technical features it offers for each of their services.
Personally, I haven't seen any other grammar checking tool which offers a lot of technical checks. Here are some of the technical analysis features it offers. Read our detailed Grammarly Review below.
Different Set of Rules for Different Type of Content
This feature is useful for the people who write different types of content. That means, if you are writing an Essay or writing an email, you can always select the type of analysis according to your needs. This feature is handy in improving your writing skills for different kinds of content work.
You can change the Document Type on the fly from the left navigation menu.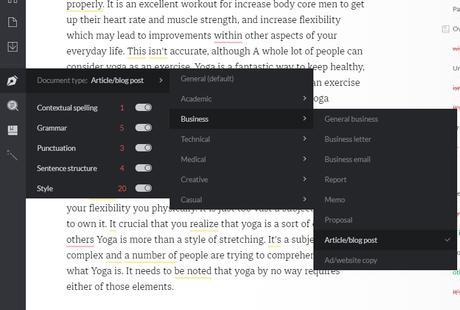 Customizable Grammar Checks
With this, you can perform selected Grammar checks on your content. For example, if you only want to analyze spelling mistakes then you can keep it on and turn off the other ones.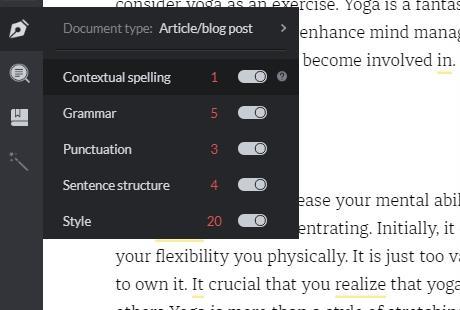 Below are the examples of each of the Grammar Checks:
 Contextual Spelling
This option checks for spelling mistakes and correct words used in a wrong context such as, lie/lay, affect/effect, lose/loose.

Grammar Check
Checks for misused articles, subject-verb agreement, tenses, consistent verb form and all other Grammar rules.

Punctuation Check
As the name indicates, it checks the article for all Punctuation errors and provide instant replacements.

  Sentence Structure
This option checks for the sentence structure errors by identifying the misplaced words and incorrect word order.

Document Style Check
This works on the basis on Document Type you've selected for your content. It checks for potential problems in writing style and helps to prevent redundancy and wordliness in the text.

Vocabulary Enhancement(Repetitive Words Check)
Grammarly Vocabulary Enhancement analyses the document for repetitive words. It provides you suggestions with new words or synonyms which you can use in your content to improve its quality and uniqueness. It really helps you when you're running out of words for a long article and looking to use a set of new words instead of repeating the same word or phrase again and again.

Grammarly Plagiarism Checker
This feature is available only for Grammarly Premium users. It's an advantageous feature for the online Content Writers. This feature doesn't require anything like Copyscape. It instantly determines whether the content you are writing is unique or not. It performs an online check against the database of 8 billion web pages to determine the uniqueness of your content.
You will be provided with a Percentage Score of the content's uniqueness.

You can Enable/Disable this from the left navigation pane.
Grammarly Professional Proofreader
Apart from the original Grammarly Proofreader tool, this is an additional paid service which allows you to get your document checked from a Professional Human Proofreader.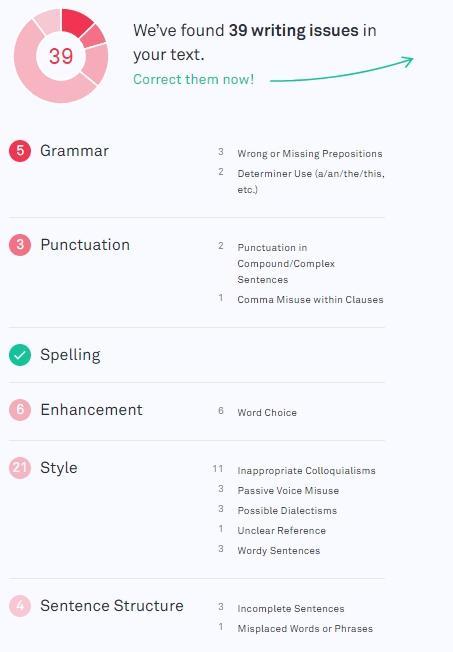 Grammarly Keyboard for Android/iOS
The latest service from Grammarly for free of cost.  You can download their keyboard for both Android and iOS which works the same way as their browser extensions. Whenever you type anything on your mobile device, it'll correct your text automatically.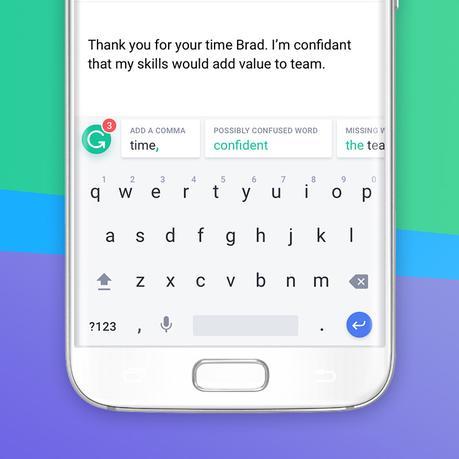 Personally, I find this very useful as it always helps in responding to emails and messages quickly without any grammatical errors.
Grammarly Free vs Grammarly Premium
Grammarly comes in two versions. One is the Free version which is free for the lifetime while the other is Grammarly Premium. 
The free version only provides Critical Grammatical and Spelling fixes while Grammarly Premium provides all the advanced functions as discussed above in the review.
Grammarly FREE
$0 per month
Critical grammar and spelling checks
Sign Up for FREE
Grammarly Premium
$11.66 per month
Critical grammar and spelling checks.
Advanced checks for punctuation, grammar, context, and sentence structure.
Vocabulary enhancement suggestions.
Genre-specific writing style checks
Plagiarism detector that checks more than 8 billion web pages
Sign Up
Grammarly Pricing
Grammarly Premium comes in three Payment Plans, Monthly, Quarterly and Annual with the Annual plan being the cheapest the most recommended of all.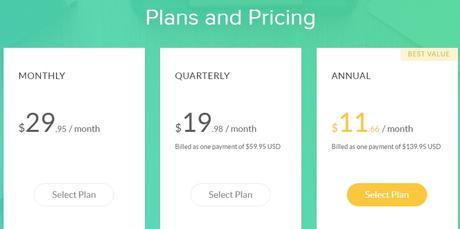 Here's solution to get it at a better discount. Sign-up for the Free Version and wait for a month or two. They'll automatically send you an email with 30%-40% Discount on Grammarly Premium on upgrading your plan.
Pros and Cons
Pros
400+ Grammar Checks
Browser Integration
Available for MS Word and Outlook
Available for Android
All under one Package
Cons
Pricing is a bit high

No lifetime plan

Advanced features requires Internet.

No support for Google Docs
Final Verdict – Should I Buy?
To be honest, being a blogger, I find Grammarly very useful, and I'm already using Grammarly Premium. I can proudly say that this is one of my best investments of all. Although I feel that the pricing could be a bit lower or they should've introduced a lifetime plan but still, I consider this worth for $100-$120 per year.
If you area professional content writer, blogger, freelancer or even an online businessman then you should definitely give this a try.
Guys, if you find this Grammarly Review then share it with your friends.  For all the questions kindly post in the comments section below.
*This document is checked with Grammarly Premium