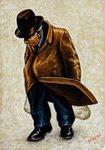 We are thrilled to be currently exhibiting new work by world-renowned Scottish painter Graham McKean. Graham has shown his work in Artery on a number of occasions and his current work is a prelude to the exhibition of his that we will be hosting in December.
A highly popular and collectible artist, some of Graham's notable credits include 'Thriller', Graham's painting depicting the peak of Michael Jackson's career, completed shortly after the star's death. Graham was also commissioned by the Celtic Football Club to create a painting celebrating the 40th anniversary of the Lisbon Lions and by the Scottish Opera to create a series of works for the Theatre Royal in Glasgow. He was also commissioned to create a painting and statement for inclusion on bottles of Glenfiddich single malt whiskey.
With such notable achievements to his name, we are honoured to once again be displaying his work in Artery. Graham's new pieces consist of a cohesive series of figures on a smaller scale, mainly faces created in pastel on black paper, which differs from his primary medium, which is oil.
In 'A Hidden Beauty', just a sliver of the woman's face highlighted from the natural shadow of the black paper is enough to provoke interest in the mysterious woman with her hat drawn low over her face. In another group of images depicting the same aged and weather-worn figure are 'An Old Sea Dog', 'Blowing in the Wind' and 'St Andrew' the bright white of the old man's beard drastically contrasts the dark background, drawing attention to his weathered features. These three painting would make a nice statement in your home! 'A Quite Night In' has a different, more intimate feel to which everyone can relate.
Graham's new pieces still have his signature flair and bright colour, which makes his work instantly identifiable. They also show ordinary people or scenes that have an uplifting feel. Graham said that "the human condition and the daily struggle of everyday life has always been an inspiration in my work" and that he always tries to 'produce art that "makes me feel better about the world".
A testimonial by artist Peter Howsen, said, "My admiration for [Graham's} art is on so many levels, but first and foremost is the simplicity and beauty of his imagination. Graham has managed to do a rare thing with his art. He has created a style which is uniquely his and is instantly recognisable".
Come in to Artery Gallery at 43 South Street and see these paintings for yourself. You may even want to take one home and add the incredible work of Graham McKean to your personal art collection!
www.arteryuk.com