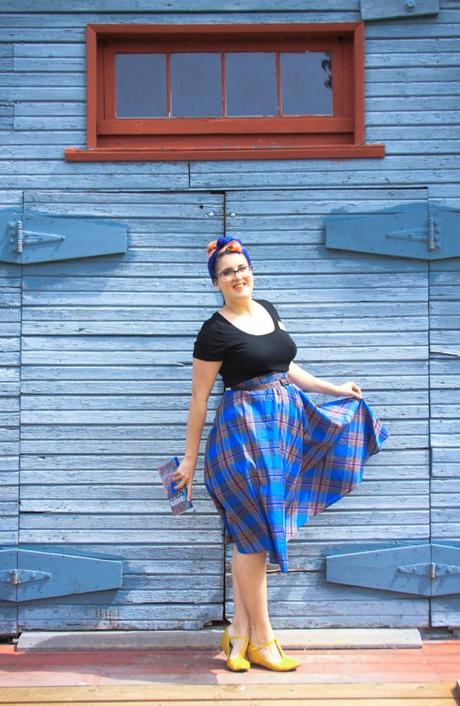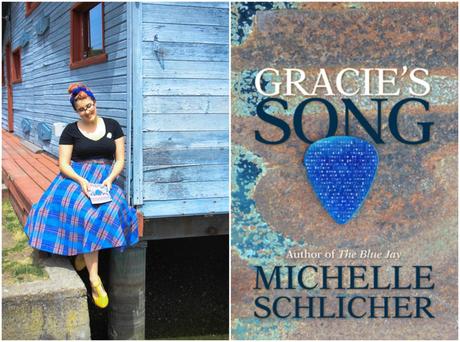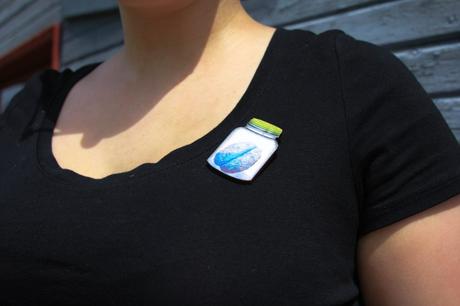 Far too long ago, Michelle Schlicher contacted me to see if I would like to review her newest book, Gracie's Song. Of course, I'm not one to say no to a free book, so here we are! I took a little too long for my liking to read and review this, since I've had the book for over a month, but we'll blame teething babies for that.
As always, here is the synopsis via Goodreads:
""Everything can be undone." That's what someone tells Gracie Brannen, but she's doubtful. After graduation, she walked away from everyone she knew with barely a word. Ten years later, she's back. Even as familiar places and faces bring back old pain, Gracie finds hope in rebuilding old ties and forging new ones. Maybe everything can't be undone, but perhaps everything can be overcome."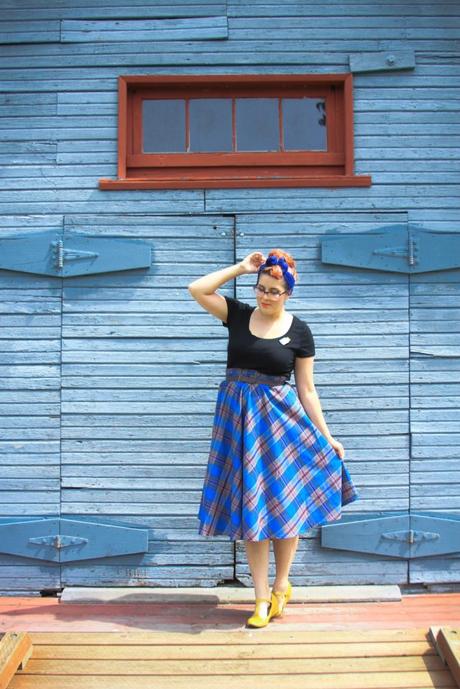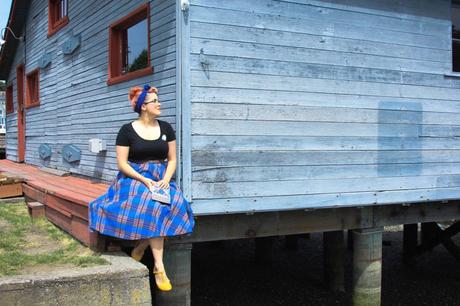 Gracie returns to her hometown for a funeral, after ten years of being away with nary a word to her family. While in town, she reforges friendship with her former best friend, considers rekindling romance with her highschool sweetheart, and navigates the grief of losing a parent all while struggling with her own inner demons and a big secret. This book is a simple one — and I don't say that as a bad thing. It's a quiet story of life and loss and love, and it feels familiar as you turn each page. While I was able to predict every turn pretty easily, I still enjoyed following the story and seeing how Gracie reacted in each situation.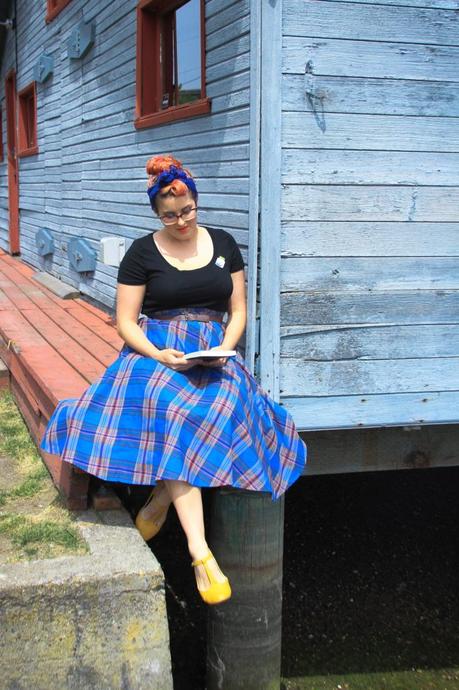 I really love supporting new authors — being an aspiring author myself — so I wanted to give an incredibly glowing review; I wanted this book to be a bit more than it is. But I also want to be honest with my reviews always. Gracie's Song wasn't the best book I've ever read (nothing will ever live up to Jane Eyre, let's be honest here) but so far this year it was the most heartwarming and sweet. I rooted for each character, I felt their emotions, and I came away from reading the story with the satisfaction a good quiet romance gives you. If you're looking for a good, clean romance that is great for a quick rainy day read, this book is definitely for you.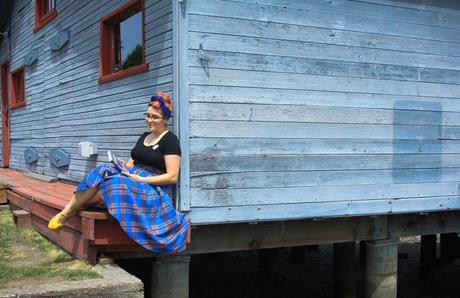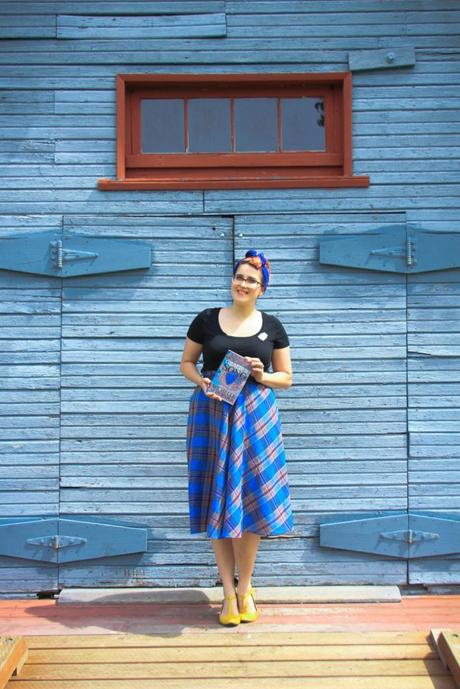 As for the outfit, I chose this amazing skirt that Hannah sent me for my birthday and added accessories around it. The brain in a jar brooch might be an odd choice, but I just got it and I had to wear it with this skirt.
These are the first photos I've ever taken of myself in a fairly public place, and I felt so, so awkward. There weren't many people at the park when I first arrived, but by the time I left I had quite a few gawkers and one possible creeper. I smiled at anyone I caught staring, hoping they'd just move on, but one woman stared intently at me any moment I wasn't looking directly at her for a full five or ten minutes. And as I left, a certain er… gentleman tried valiantly to put himself in my pathway, but this girl is really good at avoiding people when she wants to.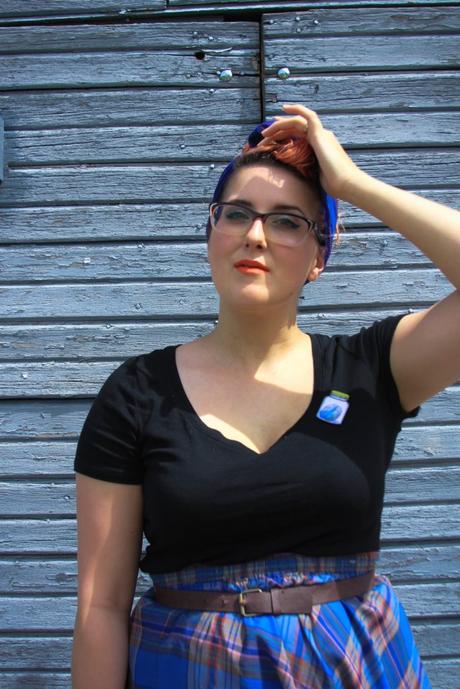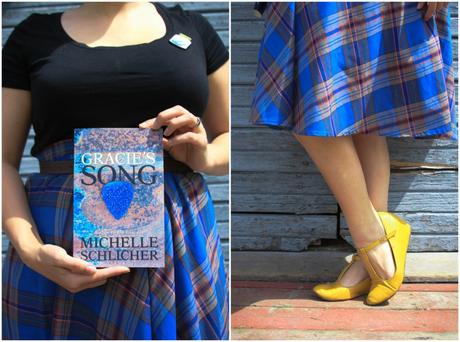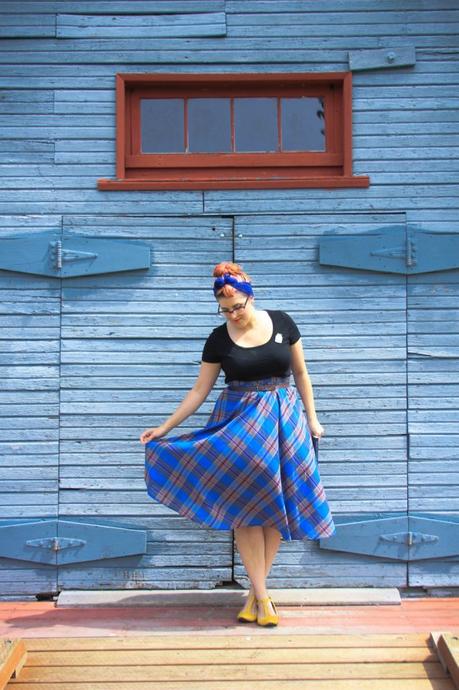 Shirt, Target | brooch, CircaAD | Shoes, Modcloth | belt, from another dress | Skirt, gift from Hannah | Headscarf, thrifted
Someday perhaps I'll get the hang of doing my poses fearlessly regardless of any observers, but for now… this is the best I could do. Unless I have my husband photographing me, I feel so awkward. So awkward.
Thank you Michelle for sending me your book! I enjoyed reading and reviewing it!
Happy Thursday!

Bloglovin|Facebook|Twitter|Pinterest|Instagram|Etsy Vintage|Circle Skirt Shop|Photography
Got a book you want me to review? Whether it's one you've written or one you highly recommend, let me know at: marabird(at)eccentricowl(dot)com.