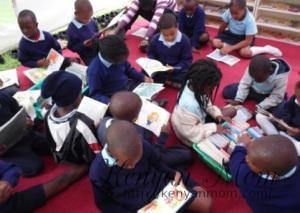 image by @kenyanmom
It is no secret that our time is slowly being consumed by IT and gadgets. We no longer prioritize books or reading for that matter. The same culture has been trickling down to our children. So bad has the reading culture become that too many children in Kenya are completing their primary school education without the ability to read a simple English or Kiswahili story. It follows then that these children do not attain the required mean score for admission into secondary school. We've all heard what happens next. Sad stories of our children committing suicide due to poor performance, a generation of unemployable youth and crime sky-rocketing. All these children needed was a chance, a book, a library and someone to believe in them
Carol Kimari, founder of Grab A Book, is passionate about education and believes that once you capture a child's interest in reading at the formative age, you have a visionary and a leader. She is living proof of that. Carol is a free-lance writer and blogger. She founded Kenyan Mom , an online forum that shares inspiring stories by parents and also gives peer advice. Carol has worked with Chasebank (K) Ltd. raising funds for African Mothers, helped run Wanadamu, an online database for willing blood donors and Kunavijana an organisation that helps the youth tap and expose their talents and make money off it.
The Grab A Book team believe in our children and are determined to put books into the hands of ALL Kenyan Children by setting up libraries in slums and primary schools. With a dedicated and passionate team of writers, teachers and parents is creatively getting schools involved by asking them to donate some resources, while providing books. Grab A Book keep track of children's progress to ensure that every child benefits from our program and goes ahead to not only attain the required mean score but also confidently read and express themselves. A small fee of Kshs.100 (US$1.6) a month is charged to the children and subsidising the library running costs and purchase of books by engaging partners and donors and also selling merchandise online, ensures that Grab A Book continues supporting our children.
Where do you come in? 
"We still believe we can do this! But we can only do it with your help. 100 People To Contribute Kshs.300 or US$20 each will get us there!! 

For our Kenyan Contributors, MPesa Buy Goods Till No.89846″

 
Donations via original link: http://marketplace.unreasonableeastafrica.org/campaign/detail/2639
Real Time updates on Unreasonable Marketplace, Facebook and Twitter